I was browsing through Facebook just now when I saw this awesome post by @emancipatedhuman. I re-shared it here.
Oh my gosh.
It's so good.
I had to share it with you also. It only really works if you see it in your feed on a mobile device, but oh man, does it work!
Here's what I saw: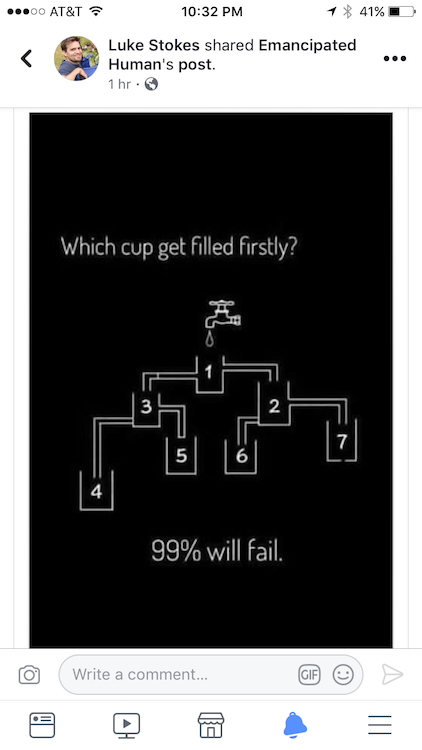 Okay, so it's not the best grammar. Get over that for a second. Spend some time and figure out what you think the answer is.
Be sure to look really closely. You might have missed something.
Do you think you have it? If so, quickly scroll down to the comments and leave your answer. (Scroll slower if you want the answer revealed to you).
If you said none, you're actually wrong. That was my first guess, and I was wrong.
Why, you say? Well, on my mobile phone, there's more than meets the eye. If you click the image, you see this: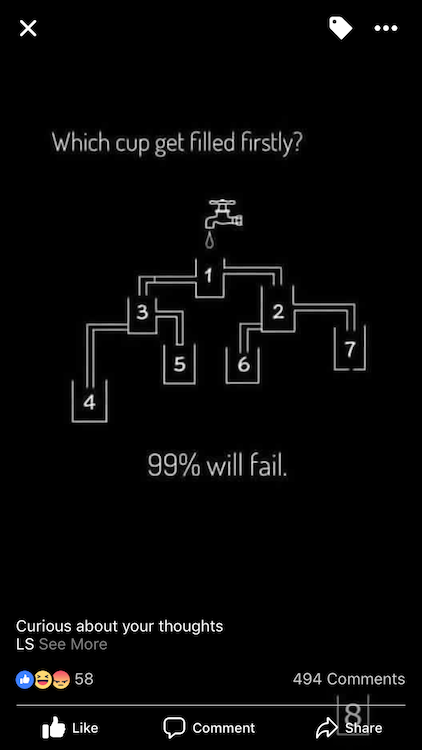 If you click the image again, you see this: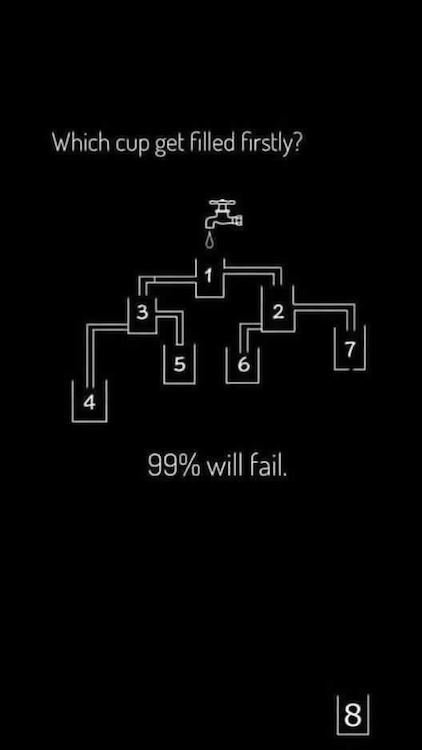 Tricky! The answer is 8!
But here's what I love about this puzzle. It exposes the confirmation bias in us all. We all think we're "above average," and we all want to latch on to an answer once we think we have it which resolves our cognitive dissonance. We're happy with ourselves and maybe even feeling a bit smug and superior to everyone else who "got it wrong."
Even though I think 8 is the correct answer (I originally, confidently, and incorrectly thought it was none), a good argument can be made for "it depends."
How much water pressure is there?
Too much and the right answer will be 1.
How much liquid is there?
Not enough and the answer will be none.
Does "filled" mean "full" or does it mean "in the process of being filled"?
If the later, the answer is again, 1.
It's such a great puzzle for exposing how quickly we think we're right but can still be wrong. It shows us how we make assumptions when maybe we shouldn't. Keep this one in mind the next time you are so sure you're right and someone else is wrong.
If you want to share it on Facebook with your friends, you can find it here.
Related Posts:
---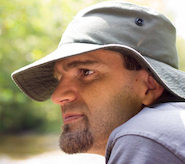 Luke Stokes is a father, husband, business owner, programmer, and voluntaryist who wants to help create a world we all want to live in. Visit UnderstandingBlockchainFreedom.com







I'm a Witness! Please vote for @lukestokes.mhth