THIS PROPOSAL IS MEANT AS A STARTING POINT FOR DISCUSSION AND IS BY NO MEANS FINAL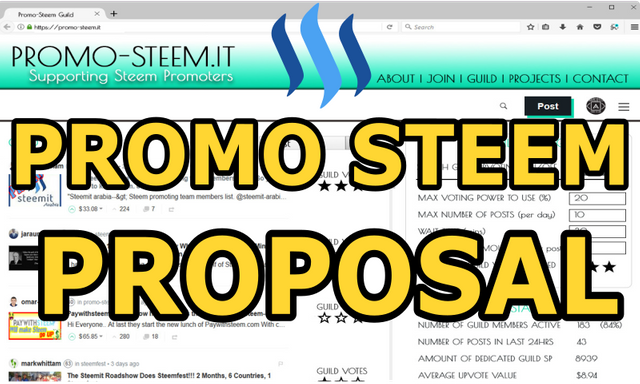 With the huge, ongoing effort put into #promo-steem by the countless Steem Ambassadors around the world, @stephenkendal and I would like to propose a way forward to consolidate and improve the initiative here below.
BUSINESS CASE
Although we do not want Steem to fall into the trap of becoming only a self marketing machine I am sure I echo the community's sentiments when I say that we are in a race against the clock, with strong competition from other blockchains in the social media / tokenisation sphere. It is therefore imperative that we dedicate a proportion of our community's resources towards the promotion of Steem and Steemit.
With a multitude of tried and tested promotional methods for our platform out there, many of which can be found on the #promo-steem tag, we have a strong basis to improve the initiative.
As highlighted during my talk at Steemfest 2017, our community has some great Steem Ambassadors dedicated to helping the community grow. This benefits everyone on the platform. Their actions should be reinforced, encouraged and remunerated.
Until now, these Steemians have carried out their valuable promotional work in their own time using their own funds to arrange apparel, transport, tickets, accommodation and other promotional materials. The volunteers at the #promo-steem team have helped to fund some of this work with their up votes.
Prior to Steemfest2 the #promo-steem tag was worth less than 10,000 Steem. With such funding, It is difficult to sustain or grow the initiative further at this present time. Below I propose solutions to this problem and outline mechanisms whereby we can leverage the Steemit community to grow the promotional effort for the benefit of all on the platform.
1. STEEM AMBASSADORS PROGRAMME
Propose to provide titles to dedicated Steemians who are doing outstanding work promoting Steem. The title Steem Ambassador (or Steembassador) could be given to steemians who meet certain criteria. This could be decided by either community vote or decision from other Steem Ambassadors, or a combination of both. This would allow certain outstanding, trusted individuals to be recognized and be given coordination / proposal responsibilities in geographic areas for example. Additionally, being titled an Ambassador, would not require work associated with only promotion, but other value added activities.
The details of criteria and how to apply to be a Steem Ambassador should be detailed on the website (See point 4. below).
2. MARKETING AND PROMOTIONAL STEEMIT ACCOUNT
It is proposed that an account is set up by Steemit Inc. to which Steem can be donated or delegated. The private keys can be kept by Steemit.Inc. A well regarded Steem Ambassador from the community would then be provided access to the posting keys. The account would Re-Steem and up vote the highest quality promotional blogs. Additionally, This account could run feature blogs and promotional competitions, rewarding the best / most proactive promoters each week / month along with promotional campaigns.
3. ONBOARDING SITE
We are currently working on a "Pre-Steemit"on boarding site where we would like to direct new sign ups to. We would like input from the community and Steemit Inc. as to what features should be included.
We would like to request ability for certain promoters / Steem Ambassadors to ratify new accounts there and then, on the spot to avoid lengthy sign up process.
So far, This site will have the following features:
Various sign up options:
Accounts pre-charged with Steem to avoid multi exchange fiat - Steem purchase. Can Steemit Inc help with this?
Anon Steem
SteemInvite.com
Standard sign up.
Steemit help links
Community Links
Whale shares, steemnow, steemcool links
Welcome page
View your voting power
Others
Credit to @anarcotech & @stephenkendal for the majority of work conceptualizing this site.
4. UP VOTING GUILD FOR PROMOTIONAL WORK
This shall be a separate web page which will shall only display blogs from the #promo-steem tag. In order to reduce up voting of spam, At least 3 notable members of the Steemit Ambassadors community shall regularly review the page for excellent quality promotional content. They shall rate the blogs and the Steem that is delegated to the guild shall be distributed to the blogs with the highest quality promotional content using the Steem blockchain. Proposal is to work with Steemit Inc. on layout of this site and obtaining delegated Steem for the guild. Credit to @anarcotech on this creative initiative.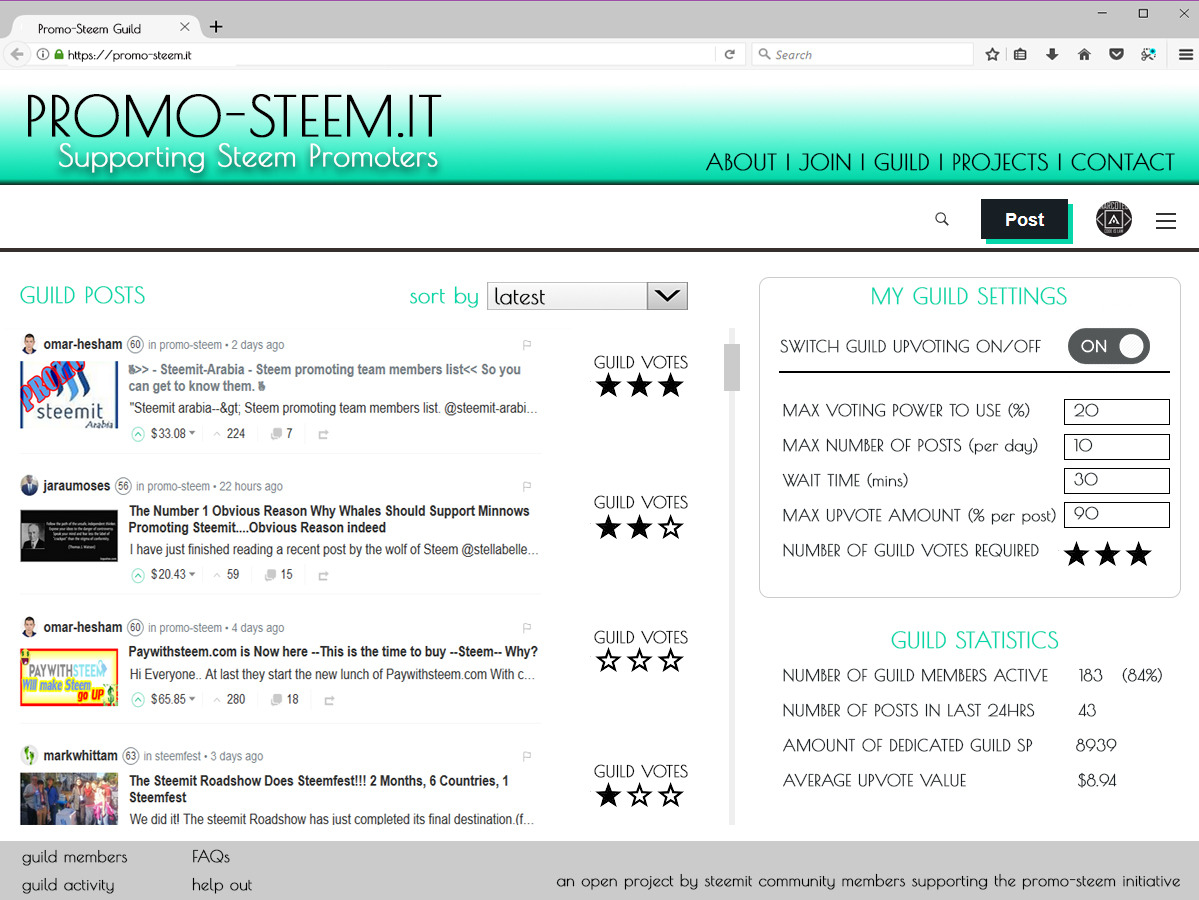 NOTE DESIGN IS CONCEPTUAL ONLY
Additionally, include here details of Steem Ambassadors Programme, all known promotional methods, links to discord channel, Approved apparel designs for t-shirts, caps, mugs, pens, business cards, flyers etc.
5. UP VOTING GUILD FOR NEW STEEMIANS
Once new Steemians are signed up, @futurethinker is setting up a guild to help support new Steemians in their early endeavors on Steemit, so that new high quality content is recognized as soon as possible, resulting in higher retention rates of new comers to the platform.
6. PRESENCE AT BUSINESS & INVESTMENT EXHIBITIONS / EVENTS / SHOWS / UNIVERSITIES
We understand that it is equally as important to bring new investment & businesses into Steem as well as to bring new users in. The two go hand in hand and the sustainability of Steem depends upon a certain correlation between the two.
In September 2017 #promo-uk attended the London Investors Show, credit to @ashley-peat, @tomasgeorge, @anarcotech & @stephenkendal for making it happen. We got this excellent stage to present Steem & Steemit cost free through Ashley's diligence and Stephen's contacts. The show was highly successful, as we were bombarded with positive questions until the event finished where we spent a further 45 minutes outside of the venue explaining the benefits of Steem to a remaining crowd of 35 people.
The demand for "Blockchain" tech at investment fairs and business networking events is strong at present.
Proposal: Attendance to present at these events is expensive, however, the potential exposure to investment and new business is tremendous. We would like to propose a community crowd fund on steemit.com to afford the fee to attend the London Investors show in 2018. Would Steemit Inc be able to publicize and assist with or match a crowd fund?
Full Video of the investors show is HERE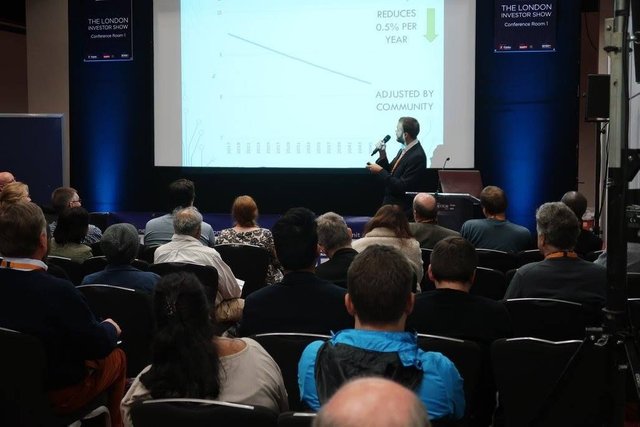 7. BOUNTY PROGRAMME
Other blockchains are rewarding their members who do great promotional work with bounty's that the community / core team votes to distribute. Proposal is to implement similar type system within Steemit, particularly for reimbursement of personal funds that have been spent on promotional work.
8. INTEREST FREE MICRO LOANS
We already provide interest free loans (approx 200 usd) to get people started should they need to acquire t-shirts, or other apparel, but do not have the initial funds. The idea being that we can up vote their promotional blogs until the amount of the loan is made back, at which point the funds can be returned interest free, and the Steemian who loaned the Steem now has a better reputation and increased following, due to having completed their work and having blogged about it. The party loaning the Steem blogs about the loan and will receive what is effectively an interest payment from the up votes on the blog. We wanted to start off with micro loans using a pitching process for promotional work HERE. However we would be happy to expand this for larger promotional efforts with clear costings.
PROPOSAL SUMMARY
The following summarize the proposals in principle, but do not fully detail each proposal from the above and are intended as discussion points only going forwards:
a). Support Steem Ambassador (or Steembassador) Programme
b). Support creation of Marketing and Promotional Steemit Account
c). Support creation of separate onboarding site
d). Provide key Steem Ambassadors with account ratification capabilities
e). Support creation of accounts with pre-loaded Steem for direct fiat - Steem investments
f). Support creation of up voting guild for promotional work, possibly including publicizing and allocating delegated Steem
g). Support creation of up voting guild for new Steemians, possibly including publicizing and allocating delegated Steem
h). Support funding or match funding & publicize promo-steem / Steem Ambassadors attendance to investment shows, university talks or business events.
i). Implementation of a bounty programme.
j). support an interest free micro loan programme.