I am currently testing the first phase of the guild upvoting system, which is designed to provide a rewards mechanism for high quality #promo-steem posts, and I'm pleased to report the progress here.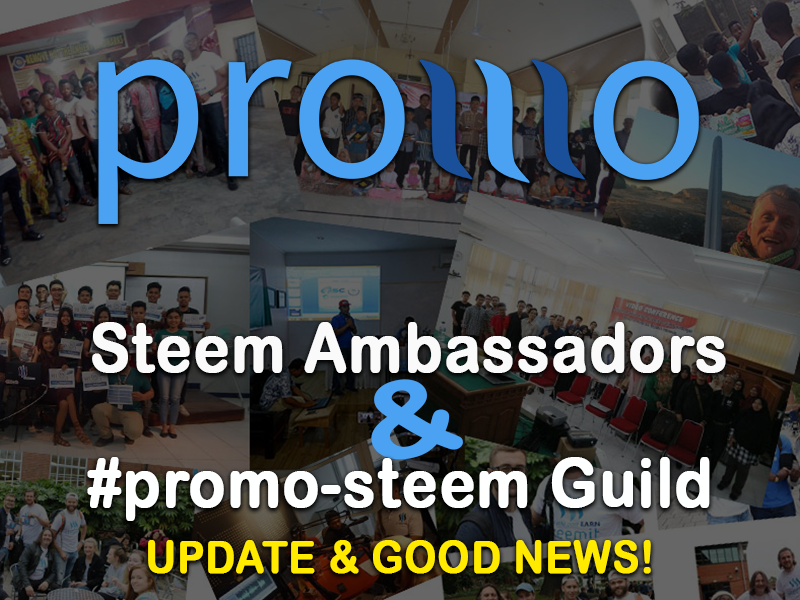 First of all, a massive shout out to @geekgirl who has done incredible work over the weekend putting together the core script which is now allowing me to pull the data from SteemSQL. As I had not interacted python with SteemSQL previously, I needed some help to get started with this from someone way cleverer than me, and she came up with the goods, enough that I can take it to the next stage now.
Promo-Steem Guild Objectives
This guild system was first mentioned in our promo-steem pre launch whitepaper, which you can find
here
.
The goal of the project is to create an upvoting system that consistently rewards high quality posts which are promoting Steemit and the STEEM blockchain.
The idea is that Steem Ambassadors, who will be approved by the community, will be the eyes and ears of the system. They will be curating on promotional posts, and when a certain threshold of them upvote a post tagged with #promo-steem, then this will trigger an upvote from the @steem-ambassador account.
Obviously, the plan is to bring in delegated SP which provides great rewards to those who are out there doing brilliant promotional work, bringing in new users and investors into the platform. It's also designed to cut down on the amount of spammy posts which are tagged with #promo-steem too, by having a system where trusted curators (Steem Ambassadors) effectively act as a buffer for filtering out spam and ensuring a level of quality.
Furthermore, the guild system is supported by a curation trail, which is already set up and working via SteemAuto.
---
Steem Ambassador Applications for community approval
Steem Ambassadors are respected, trusted and upstanding members of the Promo-Steem community who have a proven track record in the execution of highly effective promotional work for Steemit and the Steem blockchain.
In the next few days, those who have applied to be Steem Ambassadors will be released to the community on the @steem-ambassador account. Each applicant will need to be seconded by someone, and then the community gets to approve or reject their application.
Successful applicants will then start being Steem Ambassadors, and one of the most important aspects of this is that their curating forms the basis of the #promo-steem guild system. They won't have to do anything different, just continue to be great supporters of promoters all around the world, and curate on promo-steem tagged posts.
---
Once @steem-ambassador upvotes, the curating guild kicks in too, with those who are trailing it via SteemAuto adding their upvotes to the post. This maximises rewards for the author and of course those who are dedicating some of their voting power to the #promo-steem project.

---
Current progress of the Guild
The guild upvoting system phase 1 development has now been completed. Over the coming few days we will be testing this live. As Steem Ambassadors get approved, the system will be updated to take into account those who the community adopts. I will be watching the activity of the promo-steem guild system to ensure that (a) we aren't missing posts which have reached the threshold and (b) analysing the data to see if there are bugs in the system that we can iron out.
After a number of very in-depth conversations about how upvote weight, frequency, vote timing, and how the algorithm actually functions and caluculates which posts to vote on, we have decided that we are going to analyse the results over the space of a couple of weeks.....mainly because we really don't want any high quality posts that deserve attention to fall through the net.
We have looked at other guild models (for example curie) and may in the future tweak the system to incorporate aspects of these structures if we feel that it best supports promoters. At the moment, we just don't know, so it's important to simply manually check the data. This is going to be a full time job until we can work out what we can improve on. We will of course update the community as to how this is going, and once we've figured it out will provide full technical details of how it operates.
---
Why promoting is an activity to support
Promoting STEEM and Steemit means more users and investors on the platform, which is ultimately great for everyone, because it creates demand, and therefore drives the price of STEEM higher.
Furthermore, one interesting property has been that users from many developing nations are absolutely smashing it out there in terms of promoting in their local and regional communities, and some brilliant initiatives have been created. I've seen Steemit on mainstream TV programmes in Indonesia, to people using their local church services to talk about Steemit, to fun street theatrics which are driving awareness of the platform.
This is having the effect of directing rewards to parts of the world where there is a great deal of poverty and unemployment, and personally this is a massive motivating factor for me. I want to see the STEEM blockchain being a force at irradicating poverty!
---
If you like the goals of
#promo-steem
, here's a few things you can do to support voluntaryist promoters who are effectively out there trying to grow the platform, and in turn, raising the value of STEEM:
Final thoughts
What we are doing now is the tip of the iceberg. As
#promo-steem
becomes more and more popular, and whales start to realise that it's helping grow the value of their holdings, we expect that support from bigger account holders will increase. The circular effect of rewarding quality promotion, which in turn increases demand for STEEM, will have a massive impact across the entire community.
The one thing you can do today to help STEEM grow is to support the tireless promotional campaigns that are happening all across the world. Remember, these people are voluntaryists, and your upvotes encourage them to do more and more to help us all to prosper.
---
Credits: I'd like to express my gratitude to the following people, who have all given me their time to discuss and work out how to make this happen.
@stephenkendal
,
@starkerz
,
@futurethinker
,
@geekgirl
,
@cryptocurator
,
@themeanbean
Love, light and laughter to you all.
Anarcotech x