English version below
PT
É normal ver pessoas hoje em dia com problemas de memória, esquecendo coisas, sempre com a cabeça cheia, estressadas e até mesmo sem tempo para realizar as coisas que gostariam de fazer. Também tem muitas pessoas que tem vontade de desenvolver algo mas simplesmente não consegue quando acha um tempo, ou está preocupada com alguma coisa ou a criatividade não vem. E se eu disser que existe uma forma bem simples de resolver isso? Sem o uso de medicamentos, substâncias, e outras manhas.
A grande dica é: Escreva!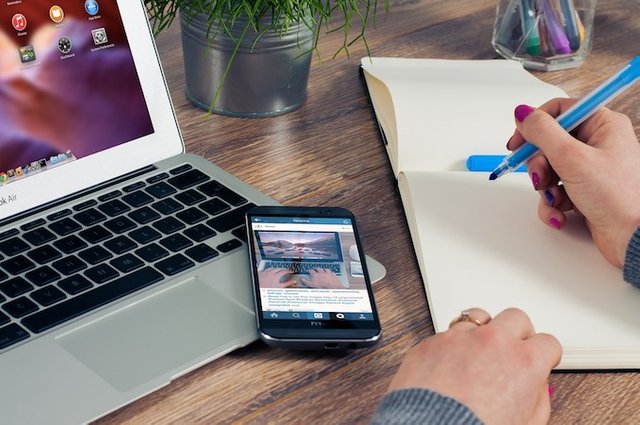 Source
Sim você leu certo, para desbloquear todo seu potencial de criatividade e produtividade basta escrever. Mas não é apenas escrever qualquer coisa, se fosse assim nós hoje em dia seríamos incrivelmente produtivos, já que escrevemos milhares de mensagens todo dia nos mensageiros instantâneos por exemplo.
Ok, o que devo escrever então?
Anotar pensamentos
Sim, por mais estranho que possa parecer, anotar seus pensamentos é algo muito útil, desocupa sua cabeça e permite que novos pensamentos sejam criados, podendo ser coisas mais úteis e criativas para você do que ficar repensando algo que você poderia ter feito diferente no dia anterior.
Um exemplo simples disso seria, você está num projeto de produção de algo, precisa de pensamento criativo para uma boa qualidade do seu texto, mas tudo o que consegue pensar é "não posso esquecer que amanhã tenho compromisso em X lugar".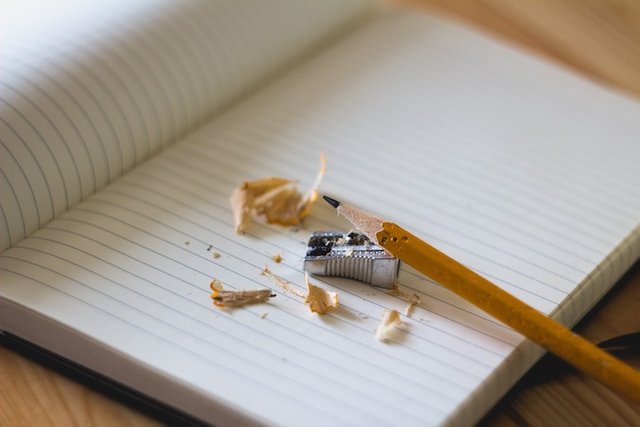 Source
O modo mais simples de parar de se preocupar com esse tipo de coisa é adicionando esta informação a seu sistema de organização. E não é por nada que estou dando essa dica agora, ela encaixa perfeitamente no sistema GTD com Evernote. Tenho posts publicados aqui sobre ambos aqui e aqui.
Se a informação tem prazo e validade ou momento específico para ocorrer coloque no calendário, se precisa lembrar de algo coloque em Read/Review ou em próximas ações para ser verificado, e se for apenas um pensamento bobo sobre qualquer coisa também anote. Seja em um caderno/nota separado, seja em qualquer lugar ou mesmo no papel, mas escreva, faça isso por alguns dias e veja a mágica acontecer. Você vai passar a ter ideias muito boas e criativas. Boa parte do tempo você só não está tendo ótimas ideias porque sua cabeça está ocupada com ideias péssimas ou medianas, mas que você acha importante e insiste em guardar.
Veja sua mente com um computador, melhor manter uma informação no HD do que na memória volátil (RAM), apesar da RAM (cérebro) ser muito mais rápido que o HD (nota escrita), ela é muito mais limitada, e fácil de sobrecarregar ela, sobrecarregando ela seu sistema todo para. Pense nisso.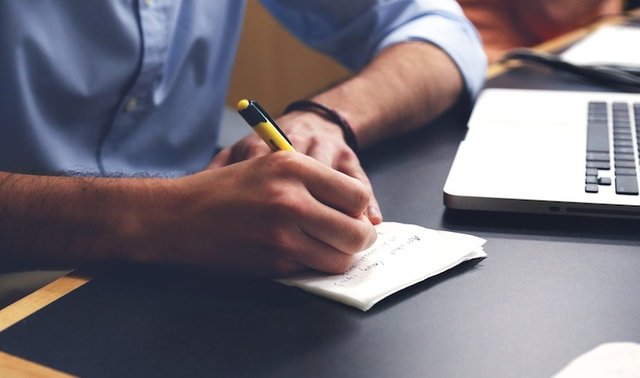 Source
Praticar escrita
Outro ponto fundamental é praticar a escrita. Aqui você deve basicamente escrever textos concisos sobre qualquer coisa, algo que você goste. Mas se estimule a escrever. Uma mente parada não vai gerar nada útil. Se gosta de poemas tente escrever o seu, se gosta de eletrônico escreva sobre isso, pode ser desde uma simples descrição até uma resenha completa ou artigo científico, passando por redações e histórias curtas, isso fica a seu critério.
Sugeri exercitar o cérebro nesse texto com escrita pois é uma coisa que (se você está lendo isso) tenho certeza que você sabe fazer. Pode não ser tão articulado com palavras ou ter até mesmo erros de escrita, mas ainda assim sabe escrever. Outras possibilidades de exercícios também poderiam ser resolver problemas lógicos, com jogos, quebra-cabeças, programação ou equações, música seja tocando um instrumento ou compondo uma música, e muitas outras.
Não importa muito como você faça, o que importa é que você faça. Não espere por algo que você quer ficar pronto, vá lá e faça você mesmo, sem dúvida você tem potencial.

ENG
It is normal to see people nowadays with memory problems, forgetting things, always with a full head, stressed and even without time to accomplish the things that they would like to do. There is also a lot of people who want to develop something but simply can not when they find a time, or are worried about something or creativity does not come. What if I say there is a very simple way to solve it? Without the use of drugs, substances, and other tricks.
The big tip is: Write!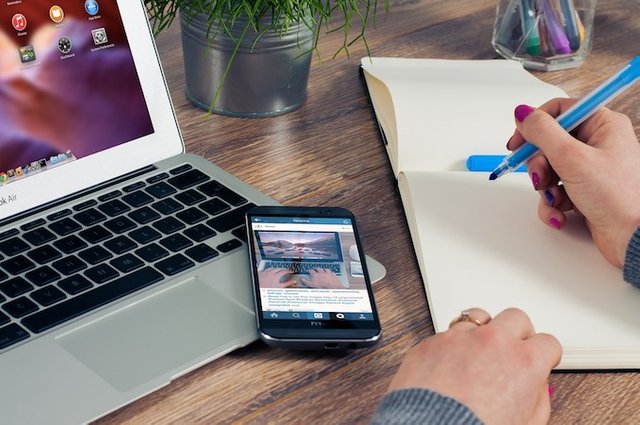 Source
Yes you read it right, to unlock all your potential for creativity and productivity just write. But it's not just about writing anything, if it were so in today's we would be incredibly productive, since we write thousands of messages every day on instant messengers for example.
Ok, what should I write then?
Keep note of your thoughts
Yes, odd as it may seem, writing down your thoughts is a very useful thing, unclogs your head and allows new thoughts to be created, which could be more useful and creative things for you than keep rethinking something you might have done differently on the day previous.
A simple example of this would be, you are trying to produce something, you need creative thinking for a good quality of your text, but all you can think of is "I can not forget that tomorrow I have appointment in place X".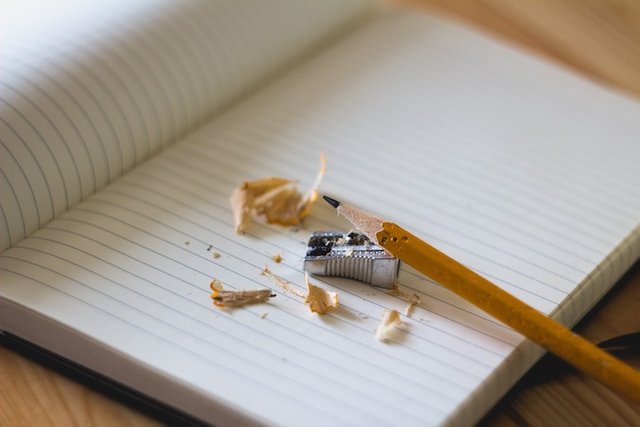 Source
The simplest way to stop worrying about this kind of thing is to add this information to your organization system. And it's not for nothing that I'm giving this tip now, it fits perfectly in the GTD system with Evernote. I have posts published here on both here and here.
If the information has a deadline and/or a specific time to occur, put it on the calendar, if you need to remember something put in Read/Review or next actions to be verified, and if it's just a silly thought about anything, also write it down. Be in a separate notebook/note, either anywhere or even on paper, but write, do it for a few days and see the magic happening. You will come up with very good and creative ideas. Most of the time you're just not having great ideas because your head is busy with lousy or medium ideas that you find it important and insist on keeping.
See your mind like a computer, better to keep information in the HD than in the volatile memory (RAM), although the RAM (brain) is much faster than the HD (note written), it is much more limited, and easy to overload, overloading it all the system will crash. Think about it.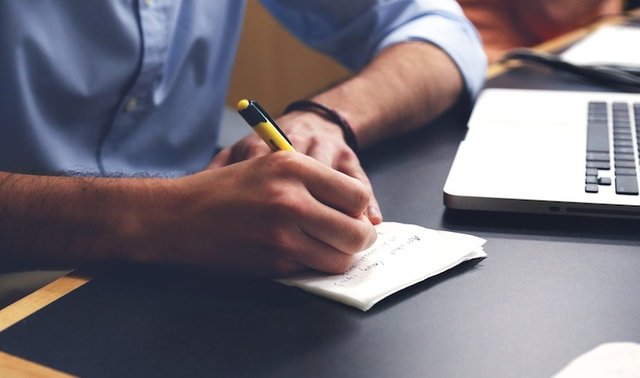 Source
Practice writing
Another key point is to practice writing. Here you should basically write concise texts about anything, anything you enjoy. But be encouraged to write. A stationary mind will not generate anything useful. If you like poems try to write your own, if you like electronic write about it, it can be from a simple description to a complete review or scientific article, through essays and short stories, it is up to you.
I suggested exercising the brain in this text with writing because it is something that (if you are reading this) I am sure you know how to do. You may not be so articulate with words or even have writing errors, but you still knows how to write. Other possibilities of exercises could also be to solve logical problems, with games, puzzles, programming or equations, music be playing an instrument or composing a song, and many others.
It does not matter how you do, what matters is that you do. Do not wait for something you want to get made, go there and do it yourself, no doubt you have potential.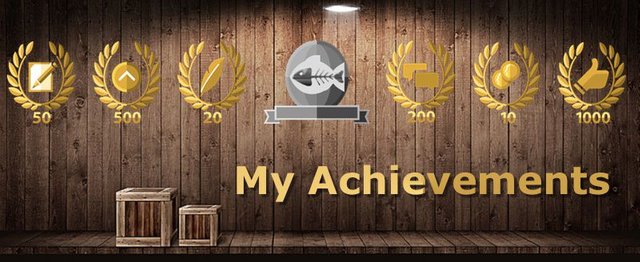 Gosta dos meus posts? Quer apoiar? Upvote e siga!
@deividluchi
Like my posts? Want to support? Upvote and follow!
@deividluchi