English version below
PT
No texto de hoje sobre produtividade vou falar sobre uma técnica incrível que mudou minha vida. Como já comentei em outros posts eu não sou uma pessoa muito organizada, é um bom sistema de organização vai fazer uma enorme diferença na sua produtividade.
Tudo começou há alguns anos quando ouvi em algum podcast uma frase como "quer resolver seus problemas mais rápido para poder ficar livre para fazer outras coisas?", essa frase me chamou a atenção. Estavam falando sobre sistemas de organização super complexos que necessitava de diversos softwares e Scripts para se manter. Eis que um dos participantes mencionou um sistema simples chamado GTD, sigla para Getting Things Done e é sobre isso que vamos falar hoje.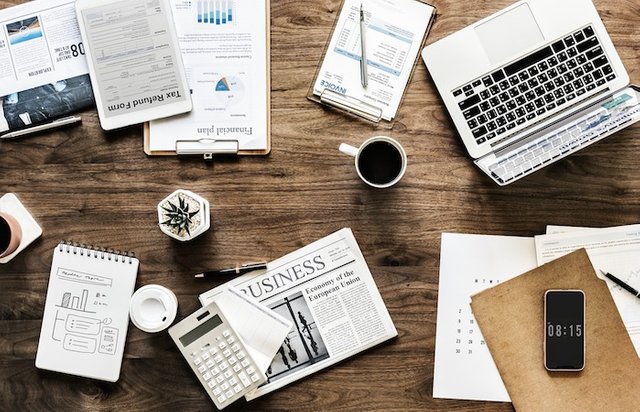 Source
GTD
GTD ou Getting Things Done é o título de um livro categorizado como "Business" escrito por David Allen. O autor é um consultor organizacional atualmente focado em ajudar pessoas e empresas em sua organização interna e desenvolver seu sistema.
Eu sou uma pessoa inquieta, gosto de sempre estar fazendo algo diferente, mas só consigo me desligar das minhas atividades quando não tenho mais pendências e a partir do momento que comecei a aplicar o GTD na minha vida passei a ter muito tempo livre podendo assim dedicar minha atenção a outras coisas sem preocupação com coisas pendentes.
Vamos ao sistema, o fluxo do GTD é bem simples, veja a imagem abaixo: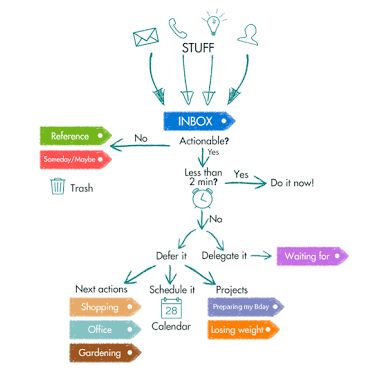 Source
Tudo começa no topo onde suas coisas (Stuff) entra na sua caixa de entrada (inbox). Neste momento você classifica a "coisa" antes de tomar qualquer ação sobre ela.
Sua primeira pergunta deve ser, eu tenho algo para fazer quanto a isso? Se sim segue para o próximo passo se não vai para a primeira classificação. Esta informação, pode ser usada como referência? Aquilo que se guarda para uma consulta futura. Ou será classificada como algo que farei um dia (someday/maybe), quando sobrar tempo, sem compromisso? Se não for nenhuma das duas seria interessante descartar a informação.
Seguindo no ramo de que ações precisam ser tomadas, a primeira coisa a ser identificada é, consigo resolver em menos de 2 minutos? (Não precisa ser 2 minutos, mude para quanto se sente confortável, não passando muito de 5 minutos). Se não for possível resolver em 2 minutos vamos ao próximo passo. Se for possível fazer faça agora. Ignore todo o resto e faça isso e apenas isso até resolver, não passando do limite de tempo determinado.
Seguindo o fluxo, a próxima pergunta que se deve fazer é, eu tenho que fazer ou posso/devo delegar para alguém? Se a resposta para isso é delegar para alguém, classifique esta informação como aguardando resposta (Waiting for), envie para a pessoa e aguarde sua resposta, e confira regularmente. Caso seja você que deva fazer temos três opções. Adicionar a lista de coisas para fazer (Next actions), programar para fazer em um momento específico, ou classificar em um projeto.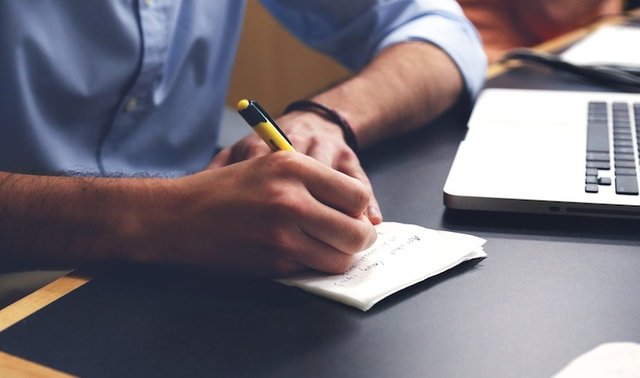 Source
A diferença de projeto para lista de coisas a fazer é que projetos não tem a mesma urgência, coisas a fazer são coisas pontuais, já projetos são grandes caixas, cada um com diversos itens para fazer.
E por fim, todo o sistema deve ser verificado periodicamente, em buscas de melhorias e ajustes, o que ficar melhor para seu uso.
---
ENG
In today's text on productivity I will talk about an incredible technique that changed my life. As I said in other posts I am not a very organized person, it is a good organization system and will make a huge difference in your productivity.
It all started a few years ago when I heard in a podcast a phrase like "Do you want to solve your problems faster to be free to do other things?", That phrase caught my attention. They were talking about super-complex organization systems that needed a lot of software and scripts to keep up. So one of the participants mentioned a simple system called GTD, an acronym for Getting Things Done and that's what we're going to talk about today.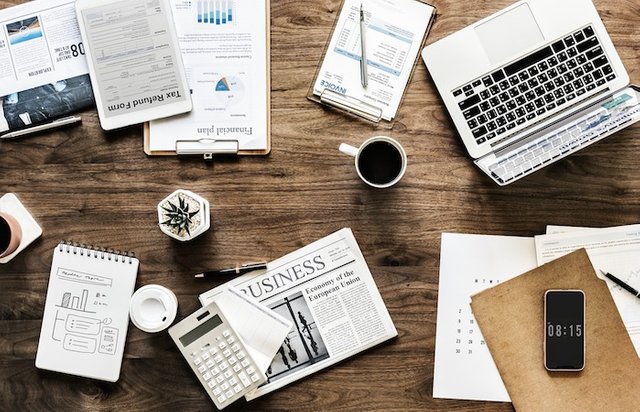 Source
GTD
GTD or Getting Things Done is the title of a book categorized as "Business" written by David Allen. The author is an organizational consultant currently focused on helping individuals and companies in their internal organization and developing their system.
I am a restless person, I like to always be doing something different, but I can only disconnect from my activities when I do not have any more problems and from the moment I started to apply the GTD in my life I started to have a lot of free time so I could dedicate my attention to other things without concern for pending things.
Let's go to the system, the GTD workflow is quite simple, see the image below: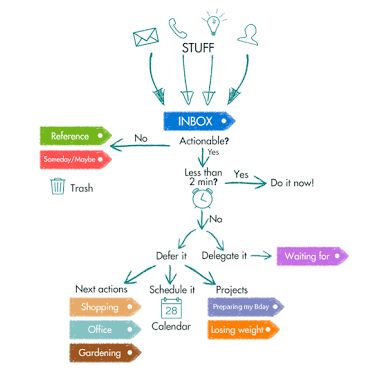 Source
It all starts at the top where your stuff goes into your inbox. At this point you classify the "thing" before taking any action on it.
Your first question should be, do I have something to do about it? If yes it goes to the next step if it does not go to the first classification. Can this information be used as a reference? What you save for future reference. Or will it be classified as someday / maybe, when there is time left without commitment? If it is neither, it would be interesting to discard the information.
Following in the field of what actions need to be taken, the first thing to be identified is, can I resolve it in less than 2 minutes? (It does not have to be 2 minutes, change to how comfortable it is for you, not over 5 minutes). If it can not be solved in 2 minutes, let's go to the next step. If you can do it now, ignore all the rest and do this and only this until solved, not exceeding the determined time limit.
Following the flow, the next question to ask is, do I have to do or can I delegate to someone? If the answer is to delegate to someone, rate this information as Waiting for, send it to the person and wait for their response, and check it regularly. If it's up to you, we have three options. Add the list of things to do (Next actions), schedule to do at a specific time, or sort on a project.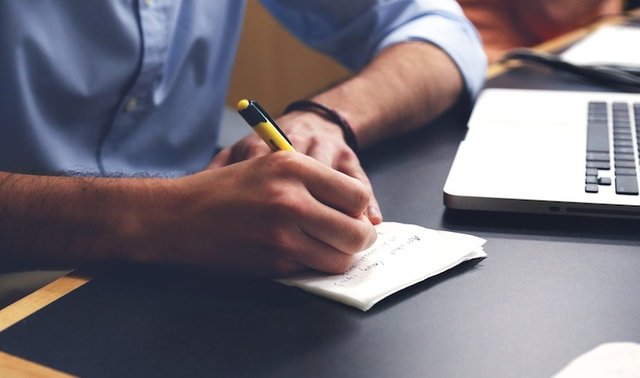 Source
The difference between list of things to do and projects is the urgency, things to do are punctual things, projects are big boxes, each with several items to do inside.
And finally, the entire system should be checked periodically for improvements and adjustments, which will suit best for your use.
---











Gosta dos meus posts? Quer apoiar? Upvote e siga!
@deividluchi
Like my posts? Want to support? Upvote and follow!
@deividluchi