| | | |
| --- | --- | --- |
| The last weekend has been a "long weekend" in Austria: August 15th is a public holiday, and when that day falls on a Thursday, most people will take Friday off. | | Das letzte Wochenende ist in Österreich ein "langes Wochenende" gewesen: Der 15. August ist ein Feiertag, und wenn dieser Tag auf einen Donnerstag fällt, nehmen die meisten Leute am Freitag frei. |
Dürnstein
Wachau, Austria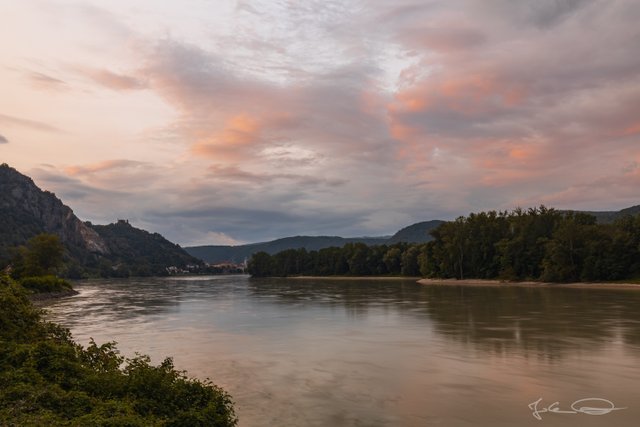 ❖ click for fullsize view ❖
Canon EOS R | EF 16-35mm 1:4L IS USM
ISO 100 • f/14 • 0.8 sec • @31 mm
We did it that way and went to Lower Austria on Thursday to visit my niece.

My daughter was at the Frequency Festival in St. Pölten until Sunday and we only saw her two or three times. Her twin brother said, one night at the festival is enough, and spent the rest of the days with his lovely family 😉

The weather was reasonably warm during the day, but the nights were already fresh like in Autumn.

Wir haben es auch so gemacht und sind am Donnerstag zu meiner Nichte nach Niederösterreich gefahren.

Mein Töchterchen war dann bis zum Sonntag auf dem Frequency Festival in St. Pölten und wir haben sie nur zwei oder drei mal gesehen. Ihrem Zwillingsbruder hat eine Nacht auf dem Festival gereicht, und er hat die restlichen Tage mit seiner lieben Familie verbracht 😉

Das Wetter war einigermaßen warm am Tage, aber die Nächte waren bereits herbstlich frisch.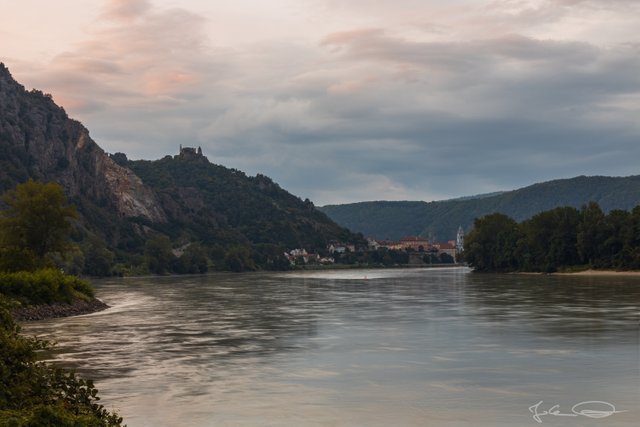 ❖ click for fullsize view ❖
Canon EOS R | EF 70-200mm f/4 L IS II USM
ISO 100 • f/14 • 1.0 sec • @70 mm
Friday morning I drove along the Danube in the hope of a sunrise, but the sky was gray in gray and it also rained in places slightly.

Upstream I noticed intense colors in the sky shortly before the village of Dürnstein and luckily found a parking space quite fast.

Unfortunately, while I mounted the camera on the tripod, the really very pink and orange colored clouds faded very quickly, and I was glad that I could at least take these pictures because after a few minutes the sky was gray again and it started to rain, as you might see on the photos.

Freitag in der Früh bin ich in der Hoffnung auf einen Sonnenaufgang entlang der Donau gefahren, aber der Himmel war grau in grau und es hat stellenweise auch leicht geregnet.

Flussaufwärts habe ich dann kurz vor der Ortschaft Dürnstein intensive Farben am Himmel bemerkt und glücklicherweise ziemlich schnell einen Parkplatz gefunden.

Während ich die Kamera auf das Stativ montiert habe, verblassten die wirklich sehr stark rosa und orange gefärbten Wolken aber leider sehr rasch, und ich war froh, dass ich zumindest diese Fotos machen konnte, weil schon nach ein paar Minuten der Himmel wieder grau war und es zu regnen begonnen hat, wie man auf den Fotos auch sehen dürfte.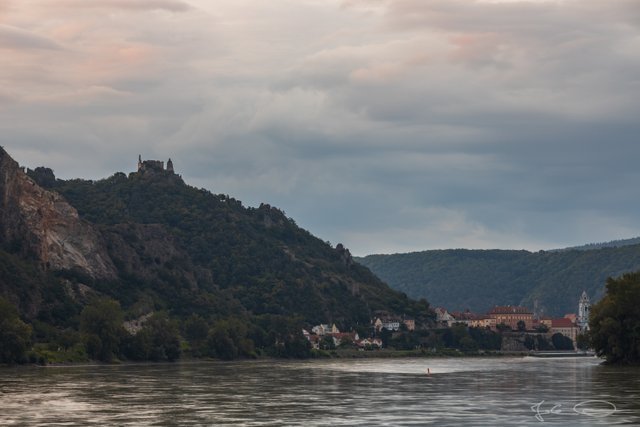 ❖ click for fullsize view ❖
Canon EOS R | EF 70-200mm f/4 L IS II USM
ISO 100 • f/14 • 0.6 sec • @113 mm
On the photos you can see the river Danube with the village Dürnstein and the blue and white colored tower of the Abbey Church Dürnstein, which is considered the landmark of the Wachau.

The castle ruins Dürnstein on the wooded hill can be seen on the left above.

Auf den Fotos sieht man die Donau mit der Ortschaft Dürnstein und dem blau-weiß gefärbten Turm der Stiftskirche Dürnstein, der als das Wahrzeichen der Wachau gilt.

Links oberhalb ist die Burgruine Dürnstein auf dem bewaldeten Hügel erkennbar.
Information
---
If you like my photos I would appreciate an upvote, nice comment or a resteem 😊 ... and maybe you would like to follow me, so you do not miss a post from me anymore.
Thank you for visiting my blog,
have a nice evening,


Photos and Text: Johann Piber
#originalcontent #originalworks #deutsch #austria #steemit-austria




[//]:# (!steemitworldmap 48.395323 lat 15.519591 long Stift-Duernstein d3scr)