Tropical Bay Breakfast Jars (Vegan) - FOOD PHOTO SHOOT
My trip to San Diego, California is getting so close so I just had to celebrate with something fresh and fruity!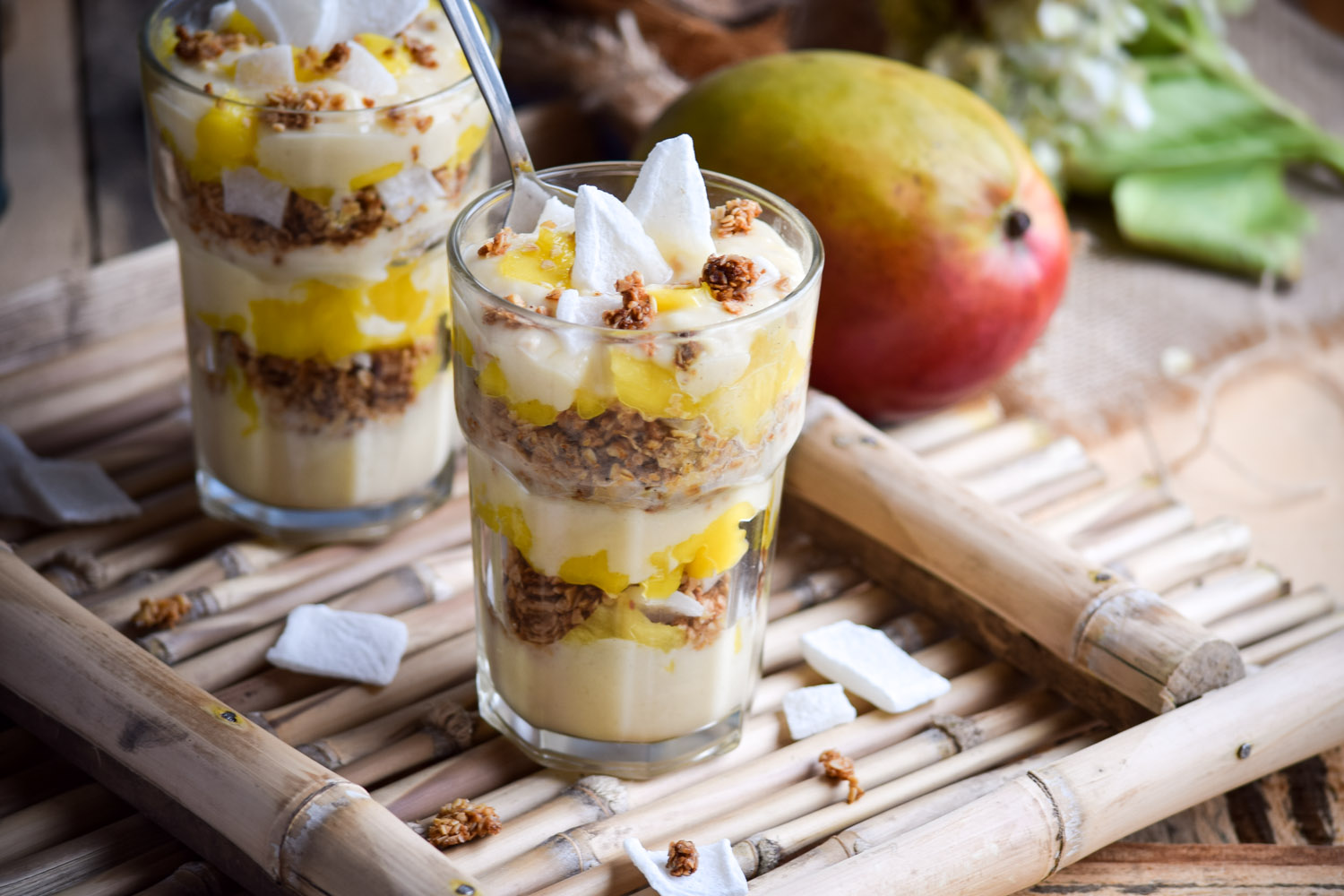 I'm not sure this quite makes the list of entirely 100% healthy foods because, well look at it. How can you not feel a little indulgent when you're eating these layers of fruity, crunchy, sweet happiness?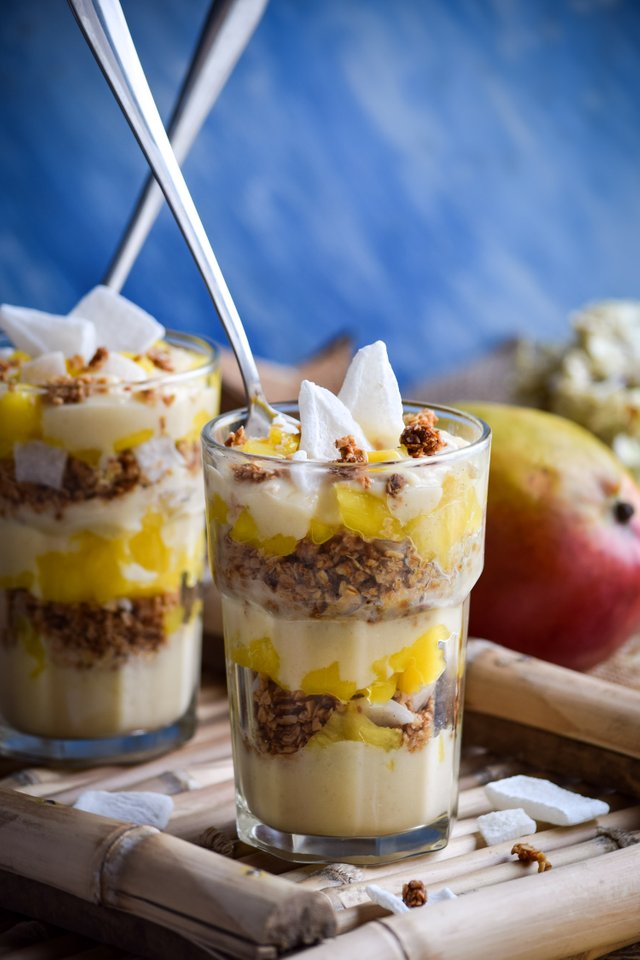 I've been in the mood for lots of fresh and summery stuff the last few days because we've been having these random warm days popping up and it's been awesome. Although, I'm pretty sure it's just a tease because there is still a chunk of winter left to get through and I doubt it will all be sunshine. Hmm, but maybe we're going to have an early Spring……… Okay fine, wishful thinking probably isn't going to work in this scenario but it's worth a try.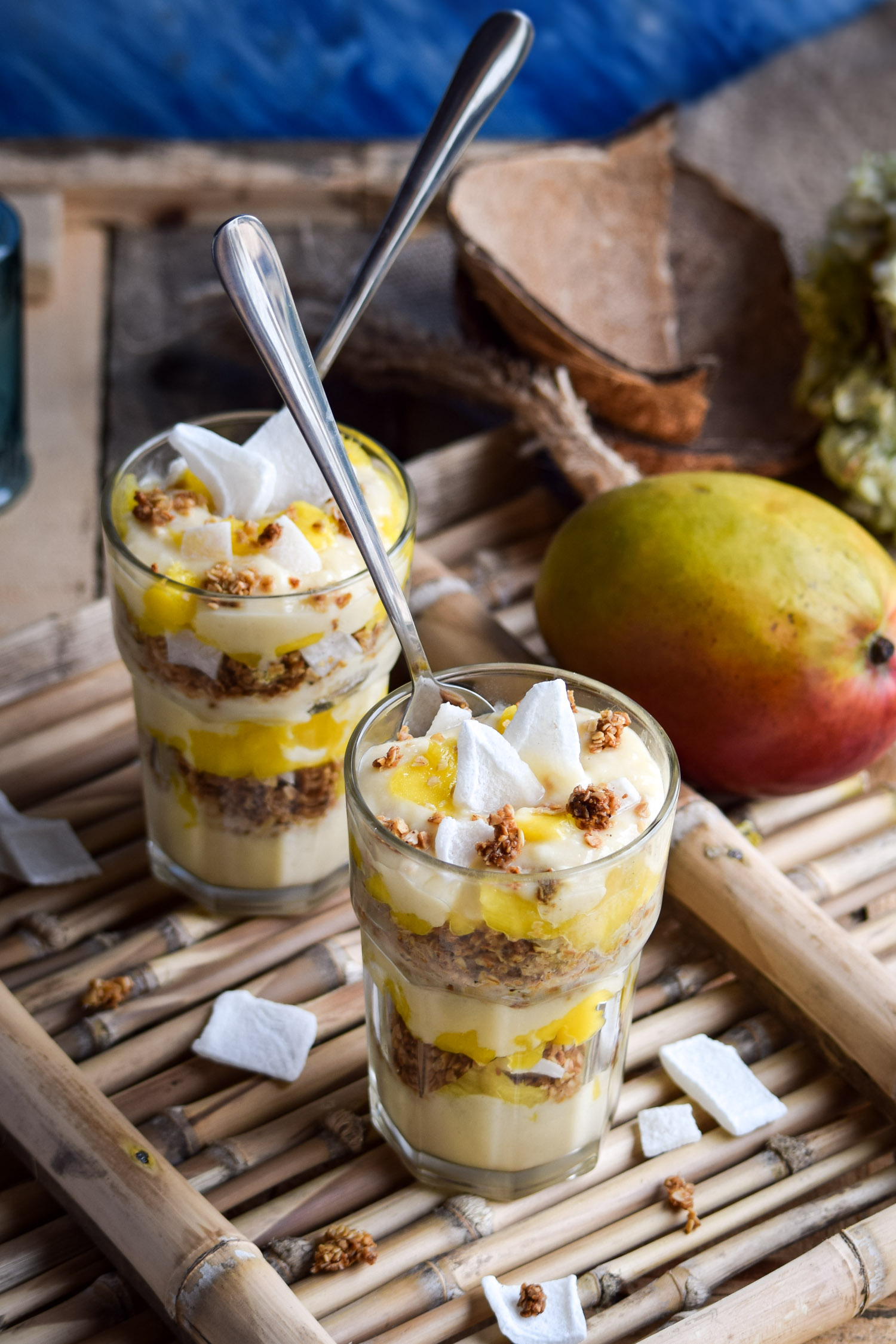 I am so anxious and excited to break out some of my new Spring clothes that still have the tags on (even though I bought them like months ago). It's pretty crazy how drastically the day length changes during the year too. Already, I'm noticing the days getting longer and it won't be long before the sun hangs out until almost 10:30 at night midsummer because we're so far North..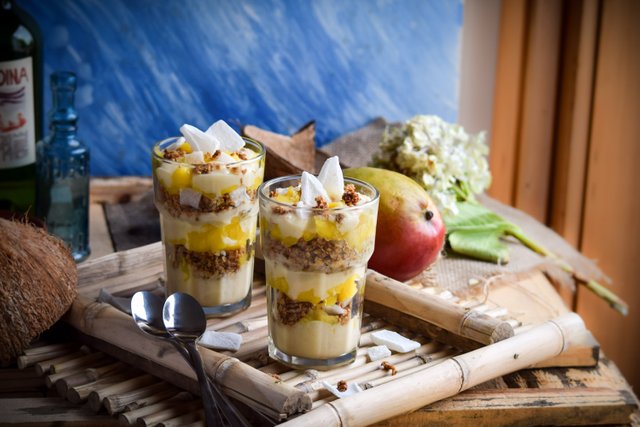 So what I'm getting at is that these parfaits are perfect for the beginning of the warm seasons for those of us up North and equally perfect for the end of the summer if you live down South. I was going to make them with yogurt but they were so close to being completely vegan that I though it would be nice to go all the way, Plus, I've been wanting to try this idea I had for vegan "yogurt" and I'm happy to say it worked and is amazing! I mean, you guys all know that I am not vegan, but I know a lot of you guys have certain diet restrictions and I like be as helpful as I can.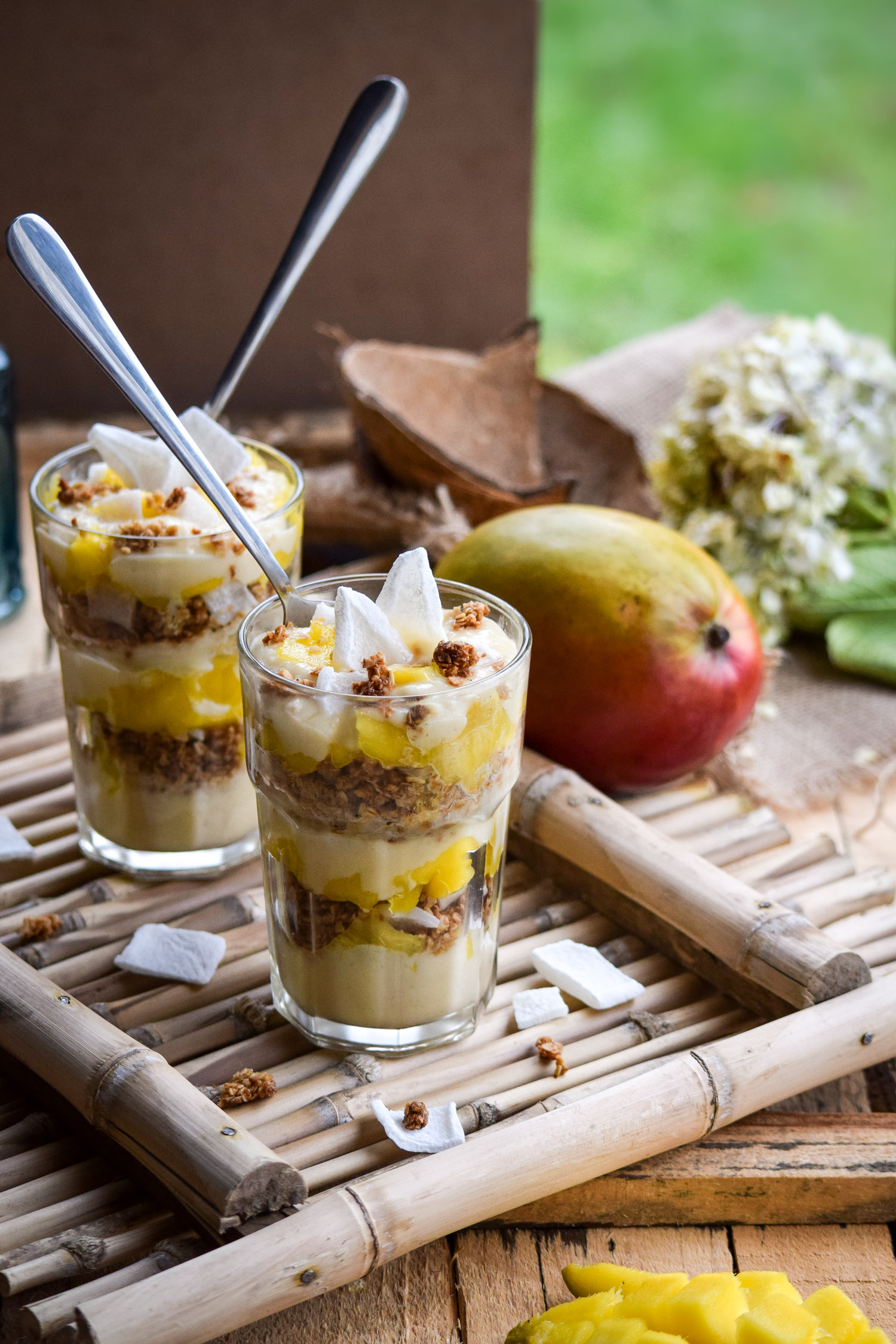 I think my brothers would have eaten 3 or 4 of these if I'd let them, and they are not that big on eating their fruit either, so that's saying something. Actually, Brock keeps begging me to make more because he loved it so much, and I agree that these are definitely a do-again. If you are not a vegan than you can use regular vanilla or fruit flavored yogurt instead of making my dairy free version, but the granola is a must. So much flavor and the young dried coconut is one of my new favorite things. It's coconut that they have harvested early when it's still green so that it's extra sweet and soft. Then they dry it just like other fruits and, uh, yum! It's basically candy, you've gotta try it!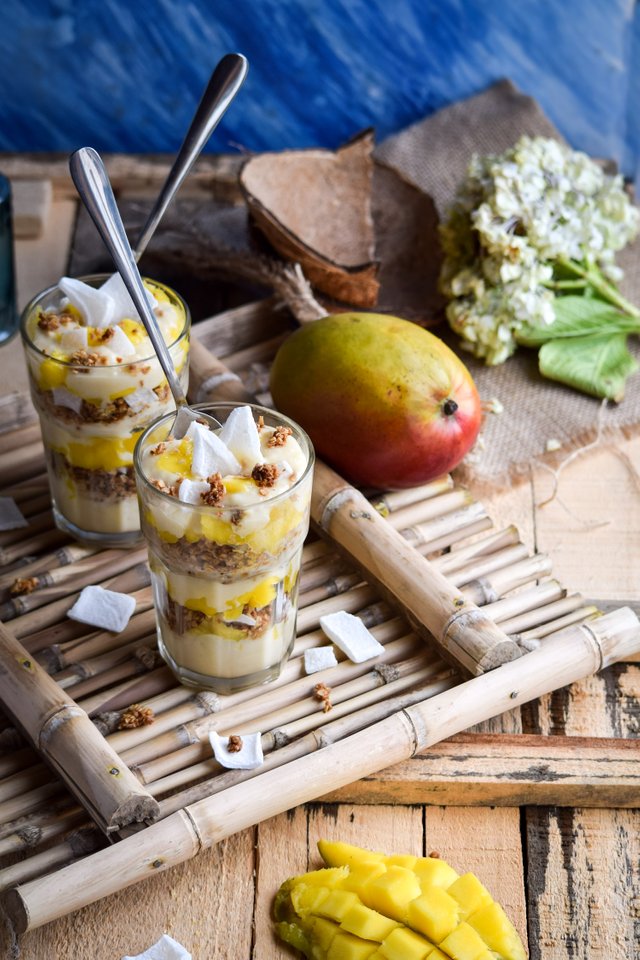 Tropical Bay Breakfast Jars (Vegan)
Ingredients
Pineapple Coconut "Yogurt":
1 cup full-fat coconut milk
1 cup almond milk (or regular if not vegan)
1 cup 100% orange juice
2 cups 100% pineapple juice
1/4 cup raw (turbinado) sugar
6 tablespoons cornstarch
1 teaspoon vanilla extract
2 teaspoons cider vinegar or lemon juice
pinch of salt
Coconut Granola:
2 cups old-fashioned oats
3 tablespoons unsweetened, dried coconut flakes
2 tablespoons palm, maple, or agave syrup
1/4 cup raw (turbinado) sugar
3 tablespoons coconut oil (or butter if not vegan)
1/2 teaspoon ginger
1/2 teaspoon cinnamon
1/2 teaspoon salt
1 teaspoon vanilla
Instructions
Pineapple Orange "Yogurt":
Whisk all ingredients, except vanilla extract, in a medium saucepan until completely smooth. Place over medium heat and bring to a gentle boil. Stir for 6 to 8 minutes or until it coats the back of a spoon. Remove from heat and cool for about 20 minutes, then pour through a fine mesh strainer into an airtight container and place in fridge for at least 2 hours until completely cooled. (You can whisk in some water if it gets too thick once cooled.)
Granola:
Preheat oven to 350 degrees F (180 C). Combine syrup, sugar, salt, ginger and cinnamon in a medium saucepan and place over low heat. Stir for about 3 minutes until sugar is dissolved. Add vanilla and stir until smooth. Add oats and coconut and stir to combine. Spread out granola on a parchment lined baking sheet and bake for about 10 minutes. then remove from oven and stir with spatula. Return to oven and bake for 10 to 12 minutes longer until crisp. Remove from oven and sprinkle young coconut pieces on top and toss gently to combine. Bake for 1 to 2 minutes then remove and cool completely.
Assemble:
Layer the "yogurt", granola, and mango in glasses or jars and serve immediately or refrigerate until ready to serve.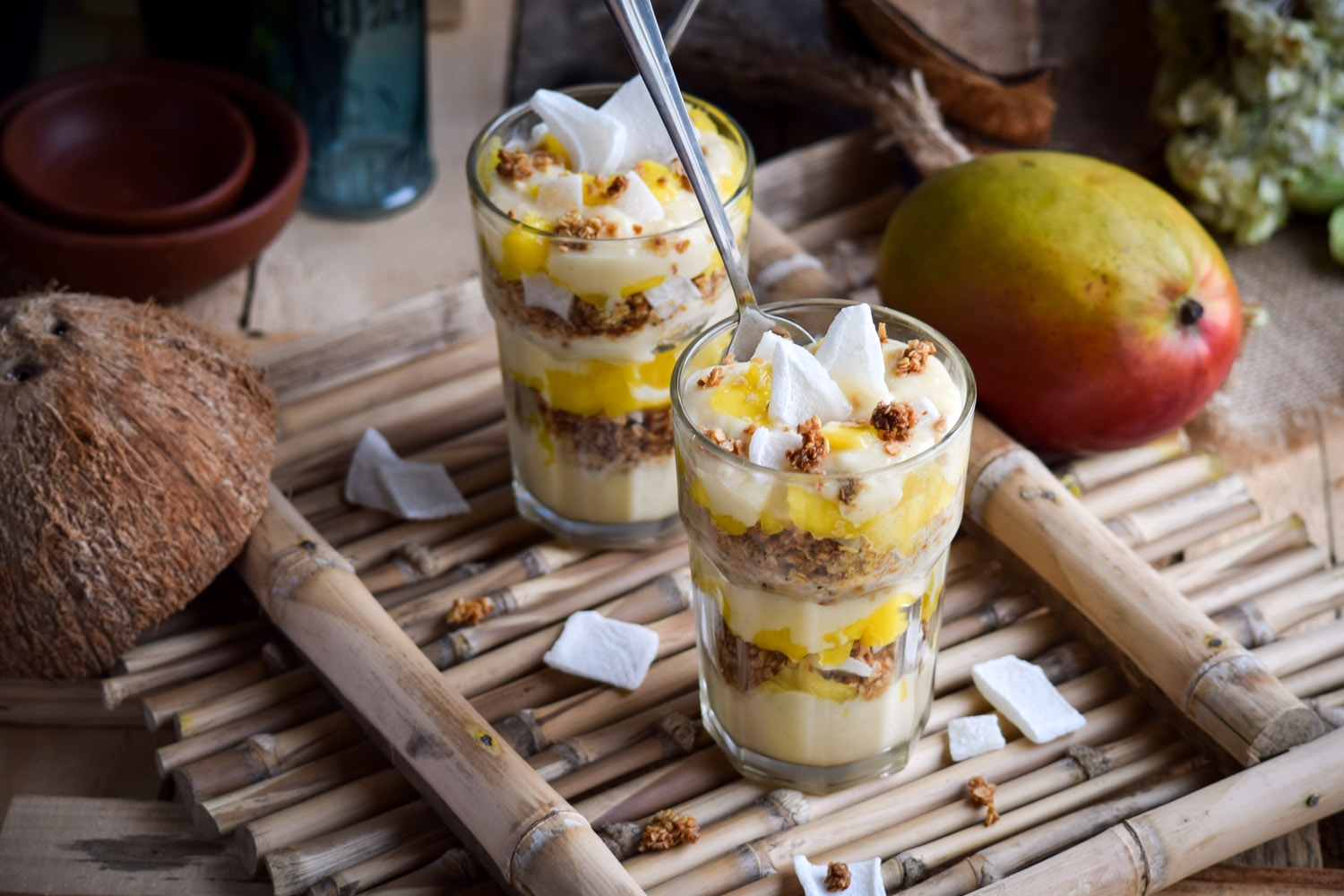 ALL CONTENT IS MINE AND ORIGINAL! All of these food photos were taken with my Nikon D5300 and my favorite Lens, the Nikon AF-S FX NIKKOR 50mm f/1.8G. You can find out more in my INTRO POST.
And, by the way, to all the minnows out there, my intro post did a huge $0.21. The key to success on Steemit is to be consistent and persistent. Click on the link below for some great tutorials on how you can also succeed on the steem blockchain: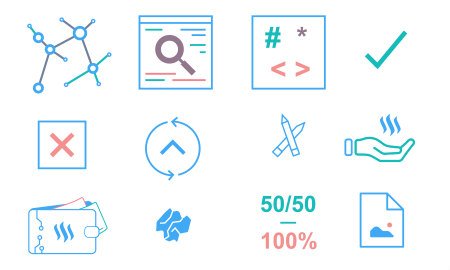 Also, a huge shoutout to @rigaronib for designing my logo!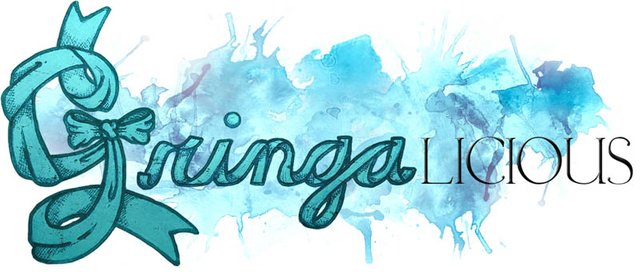 For more great food ideas, please do not forget to look at my other recent food posts
Do you want to learn more about me? Click here to see a recent @wadepaterson interview with me - 20 questions with @gringalicious