I've decided I need to become closer friends with my slow-cooker. So here's the thing, for the longest time I didn't have an actual slow-cooker while living in Chile. I had this rice cooker that, let's be honest, was a piece of crap, and I tried many times to trick it into thinking it was a crock-pot with no luck whatsoever.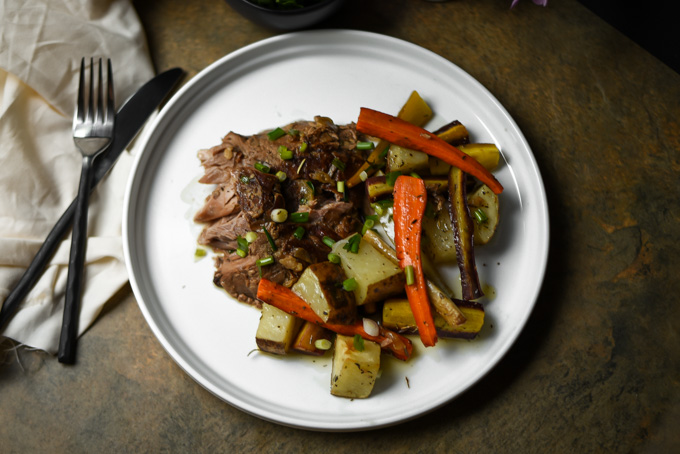 When I finally did acquire one though, I'd forget to use it because I got so used to not having it. I feel like I still do that now that I have a really great one. Okay, but recently with the weather being so cold and the days being short I've been thinking about it a lot more because there are so many comfort foods that are ten times easier with it. I can hardly think of a more comforting meal than tender meat and potatoes.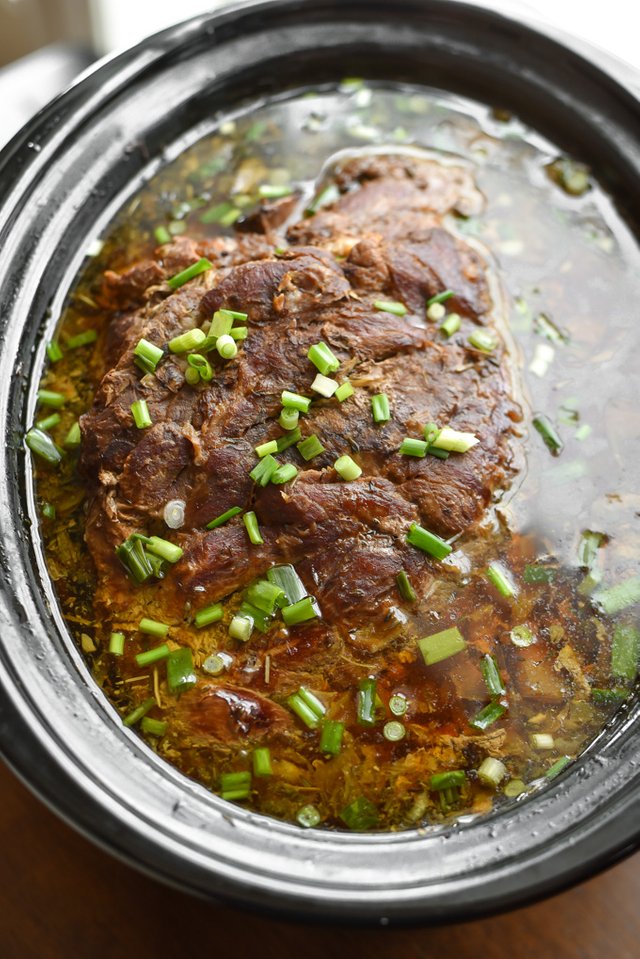 Oh, and speaking of the weather, it's been much less snowy than usual this Winter. I mean, we've had snow, but typically the Winters up here have us buried in feet of it for a few months. So far it's been mild and I can't say I'm upset. For me it's the perfect amount right now because I've really enjoyed being able to drive and not have the snow to deal with.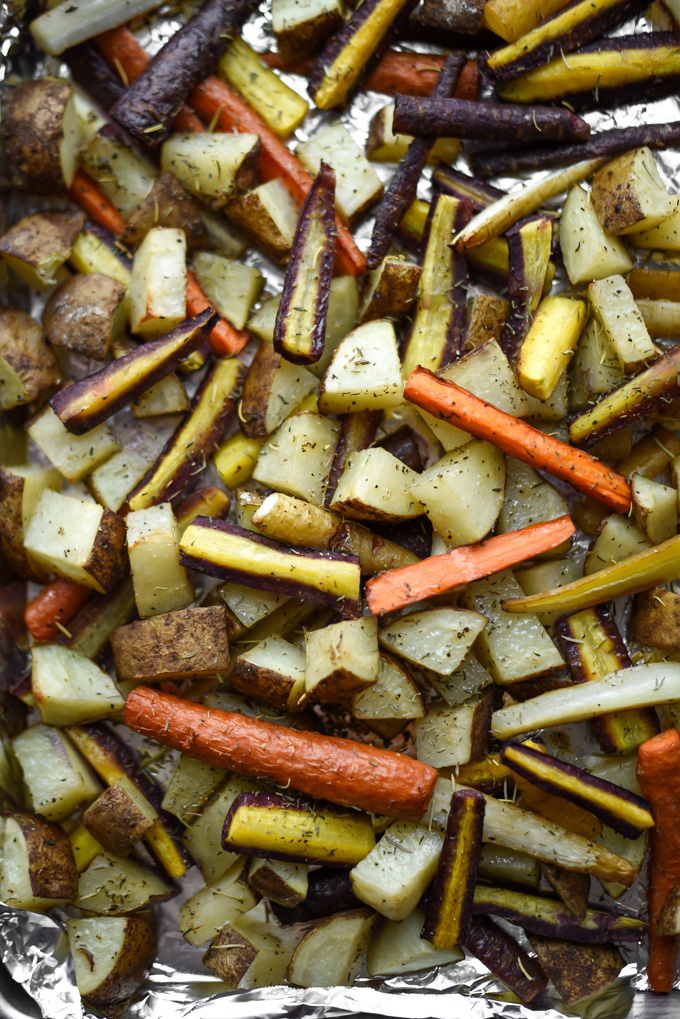 Haha, my dad on the other hand, he loves to drive in it. Just between us, he's a total kid at heart when it snows and he'll do the best he can to make everyone in the car nervous by showing-off and slipping and sliding on purpose in it. He's been complaining this past week that "Winter's over!" because the temp has been really warm for January.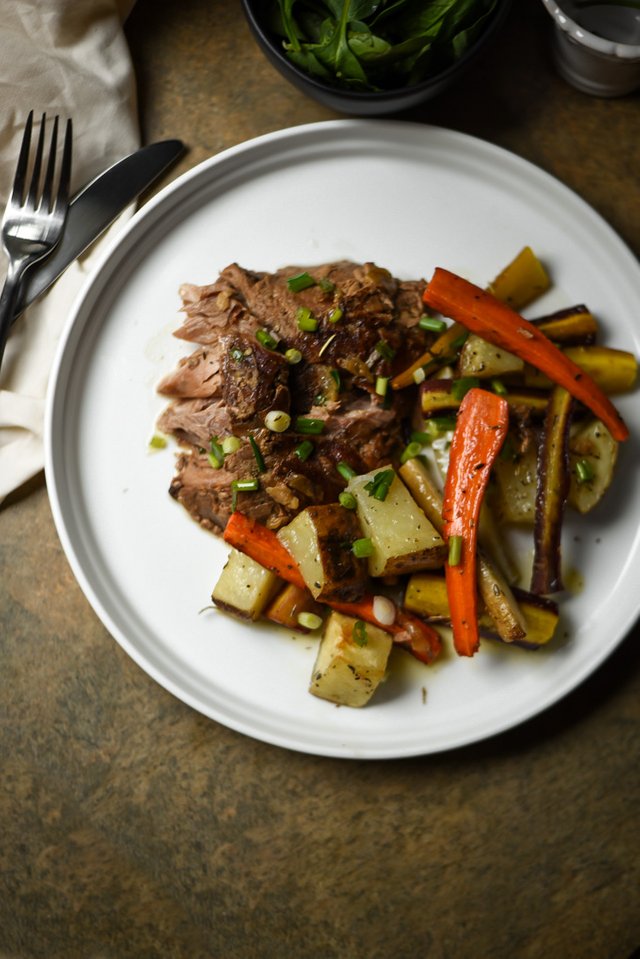 But anyway, I'm enjoying that there's white on the ground but that it's been staying off the roads for me. I should also warn you guys that I might become a little too attached to the slow-cooker now. I've made a few meals in it already just this week and I'm basically slapping myself asking why in the world I've neglected it so much.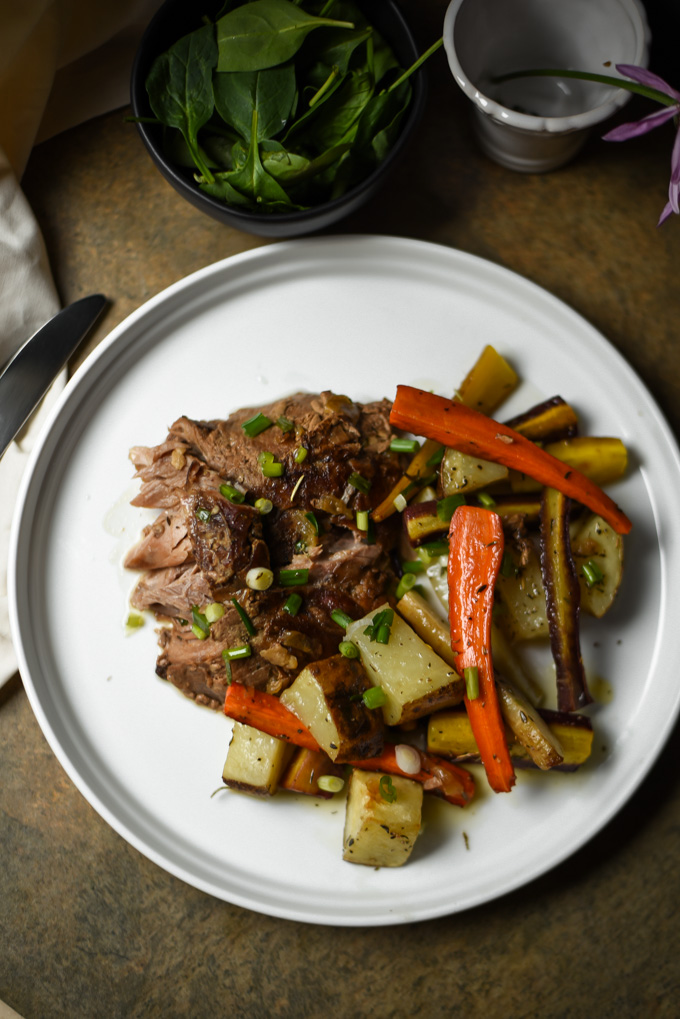 Of course, this is just me personally. You probably already know that there are endless possibilities to make in it, so definitely expect some more future slow-cooker recipes coming your way. Also, this recipe works well with beef instead of pork also if you don't eat pork.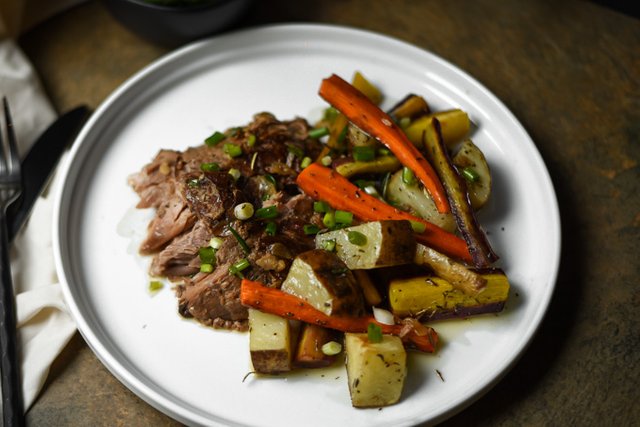 Braised Slow-Cooker Pork Roast + Rainbow Root Veggies
Ingredients
Roast:
1 bunch green onions, minced
4 cloves garlic, minced
pound pork shoulder
3 tablespoons worchestershire sauce
2 tablespoons soy sauce
salt and pepper to taste
Rainbow Root Veggies:
1 pound rainbow carrots (or basic orange), chopped or sliced
4 small to medium Idaho potatoes, washed and cubed
1 tablespoon olive oil
1/2 teaspoon dried rosemary
1/2 teaspoon dried thyme
salt and pepper to taste
Instructions
In a large, deep, skillet or dutch oven, heat the olive oil over medium high heat and toss in the green onion and garlic. Stir over heat for about 2 to 3 minutes until browned then use a spatula to move them to the side of pan and place the pork shoulder in pan. Cook for 3 to 4 minutes until just the outside is browned, then turn and repeat on other side. Turn off heat and move the roast into the crock-pot then scrape the garlic and onion on top.
Add the soy, worchestershire, salt and pepper, and herbs and place lid on top. Cook on low for 6 to 8 hours until completely done and tender. It should be basically falling apart.


Rainbow Root Veggies:

Heat oven to 400 degrees F (200 C) and line a baking sheet with foil. Add the veggies to pan and drizzle with oil, then season with salt, pepper and herbs. Use your hands to gently toss to coat then place pan in oven to bake for 25 - 30 minutes until tender-crisp and browned.
Remove pan from oven and serve with the hot roast.

ALL CONTENT IS MINE AND ORIGINAL! All of these food photos were taken with my Nikon D5300 and my favorite Lens, the Nikon AF-S FX NIKKOR 50mm f/1.8G. You can find out more in my INTRO POST.
And, by the way, to all the minnows out there, my intro post did a huge $0.21. The key to success on Steemit is to be consistent and persistent.
Also, a huge shoutout to @rigaronib for designing my logo!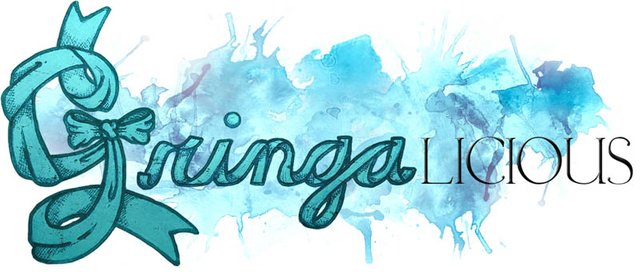 For more great food ideas, please do not forget to look at my other recent food posts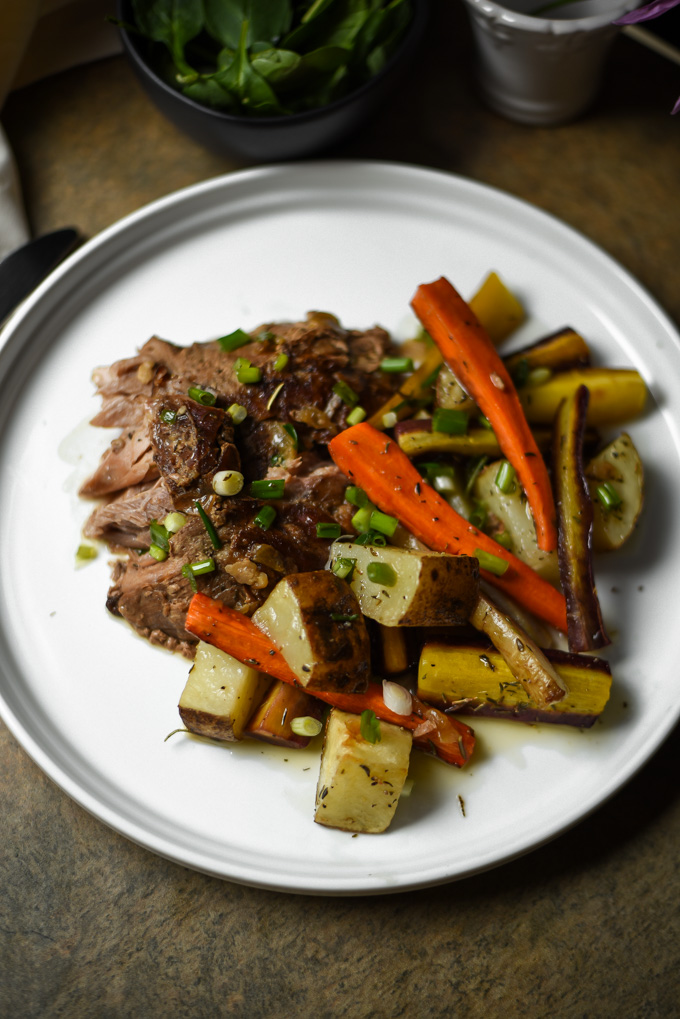 Oh, and don't forget to follow me on all your favorite social media channels!