Week 9 - Pay It Forward Curation Contest - Entry @reonlouw
This is my fourth entry into this contest. It is an awesome strategy enabling each of us to highlight the people we connect to on Steemit. I love doing it and I think you should do it too!
This is the post introducing Week 9 of the contest.

Week 9 - Pay It Forward Curation Contest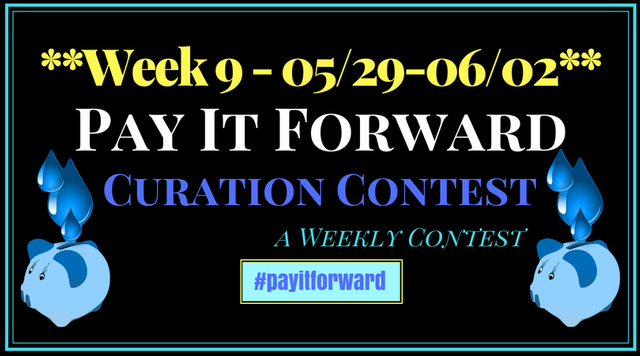 Jacobus Bernardus van der Walt, aka Bernardt James is a South African pianist/composer. He composes classical crossover, light classical and film music. Steemit is his first blogging venture but you can find his music on Apple Music, Google Play, Spotify and other services. Many of his posts contain music he wrote himself and I have enjoyed every piece to which I have listened. I encountered @bernardtjames on Kryptonia and I'm very glad I did.
Nominated post
Please Support ! Three lions and a tiger poisoned at Limpopo, South Africa
This is a slightly other than normal post for
@bernardtjames
. He discovered that three lions and a tiger had recently been poisoned in a game park he knows well. This post is an attempt to raise funds to support the owner. I'm hoping that curation in this contest will give his post a boost. Please do the best you are able to!

I met this guy through a challenge by @joetunex, one of the previous Steemians I featured here. It was a reintroduction post answering 12 seemingly random questions. I liked it and completed it in this post under the tag #twelvequestions.

12 Questions to Get to Know @reonlouw
Here is what I discovered. @hobotang is new on Steemit (not new to blogging) and this was his idea for an #introduceyourself post for himself but it took off like wildfire. It seems everyone is doing it now. @hobotang is not a regular guy and there are aspects to his life and lifestyle that is all new to me. Do you know what a 'schoolie' is? Do you know anyone who dreams of living tiny, minimal and free? Well, now you do!
I'm sure there are many things that @hobotang and I will disagree on but I see it as one of the benefits of Steemit to encounter someone so vastly different. And I think that someone with such an illustrious start on Steemit will go far.
Nominated post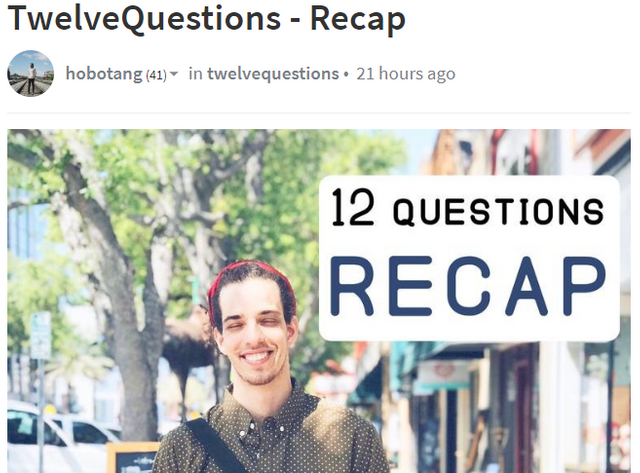 I'm not going to drop @hobotang's original #twelvequestions post here. It has paid out already. However, he did a recap and this is now a formal challenge for more participants. I hope everyone who reads here will accept the challenge. @hobotang is already celebrating other Steemians in this post and he has barely started!




TwelveQuestions - Recap
Themed 3rd Featured Blogger

@fitinfun is the person who introduced me to this #payitforward curation contest and to many other things. She found me when I was brand new to Steemit and gently helped me along. Her posts are always helpful and I have bookmarked so many of her posts it is getting confusing. @fitinfun is the most helpful person I have encountered on Steemit (there are many such) and you should follow her. She has a background in teaching at some university somewhere and her writing is always logical, understandable and I'm able to apply what she shares.
I initially thought #payitforward was her idea as the whole concept personified all her activities on Steemit. And she sold it to everyone with such enthusiasm. It was only later that I discovered that this was all the brainchild of @thedarkhorse.
Nominated post
The Most Consistent Benefit From This Challenge challenge30days Day 29
@fitinfun is a big proponent of doing challenges like this one. She is on day 29 of 30 of the one you will find here. You should learn this lesson from her. It helps you to interact with new people and keeps you from burning out, having to create your own content 365 days a year.

Entry to this contest is free. You should do it! It helps you to evaluate your own work as you search for quality, original content. I find it frustrating when people resteem often but rarely create their own content.
Do this! It is fun!
(A big thank you to everyone who contributes to the success of this contest, especially @thedarkhorse. It adds value to my Steemit experience in more ways than I can list.)