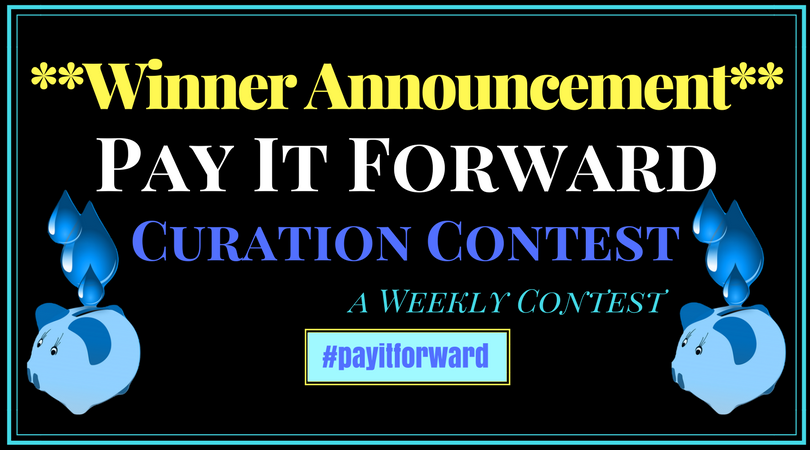 Sorry that we are late in announcing the winners from week 22.
Wanted to thank @tarazkp for being a guest judge and taking his time to help visit the entries. It's a serious time commitment to be a judge and it's great that he was willing to join us this week.
OK, onto the important stuff...

Judges Choice Winners
Here are the winners of 1 SBI share each sponsored by the Judges.
Featured Bloggers of Judges Choice SBI Winners
Each Judges Choice Winner featured 2 great bloggers and they will each get an SBI share for lifetime votes on their posts.
Random Winner
There are 2 random winners this week who will each receive 1 SBI share from @el-nailul & @ecoinstant.

Week 22 Sponsors
The following sponsors made Week 22's prize pool possible. Please make sure to show them some appreciation.
@thehoneys, @bengy, @andrewharland, @el-nailul, @erodedthoughts, @stever82, & @thedarkhorse
Now besides the above sponsors please keep in mind that the Judges not only curate the entries and all of the featured bloggers, but they also each donate 1 SBI Share each week. Please also visit the judges and show them some appreciation for all they do. Honestly they should be on your autovote list with Steem Dunk or other autovote service. The more earnings the judges have the stronger their votes will be on your entries.
Steem-Bounty
All steem-bounty payouts should have happened by now. If you like what @steem-bounty is doing helping engagement on steemit set steem-bounty as a witness. In order to do so you can go to: https://steemit.com/~witnesses and enter the "steem-bounty" account into the text field and click vote. @knircky is the brains behind @steem-bounty and he does a lot to help boost the contest posts allowing for higher rewards.