---
Just a short note to invite you to use the Paleo tag.
---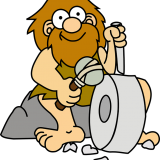 As a long time low carber and almost as long a Paleo dieter, I've been reading a lot of articles in "Food" and similar tags. But when I searched for
#paleo
I didn't get the results I expected. Certainly there were some posts, but I know I had read posts that were well within the range of paleo but apparently did not contain the tag.
Well, I always feel that if you can't find what you want in a place, bring it with you when you come. So I am writing, reading and promoting the #paleo tag on Steemtrain.
If you are writing an article that you think has even a hint of whole, traditional foods involved, or if you write posts on topics ranging from exercise to anthropology that might be of interest to paleo dieters, please consider using the #paleo tag so that I can find your post easier and perhaps promote it for you.
Hopefully this will be a win/win situation for both of us. I can find you and your posts more easily, and you get some more readership and votes on your posts.
Thanks,
Bill DeWitt (aka, baerdric)