What Happened to You?
I was off of Steemit for almost a week, so, what in the heck was I doing? Well, camping in the woods, of course. It is the thing to do in Colorado when all seems lost and you need to get away from the "stress" of being homeless.
Getting out of Steamboat Springs was an issue. It was my intention to meet @artopium at Grand Mesa but news of this expedition came to me at the last minute. Thankfully, @artopium had already invited @davedickeyyall, who was willing to pick me up from Steemboat Springs. Wait. Is that a typo?
I put drawing on hold for a while as I spent time in Buena Vista and Grand Mesa camping with friends and appearing on an episode of #themorningbowl. However, there was one day at Grand Mesa where it was just me and @artopium with little to do around camp, so I picked up this Prismacolor drawing I had started before to finish it. It is the mother from the previous drawing I shared.
https://steemit.com/orginalworks/@shaman-ra/forgive-my-absence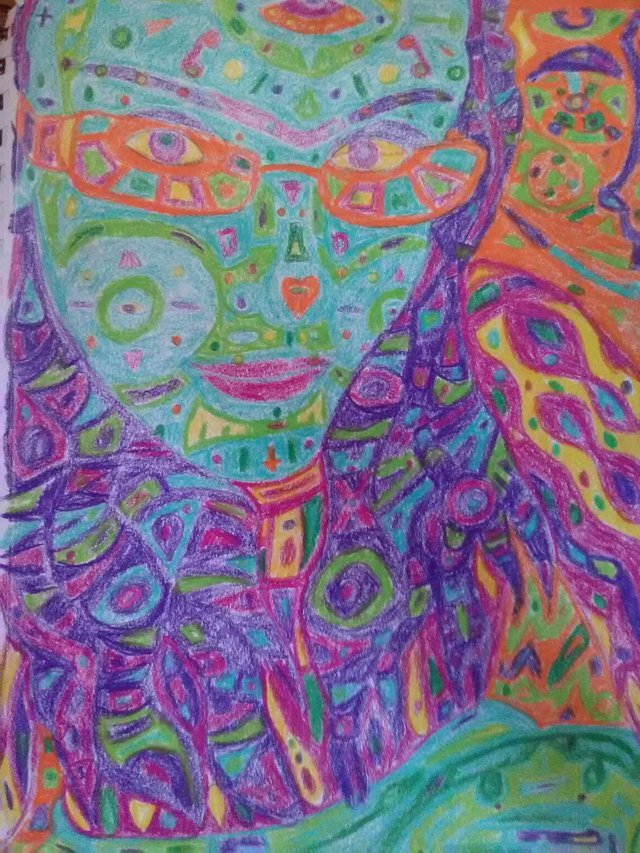 Why the Blue Skin?
Oh, gee, that one is an easy one. Not long after meeting these humans, In 2012, I had gone to Crater Lake to smoke DMT for the first time. Alone. They say you aren't supposed to do that....
Oops!
Long story short, after exhaling the drug I was "whisked" upward into some other crazy dimension where I was greeted by 4 females with "blue" skin. I say, "blue", because it wasn't really blue. It was really all colors oscillating in a way that made me think I was seeing music/sound that just seemed more blueish than anything else. These beings were most certainly "alive" and seemed familiar. One of these females was clearly in charge of everything. Using telepathy, I was told,
"You aren't supposed to be here, yet."
I felt a pull downward. The last thing I heard was,
"Don't forget to love people."
Whatever that means?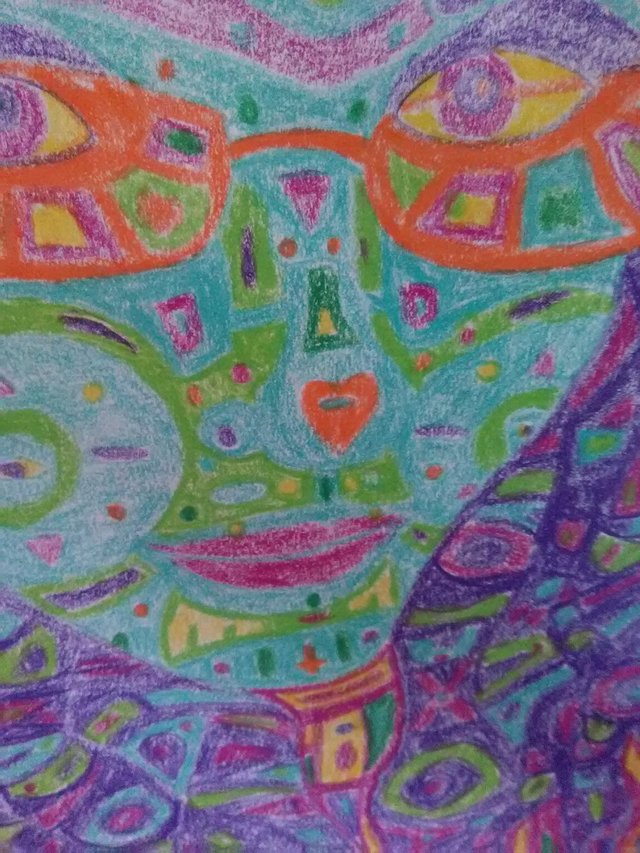 Same image again, but at a dizzying angle for funsies!
Much Love, people!
Larry Sage Dreamtree