Steemit Openmic Week 100 - Cover "Más Cuñao no" @diegopadilla - Sponsored by @luzcypher and @pfunk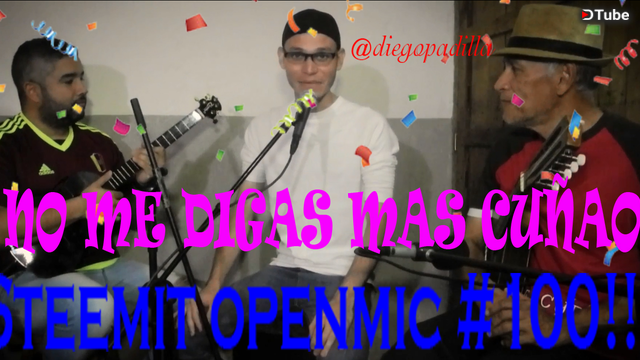 ---
Hello!!!
Here, Diego Padilla in a new presentation for "OpenMic" in week 100.
It is my pleasure to present myself to you, on this occasion, with the song "No me digas más cuñao" (Don't call me wedge) or as it's also known Más cuñao no" ("More wedge not"). The lyrics of this merengue-parranda was created by singer Francisco Pacheco and music, by Carlos Mendoza. It is a popular-dance genre from the central area of Venezuela whose rhythm is very lively and cheerful.
On this occasion my friend @melor9 in the Venezuelan Cuatro and @esteliopadilla in the mandolin of 10 strings accompany me, to them my most sincere gratitude.
I also want to extend my congratulations to all those people who have made possible the realization of this meeting No. 100, to its sponsors @luzcypher and @pfunk, to the new participants and, especially those who have stayed in these last meetings.
Diego Padilla

¡Hola!
Aquí Diego Padilla en una nueva presentación para "OpenMic" en la semana 100.
Es para mí un placer presentarme ante ustedes, en esta oportunidad, con la canción "No me digas más cuñao" o como también se le conoce "Más cuñao no" La letra de este merengue-parranda fue creada por el cantante Francisco Pacheco y la música, por Carlos Mendoza. Se trata de un género popular-bailable de la zona central de Venezuela cuyo ritmo es muy animado y alegre.
En esta oportunidad me acompañan mi amigo @melor9 en el Cuatro venezolano y @esteliopadilla en la mandolina de 10 cuerdas, a ellos mi más sincero agradecimiento.
También quiero hacer extensiva mi felicitación a todas aquellas personas que han hecho posible la realización de este encuentro Nro. 100, a sus patrocinadores @luzcypher y @pfunk, a los nuevos participantes y, de manera especial aquellos que se han mantenido en estos últimos encuentros.
Diego Padilla
---
▶️ DTube
▶️ IPFS