The Flock - sand sculpture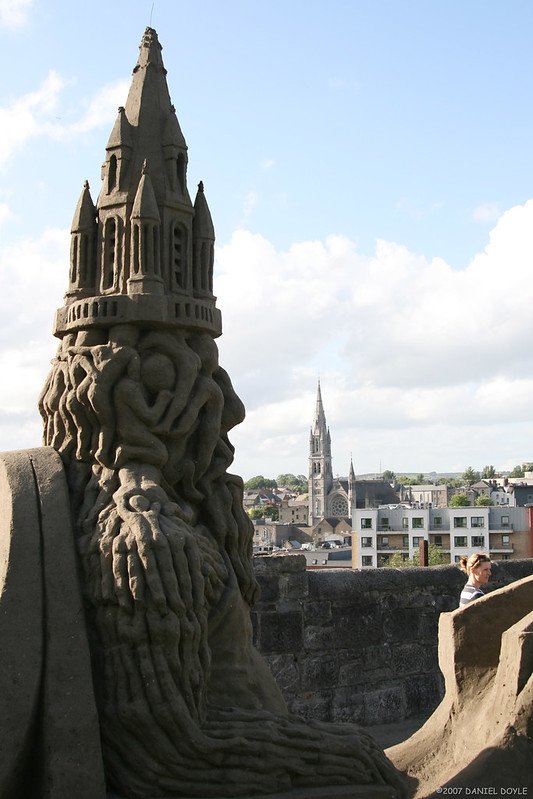 Religion is a funny thing. It really seems to bring out the best and the worst in people. From amazing acts of kindness and charity to terrorism and yes even spamming on Steem.
I was raised catholic and although I have moved away from the organised side of Religion I still believe there is something to be said for having faith in a higher power. It's a personal thing and therefore something that should not be enforced on others. From what I have learned about God or which ever lad or lass you choose to follow I am sure he or she wouldn't be too impressed with much of what is done in his, or her name.
There are those that want to make Religion an exclusive club and for me have more of the appearance of a fanatical football fan than anything else but there are many, lest we forget that follow because they truly believe in the good that it promotes.
The many beautiful churches, mosques, synagogues and watts are a testament to how people feel about their Religion but for me the people are really the church and the religion. They are the ones who give it a face and personality. It is a pity then that there are some that make it seem so ugly, intolerant and arrogant.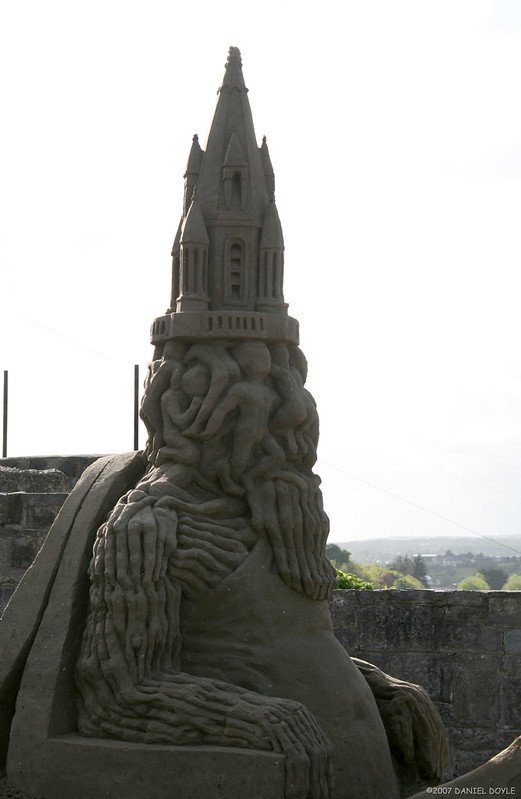 The A theme
During this Music and art festival in the town of Drogheda, Ireland I was asked to make something about the famous church of St. Peter. It was nice that my sculpture was on a little hill in the center of the town with a nice view of my subject matter.
The church is of a french Gothic style and is really quite impressive with it's spire reaching for the heavens and massive Rose window. But inside is stores a grotesque relic from Ireland past. The head of Oliver Plunkett. He was hung, drawn and quartered for following the wrong Religion team and his head finally came to rest in this church.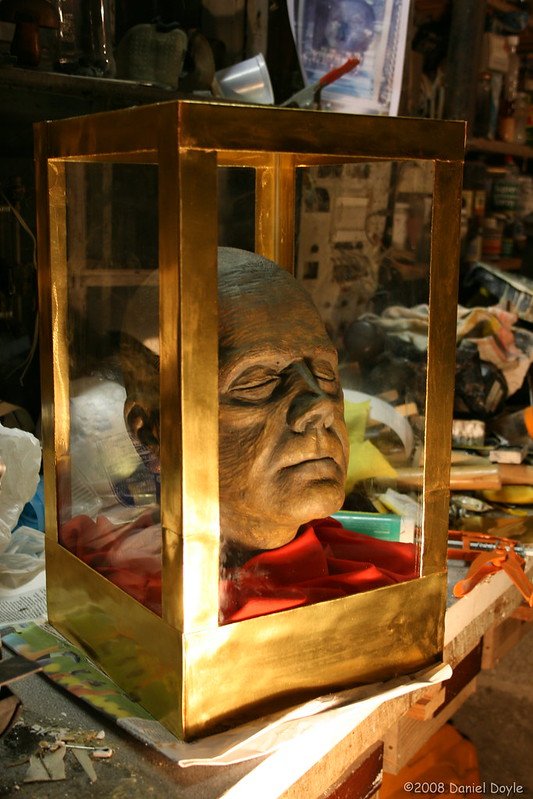 Here's one I prepared later.
I actually made a replica of it for a short film I worked on in 2008 but, that's another story.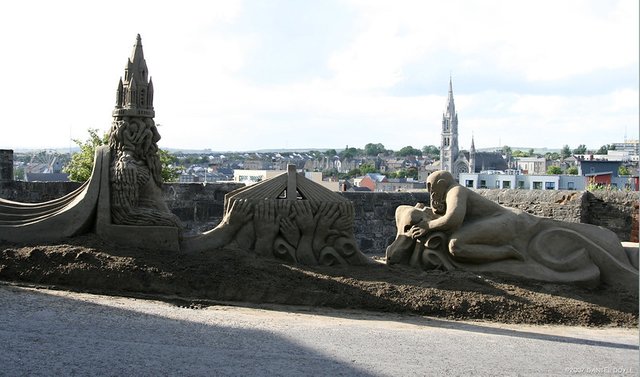 Elements of the town
The sand sculpture I made was part of a larger composition with Niall and Alan Magee that we made for the festival. The other elements were a famous bridge by Alan and a piece about bull baiting which was a medieval sport they played around the town made by Niall.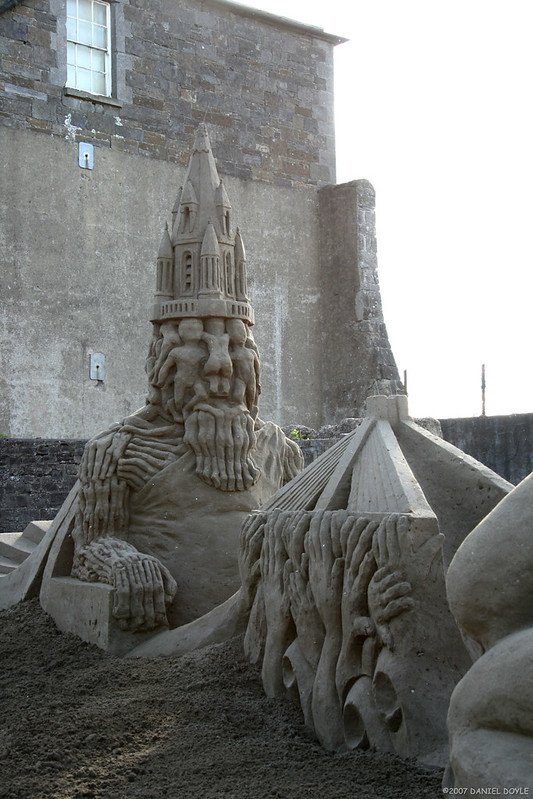 Divine intervention
I had started with the good intentions of creating a replica of the church but when a bird landed on the spire and broke it all bets were off. I thought what else could I do to make this more interesting for myself and the audience. What I had finished became a crown and underneath a metaphor for what I spoke about in my opening paragraphs.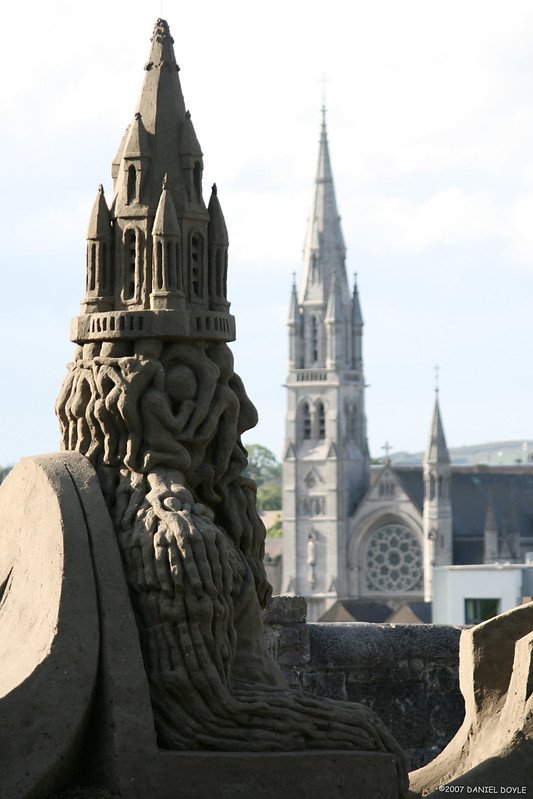 The spire was reduced but it still held enough to resemble the church. Underneath I started to play with the idea of what it represented and what represented it. A large figure of God made up of little people coming together to give him a face and body.
It was much more fun to make than straight lines and windows and although many probably didn't get what I was trying to say... I believed in him.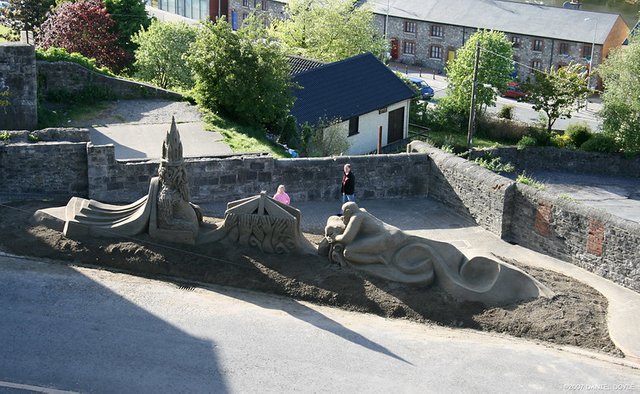 As a location it was a bit unusual. Away from the main action of the festival, on a sloping hill, kind of shoe horned into a corner but we had fun and got to hear some great music and see some art in the town.
Go with the flow
My favourite was the concert by Terry Riley where he played his famous 'In C' composition along with the Crash Ensemble in the church. It was hypnotic. I sat there with my eyes closed and a big smile on my face as I flowed with the sound. I opened my eyes and everyone in the audience was the same. I really thought that everyone was sleeping. It was only when the music stopped and everyone erupted in applause that I knew we were all followers.
Terry came the next day to visit the sculpture and I told him of my experience and he said that it was one of his favourite performances.
I would love to be able to touch someone with my work like that.
---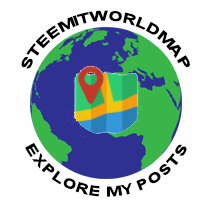 ---
Ps
Thanks for reading. I use Steem to document my work as an ephemeral Sculptor of sand, snow and ice, amongst other things. This will hopefully give it a new life on the Steem blockchain. Below you will find some of my recent posts.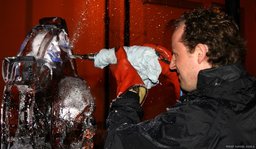 All work and no play - ice sculpture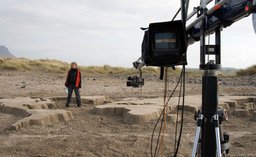 Tectonic plates - sand sculpture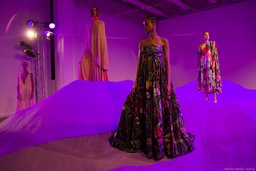 Fashion Show - sand sculpture
I hope you'll join me again soon
@ammonite
[//]:# (!steemitworldmap 53.711904 lat -6.349205 long The Flock - sand sculpture 2007 d3scr)