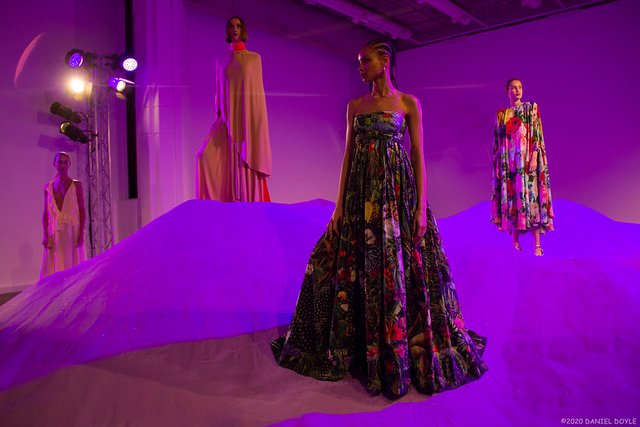 I've been quite busy since the start of the year and this post will hopefully explain my lack of posting at times. I was contacted just before I went to do my Snow hotel in Davos and asked would I help with creating a stage setting for a fashion show for a high street department store called Brown Thomas. They were planning to show this years designs from some of the worlds biggest houses and wanted me to make a landscape from sand as a setting for the show. This is not my usual type of sculpture but, it was sand and apparently I know a thing or two about making stuff with it.
The concept was really quite simple. Just create some sand dune like structures that the models could walk around. Of course I said yes immediately. There were however other requirements. It had to be lilac sand and it was in the basement of an art gallery, it also had to be in and out within a very short time.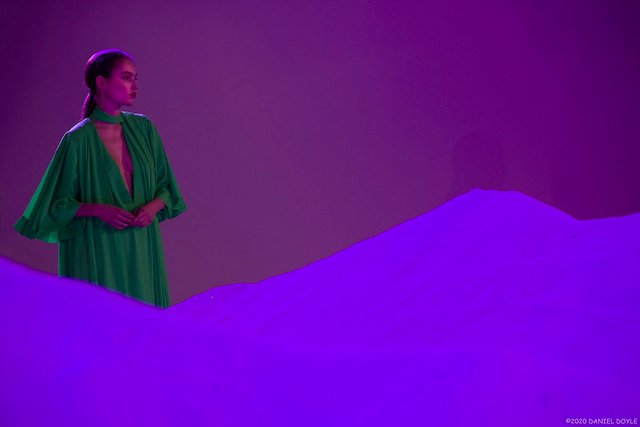 I am not going to go into all the thoughts and stress that went into pulling it all together on my side, I will save that for another day but I will give a little teaser. I used a wooden structure to create the overall form of the dunes and then covered them with material and sand. This cut down on the sand needed. This had to be sourced from England,, which was quite expensive and it allowed for an easier install and extraction through the stairwell. It also made it easier to find homes for the materials afterwards.
What I really want this post to be about is to show you the final result and maybe talk a bit about fashion.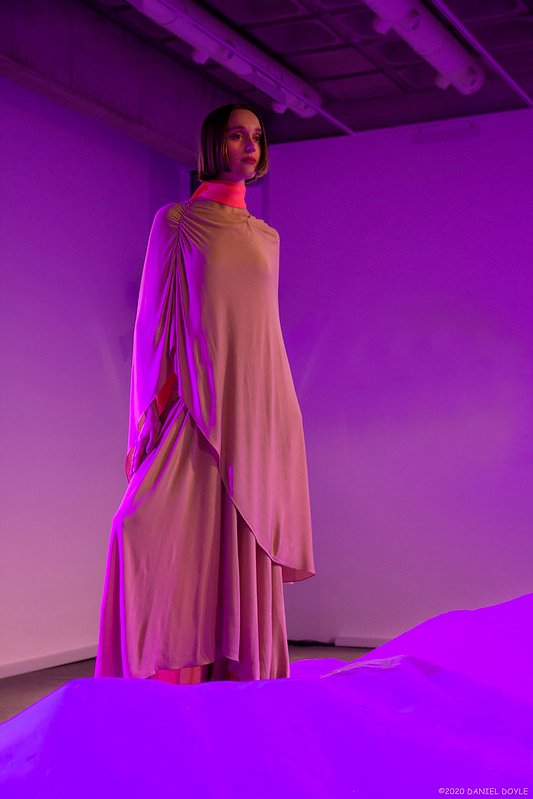 I really felt like a fish out of water when it came to the show itself. I know nothing about this world as my wife will be quick to point out. My style, I like to call 'Utility Chic'. Functional and cheap. But I found the whole thing fascinating.
Fashion V style
These are two words which I think the world has got backwards. In many ways I think they are the opposite of each other. Style is a particular original look where as fashion is something which is accepted and followed.
Looking at the clothes on display I could not imagine anyone wearing then in the day to day, each was more like a work of art with elements that may one day become fashion but for me this was a style show and not a fashion one.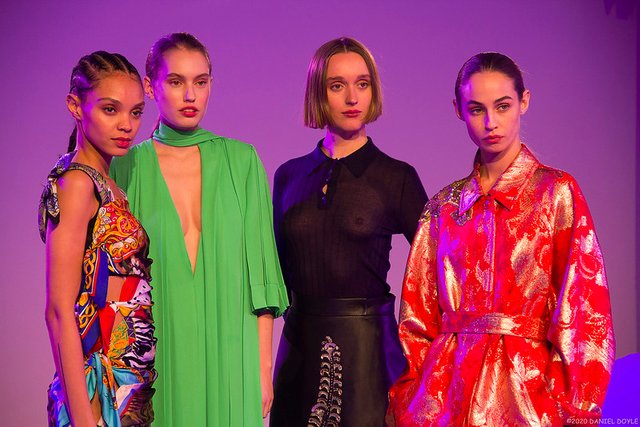 Model citizens
I got to help out the official photographer after the show by guiding the models into position on platforms I hid in the sand. The girls were very nice to work with and really up for going the extra mile for getting the right shot. (I had my own camera on hand to get the ones included in this post.)
Although the girls were lovely I couldn't help but think of them as race horses, bred for one purpose, to look beautiful. They would strike a pose and all character would disappear from their faces. They were pros and knew it was not about them but what they wore. It's a though job to be treated as a clothes hanger but someone's got to do it. I actually gained a lot of respect for them, well the friendly ones anyway.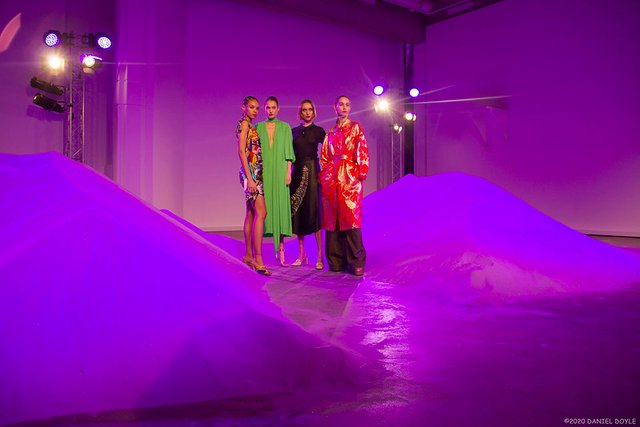 Elemental elements
When the clothes entered the space I created it really changed the atmosphere. The lilac sand complimented every costume and was in no way overpowering. Like the models it was an element you knew was there but was like like a underlying structure the clothes were built upon. The sand had flakes of quartz that sparkled in the lights. It was really quite magical. Maybe I am making more of it than it was but sitting there it all just made sense. After all my stress with making something that looked so simple, everything came together and it all felt worthwhile.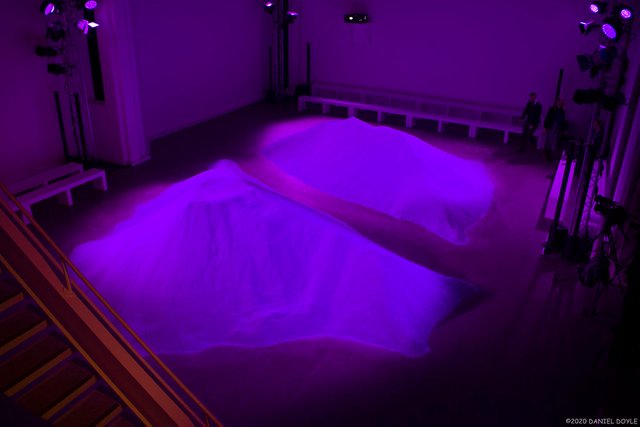 The sand for me was still the star of the show. It was like hour glass sand and I really just let it do it's thing. I didn't try to sculpt it or anything, I just let it flow where it wanted to go.
I say I but I mean Us
There were others that worked with me get all the materials in place and helped find solutions to unforeseen problems. I was doing a lot directing and learning that with big, time sensitive projects like this you really have to delegate which is something I am terrible at doing.
My brother Ross came to give me a hand on the final day, he is much smarter than I and although he is a gardener he knew exactly what I was going for with his artistic eye and had the smarts to make it so. Having him there also gave me confidence that we could pull it all together.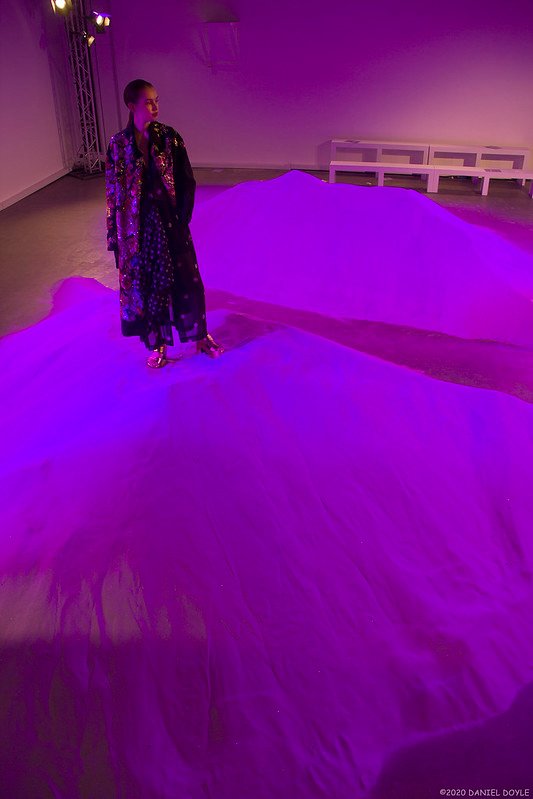 The show went down really well and most everything went like clockwork. I had created many simulations in the 3D program Blender to help me iron out any problems before I touched a grain of sand. What took a few short days to build was dismantled and cleaned away in 3 hours.
It has opened my eyes to the style world and given me another string in my bow of what I can use sand for.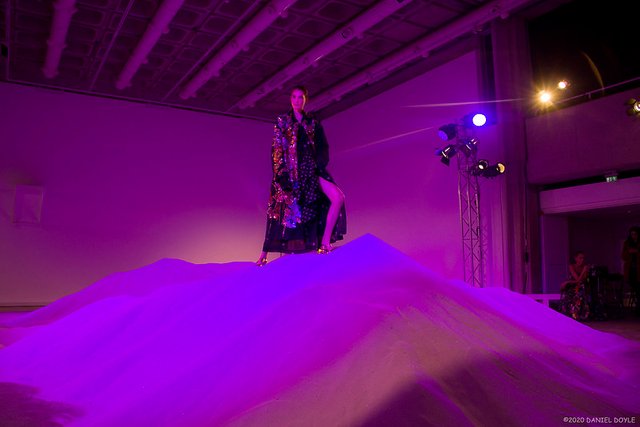 ---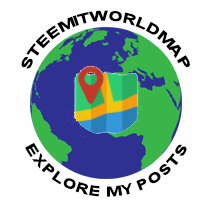 ---
Ps
Thanks for reading. I use Steem to document my work as an ephemeral Sculptor of sand, snow and ice, among other things. This will hopefully give it a new life on the Steem blockchain. Below you will find some of my recent posts.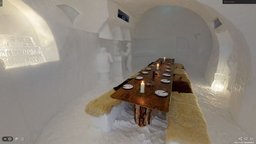 Iglu-Dorf snow hotel virtual tour - snow sculpture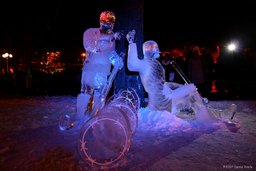 Why are we here? - ice sculpture
I hope you'll join me again soon
@ammonite
[//]:# (!steemitworldmap 53.343259 lat -6.257772 long Fashion Show - sand sculpture 2020 d3scr)