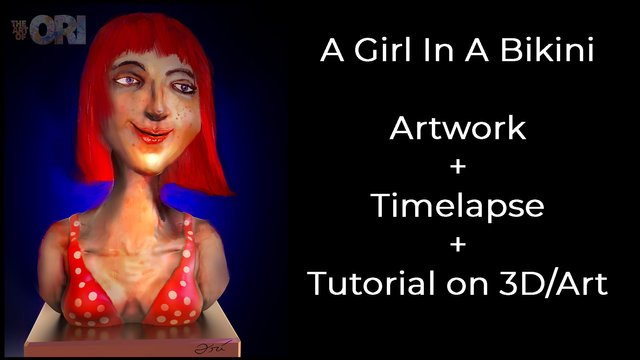 Hey Steemians!
My last post seemed to have made many people happy. I also ran out of characters to type, and I had more things to say. So this is a bit of a sequel :)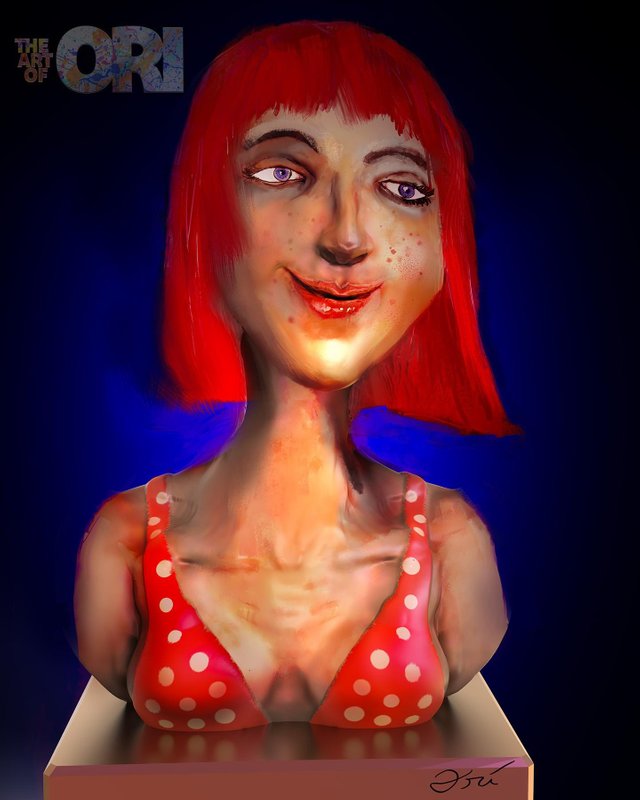 But... before her, I made a sculpt yesterday for the same goal -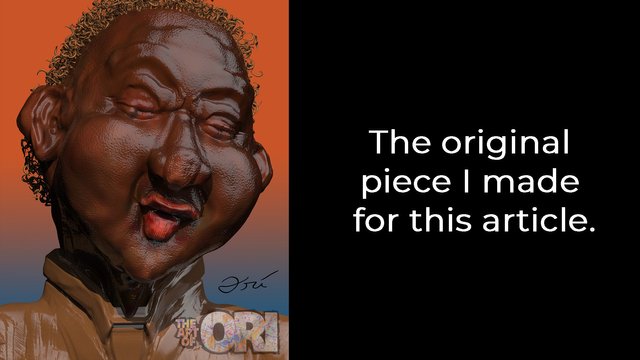 Here's his timelapse.
By the way-- before I jump in, I want to share a quote with you that's really important: Don't compare your day 1 with someone else's year 40. -- I'm not nearly as good as the people I look up to, but I have been messing with 3D (on and off) since the mid 90's.
Ok... back to the Trumpet player (yes.. I realize I forgot to give him a trumpet) - The reason he's important is because I specifically made him to resume the last post (where I was talking about primary and secondary detail) but did not get to show tertiary geometry - fine detail that most people jump into adding too early normally... but should be last - and it adds realism: Skin pores, wrinkles, folds in the clothes, etc... (If we're talking about a person - on a weapon, it might be the nicks and scratches, color shifts from the heat of a bullet discharging, etc... ) -- Reference can be extremely useful by the way. I don't use them enough :) Oh yeah- other than skin pores, notice he has hair.
Another thing that I noticed- which is why I made the girl - is that the new version of my software tries to save me memory- which is nice... but... cut out a lot of my timelapse.... Here's hers (minus the start- I've now figured out how to fix the timelapse issue)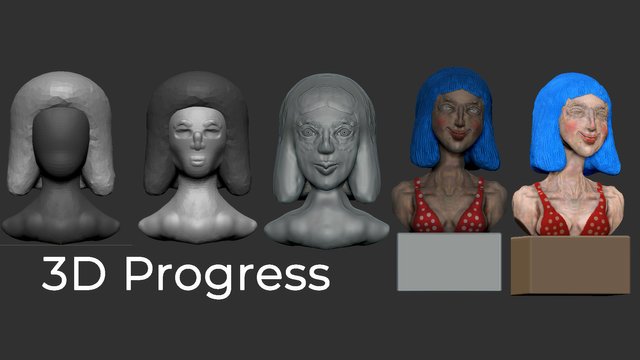 You can see (even more clearly than in my last post) the primary geometry --- the "3D Progress" slide shows -the first image shows extremely basic geometry. Then I refine - adding more detail, but messing around with the shape to get something that looks more female, and more like what I want. I then added the pores, the hair color, hair strands, and then texture (colors for her skin). Then there's the pose.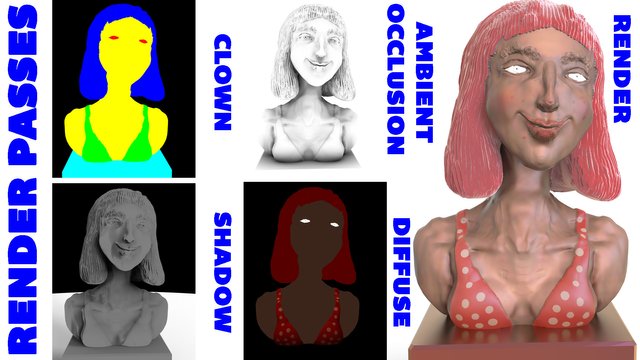 So then there's the process of taking it from "raw 3D" to reality... this is called Rendering, and it basically means that you're applying lights and materials and a camera. For compositing- which is the process of modifying the image from the render... So there are many render passes (you can guess which slide these show up in) -
Clown is just to help you choose the elements - a different color for each material.
Ambient Occlusion is where the light gets caught.... you could call it shadows.
Shadows: All shadows in the scene.
Diffuse: the straight up color for each spot- no light/shadow (This shows you why light is so important in Photography)
The Render image is how the render came out once I adjusted my camera/lighting/etc... but it's got its flaws. I could refine it and rerender, but I'm not too worried about it- as I'm demonstrating the rest of the process.... 2D.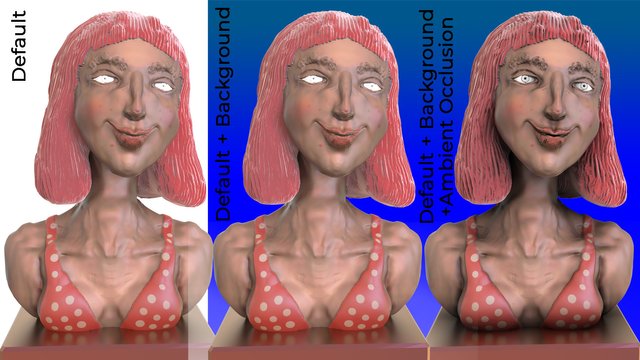 The next image shows you a base composite: I took the render, used the clown pass to isolate it from the background, put in a new background, then dropped the ambient oclussion layer as a darken mode-- so you can se shadows and such are enhanced. One spot this is very noticeable is the eyes. You can actually see the pupils now.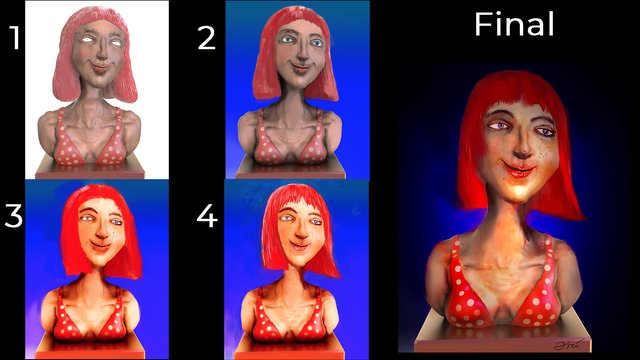 The last slide shows you how all over the place an image can be (while I work on it) before it gets to its destination. This is basically painting on top of the 3D. Adjusting the shape, colors, color balances, and more....
For me, it's about exploration / experimentation.. I just try things until I"m happy with the result. I didn't have a set result in mind at the start, so I can't tell you if I met my initial goal... but I don't stop until I'm happy with an image.
So there you have it- Primary (basic geometry)-> Secondary (refining it to look like what you want) -> Tertiary (adding the tiny details that add realism) -> Texturing -> Posing -> materials / lighting / camera / render -> Compositing / Painting / Manipulating. Exporting timelapse, uploading it all here, and writing all this.
Now... he're the mind blowing part: All of this applies no matter which software you use... That's why I did not mention any software. I prefer to teach principles... So you can use this in any application (and there are oh so many of those). As a photographer, I know my principles, so it doesn't matter if you give me a cell phone, a film camera, a digital camera, a point and click, or a fancy SLR. I'll still take a killer picture. And the same applies to 3D / 2D apps / tools.... The principles are universal, regardless of the software interface and capabilities being different.
Make sure to let me know your thoughts on this, or if you have questions, or other things you'd like to see.... and of course, make sure to follow 'cause I create new stuff every day - you never know what you might see / read here :)