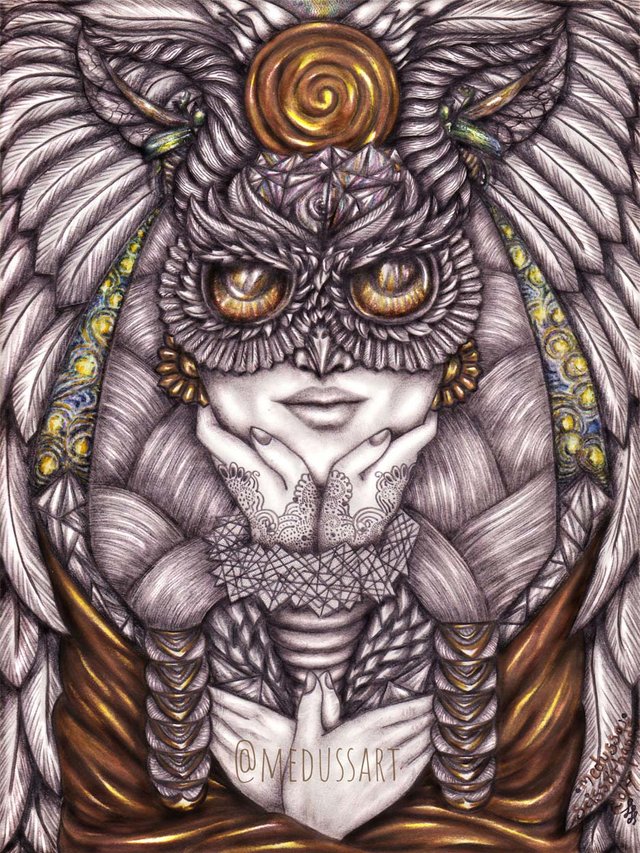 Una Diosa Cuántica para alguien muy especial.
English//Spanish
Hello everyone!, this time I want to share with all of you, one of my favorite guardian or totem I created. This particular one, I made it for a very especial person to me...Who inspired me and increased my love for reading, writing poetry, drawing and all this mystical mix between art and literature.So I connected with my own intuition and magic just happened. This delicated and subtle goddess, with a crystal crown and her infinite wisdom and love, always ready and prepare with wide open wings and sacred hands to protect everyone to see her and call her with their open hearts.
Then I noticed that I mix many cultures and creeds, also mythology from Egypt, India, Native American, etc ... Her sacred golden cape has a starry night heaven because this special person loves Van Gogh.
But maybe your eyes will see many more if you just stay focus on her...you can feel the energy I felt.
Thank you for visiting my strange and unusual world !
If you want to see more of my sacred and intuitive art , you can click my previous posts 👇
---
Spanish/
Hola a todos, esta vez quiero compartirles uno de mis guardianes o tótems favoritos que creé. Este en particular, lo hice para una persona muy especial para mí ... Que me inspiró y aumentó mi amor por la lectura, la poesía, el dibujo y toda esta mezcla mística entre el arte y la literatura. Así que me conecté con mi intuición y la magia simplemente sucedió. Esta diosa delicada y sutil, con una corona de cristal, su infinita sabiduría y amor. Siempre lista y preparada con sus alas y manos sagradas abiertas para proteger a todo aquel que la vea y le llame con sus corazones abiertos.
Luego noté que mezclé muchas culturas y credos , también mitologías como la egipcia, la India, Nativa americana etc... y su sagrada capa dorada tiene un cielo estrellado porque esta persona especial ama a Van Gogh.
Pero tal vez tus ojos vean mucho más si te concentras en ella ... podrás percibir la energía que sentí.
---
Traditional drawing/ Dibujo Tradicional
Mixed media/Técnica mixta
Graphite pencil-sketch pencil (Rubinstein, Faber Castell)
Watercolor (Faber castel)
Coloring pencil (Prismacolor,Faber Castell)
Size: A4
---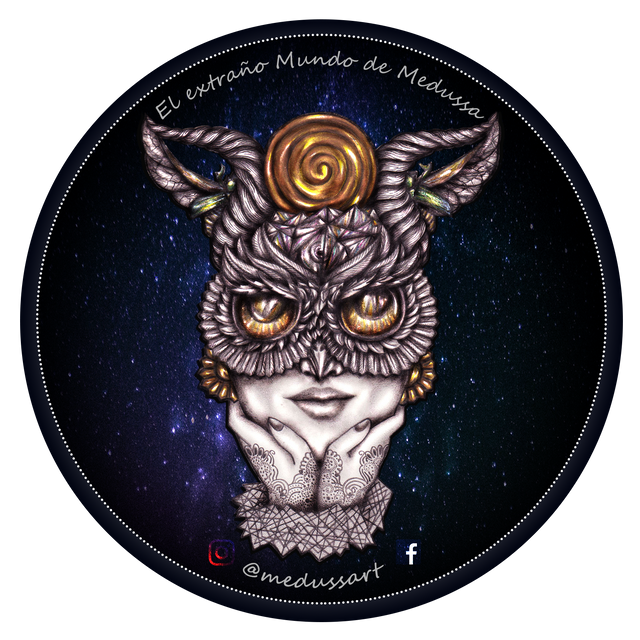 Gracias por visitar mi extraño e inusual mundo !
Si quieres ver un poco más de mis ilustraciones sagradas e intuitivas, haz click justo aquí 👇
-A greyscale cyclop/Un cíclope en escala de grises.
https://steemit.com/ntopaz/@medussart/ntopaz--medussart--1090144219--ntopaz-spanish-art-palnet-creativecoin--2019-07-27-16-20-44--artwork--none
-My own Moon Arcana/Mi propio arcano de la Luna.
https://steemit.com/ntopaz/@medussart/ntopaz--medussart--998408945--ntopaz-art-spanish-palnet-creativecoin--2019-07-30-19-44-25--artwork--none
Behind the illustration/ Detrás de la ilustración.
https://steemit.com/art/@medussart/detras-de-la-ilustracion-hay-magia-literaria-behind-the-illustration-there-s-literary-magic
Social media:
https://instagram.com/medussart
https://facebook.com/medussart