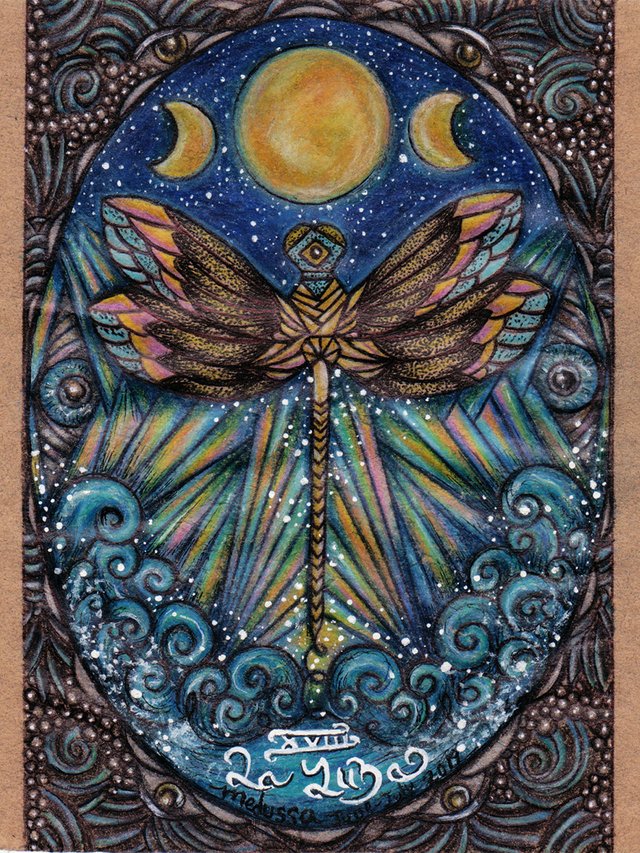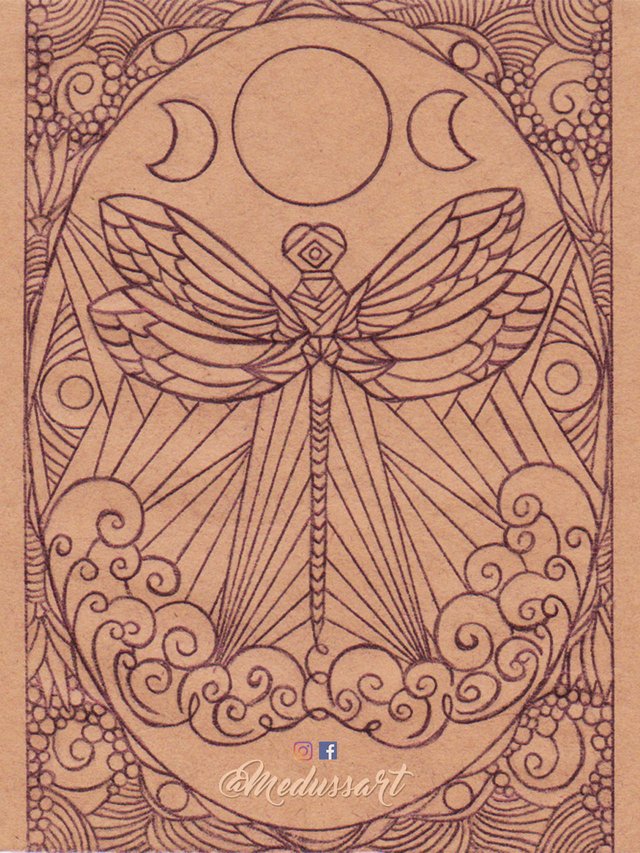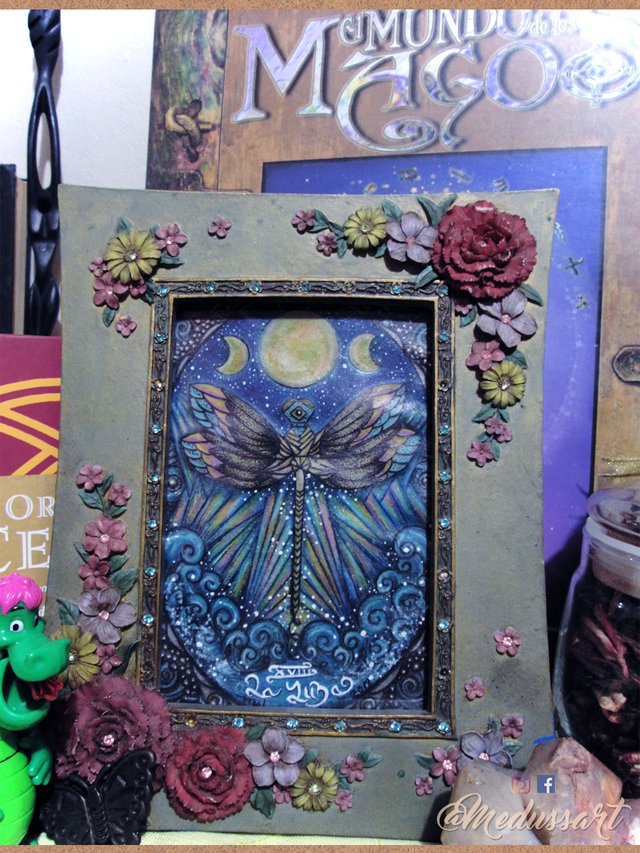 Una Libélula Mística y El Arcano de la Luna.
Detrás de cada uno de mis dibujos, hay una historia que contar.
Cuando mis emociones se vuelven complejas, cuando siento que algo en mi interior pesa más de lo normal,
cuando la nostalgia llega y la melancolía quiere a toda costa,ganar...
Recurro siempre a mi templo favorito, confieso que soy una "Persona Lunar".
La luna y la noche me inspiran, me traen paz y mucha calma, me despejan mi mente que casi nunca descansa.
Para algunos,la Luna no es un buen oráculo porque se ve lejana y fría, porque agita mareas, trae caos y cosas extrañas.
Pero detrás de ese caos, de ese desorden... es que despiertas y sanas.
La luna,es una diosa, una hechicera, una chamana... La luna es una sanadora noctámbula.
También confieso que soy una persona de insectos. Amo las líbelulas , las mariposas y escarabajos, me conectan con mi niñez.
Y dicen por ahí que representan transformación, grandes cambios, te traen mensajes ancestrales, en pocas palabras :
Que todo saldrá bien!
---
Behind each of my illustrations, there is a story to tell.
When my emotions become complex, when i feel that something inside me weighs more than normal.
when nostalgia comes and melancholy wanst to win at all costs...
I always turn to my favorite temple, i confess that i am a "Moon Person".
The moon and the Night inspire me. They bring me peace and calm, they clear my mind that almost never rests.
For some, the moon is not a good oracle because it looks distant and cold, because it waves tide, brings chaos and strange things.
But behind all that chaos, that disaster...Is that you wake up and heal.
The moon is a goddess, sorceress, a shaman.... the moon is a night healer.
I also confess that i am a person of insects. i love dragonflies, butterflies and beetles.They connect me with my childhood.
They represent transformation, great changes, they bring you ancestral messages, in a few words:
Everything is going to be fine!
---
Dibujo tradicional/ Traditional drawing
Técnica mixta / Mixed media
Size:4" x 6"
kraft paper
Colouring pencils (Faber-castell)
Pen
https://instagram.com/medussart
https://facebook.com/medussart