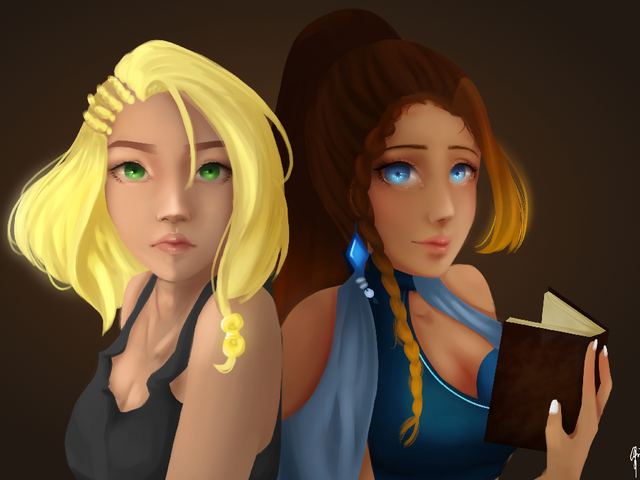 What's up! I'm sorry that I haven't been able to post these past few days buuut I've been polishing my style like a dirty shoe! Looks like my Disney princesses will have to wait because I've decided to continue the story line for Midas! I've redrawn Midas (again) aand added a trusted companion :> Soon I'll be making her love interest :>
---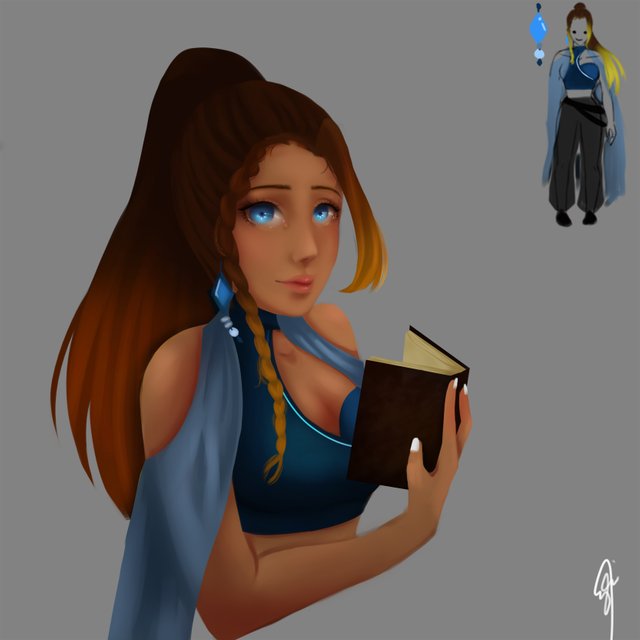 ---
And her name isss JOHN CENA Athena! Yup, like the goddess of wisdom and warfare. I haven't yet decided the entire background for Athena but here's a few information about her.

Athena is a daughter of royalty. With the highest possible education forced into her at a very young age, she has grown into an intelligent woman — beauty and brains. However, she has never experienced anything outside the four corners of their home. She was taught all the oceans that cover the Earth but has never seen one. She was told of the mountain ranges that unfailingly protected their land but not once in her life has she actually climbed one. All these were deprived from her by her parents. She was expected to live the life her parents have laid out for her but with all the knowledge of the wonders of the Earth known to her, her heart aches, eager to live a life that's more than being just a princess.
---
I've really thought about the name I'd give her... It had to be related to wisdom/intelligence/wit. I got a lot of suggestions from friends and I've considered: Wizzi, Axhire, Elina, and Athena. All of which means being intelligent, different kinds of intelligence, but since the setting was war and stuff, I've decided to go with Athena!
Athena was the Greek goddess of wisdom and warfare and the patron goddess of the city of Athens in Greece. sauce
---
Here is Midas. I've been watching a lot of Ross's tutorials about making a character and when he did his second main character, he had her contrast the main character :> Sooo, that's what I tried too!

Long brown hair, compared to Midas's short gold hair. I also made her wear a little less clothing since Midas was covered in armor. Aaaand of course their backstories were made to contrast each other too. While Midas had a dark childhood, I gave Athena a little lighter backstory — pampered little princess. And while Midas had powers that make her invincible, Athena had knowledge and wit to compensate for her average fighting skills. Despite their differences, be it in social status, attitude, they still became inseparable companions.
---
Up next would be Midas's love interest!!! Yes, I'm drawing a dude too! It's gonna be a little harder for me but I'll pull it off (hopefully). I'm thinking of another smart pants but unlike Athena's tactical abilities, he would be more on scientific and technical stuff. Like he'd be the one trying to understand how Midas turns things into gold and he'd also be the one making weapons best fitted for Midas's abilities. Oh and also he's Athena's older brother which would explain him being also a smarty pants. What do you guys think? :>
---
That's about it!
---
If you wish to have an amazing companion through your drawing journey, feel free to join us @steemartists! It's full of amazing artists, both new and old, who are willing to share their experiences. I learned a lot from them, I hope you will too n_n
---

---
We also have a discord channel and we'd be more than glad if you dropped by: https://discord.gg/C9PsHV6
---
Thank You!

I hope you guys enjoyed this one as well!
Feel free to comment any tips or suggestions. It will be greatly appreciated! If you liked the content, please leave an upvote. For more, please follow @kothy.

Please support my work at nTOPAZ as well by tipping some hats! ♥
https://www.ntopaz.com/artwork/15993

---
All images were made by @kothy
All rights reserved
---