Welcome to the new office
The move was meant to be tomorrow, but for once things were running ahead of schedule and the contractors got our "new residence" set up, a renovation of one of the floors of the building. It is nice and airy and I have a desk with a view.
Today.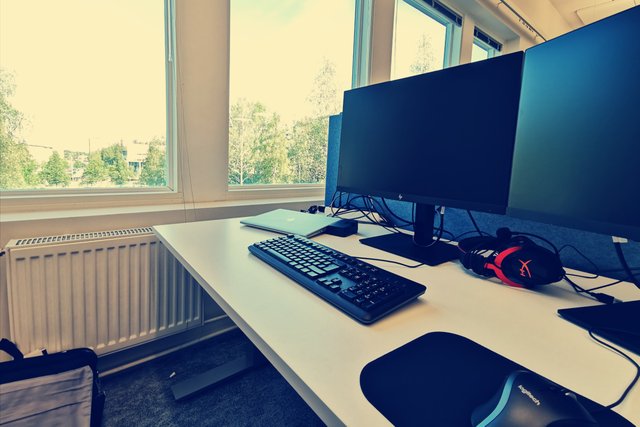 This new office has flex-seating, which means that it is a first in, first served scenario and tomorrow I will likely have another seat, keyboard and view to get accustomed with. Actually, it isn't so bad for my team as we have a designated area due to the noise we generate and we have already come to the understanding internally that we can discuss some degree of set positions.
I am actually looking forward to getting out and about though as our last area was tucked away in a corner and as a social end user enablement team, if we don't get to mingle some of the time, we tend to get a bit stir crazy.
Which brings me on to the next new office, #newsteem.
In less than eight hours the Steem economics will shift again and the chain will fork for the 21st time. While it is going to impact both positively and negatively on various user groups in a multitude of ways, I think we should see this as a coming of age for the blockchain and the community - an increase in responsibility.
And we can legally drink.
Actually, the drinking age in most of the world is 18, not 21. It should be pretty simple to decide on really, if you are old enough to vote and be sent to war to die - you should be able to drink when you want.
Not that "legal" drinking age has really stopped anyone from drinking, it has just stopped people from getting into nightclubs under age.
These are the number of posts I have written, and the comments (I still find it weird to see the Orca picture there after being a dolphin for so long).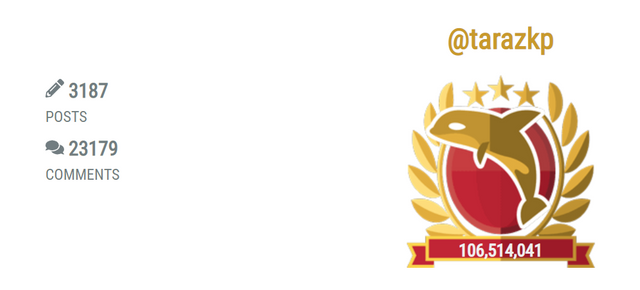 After HF21 voting on comments is unlikely to hold significant financial benefits and frankly, I welcome this as it stops people just targeting for comment returns. What I am hoping is that while comments might drop-off to some degree (in the same way they have done as prices fall), the quality of comments increases and in doing so, the relationships developed deepen.
Some people seem to think that unless one gets paid for the comment, it isn't worth making one, but they are fundamentally missing the concept of "building a network". While I do not think Steem is solely a social media due to the sheer range of content and uses it can carry, there are many social aspects to it and therefore, having some understanding of social convention aids the experience.
Out of those 23179 comments written, not one was aimed at getting a payout and most did not get anything at all, not even a vote on them, let alone one above the dust threshold. I have always tried to reward comments on my own blog with something and as prices have fallen, it has taken the majority of my voting power each day. For the last few days I have held off on the comment votes (mostly) and my VP hit 100 percent for a fraction of a moment.
What this means is that going forward, rather than voting on comments, I am able to add more weight to posts and in so doing, move a post further along the convergent curve path so that it earns relatively more. For a reference, my comment votes last week added ~30 Steem to users. I think that other accounts are going to do this too and start to add more weight to the content and creators that they enjoy. Hopefully, this stacking will push people up that curving slope toward better earning, for at least some of them.
However, downvotes are also going to come into play so if there are rewards on posts that the community feels aren't deserved, everyone has the responsibility (taken or not) to redirect the flow of Steem away from content. 25% off the available pool can be redirected and if used well, will make up for any loss to authors and for many, bring additional benefits. Some will use it well, some not but I believe that there will be a growing number of services that will help people use their downvoting power via proxy.
Getting used to #newsteem is going to take some time and while effects might be felt immediately, the entire ecosystem is going to have an adjustment period and the greatest changes will come through the behavior of the people, not the code of the blockchain. Culture in any type of group or organization takes time to percolate and shift and while resistant to change like most, I am glad that this not a community that shies completely away from it.
For me, I am unsure if I will keep posting as often and might instead spend my time curating more. While there is incentive to do this due to the 50/50 split, I am also thinking about doing some other things in life too and the hours I put in each day to writing what I have so far is beyond what most would do for a full-time salary. However, most don't enjoy what they do for a full-time salary either. I love writing, so I am not going to disappear.
This is about #newsteem and that means that we all need to adjust both our expectations of what Stem is, and our behaviors. I am looking forward to the new learning that is to come, even if it means having to relearn what I do.
A new office and a #newsteem on the one day. For now the office has that "new office smell" and I am hoping that come hardfork21 on the Steem blockchain - we can start to air the shitpost smell out of the blockchain ;D
Taraz
[ a Steem original ]