Bitfinex is lying about the "hack" and I can tell you exactly what likely happened
I traded on Bitfinex the entire halving from May until around early or mid-July, even being awake for three days in a row at one point during the Brexit trading there, so I witnessed everything.  How did I magically withdraw my funds right in the nick of time before getting goxed?  It was not luck.  I knew they were insolvent.
There will be lots of criminal investigations of what went on that will probably turn over nothing, but I can tell you right now, this is probably word for word of what happened and how I knew to withdraw my funds: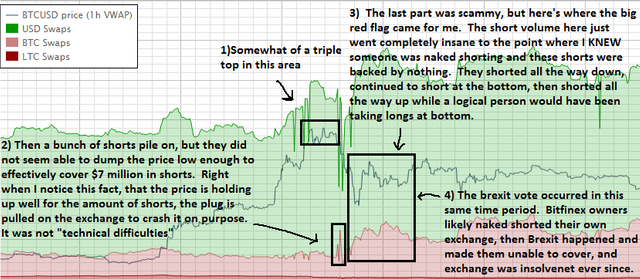 Another obvious reason they've been insolvent for a long time is, a guy I know from one of the trading channels I'm in (Expanse dev - not franko, the other one) tried to make a 100 BTC withdrawal from Finex like five days ago and what happened?  Finex canceled his withdrawal, gave him some bogus excuse, put his account on hold, and refused to let him take funds out.
Finex has also admitted to trading on their own exchange in the past.  This is literally a 100% complete recreation of MtGox all over again.