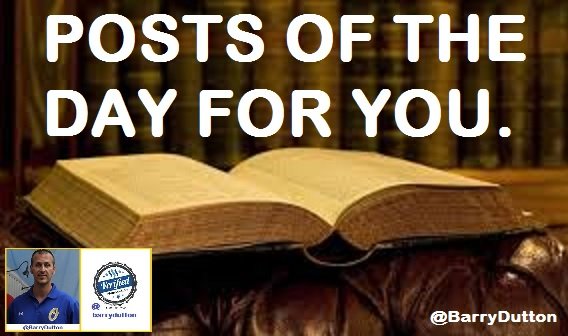 ---
---
A short list of what I liked in the newsfeeds today and hope it saves you time finding good content. If this helps you - just Upvote and Resteem it and help others too.
I consider this type of project CURATION to support authors and the readers alike. Tags reflect the topics and my goals to help the community. I believe Resteeming good content should be a regular thing we all do to keep good content in the newsfeeds.
Sometimes it will introduce a new author or give one some extra exposure. Other times it will be just something I really like, or content I think will add value to the community somehow or help someone else with something in life.
We are in this together, so we should help one another. Have a good day.
---
Today the first post listed is my own -- it was an important post that nobody was discussing online or posting about in the news today that affects everyone in the investment/crypto space as Trump named a Bitcoin-Crypto friendly appointment to one of the top offices in the USA for his cabinet which affects A LOT of people and dynamics. Normally I would not post my own things in here but it is a key post and news.
https://steemit.com/blockchain/@barrydutton/breaking-trump-appoints-pro-blockchain-crypto-advocate-for-budget-chief-who-also-despises-the-federal-reserve
https://steemit.com/blockchain/@dantheman/how-to-solve-fake-news-with-proof-of-consensus-and-blockchains
https://steemit.com/steemit/@sirlunchthehost/steemit-community-jobs-initiative-program-lets-help-put-some-steemians-to-work-crypto-based-job-system
https://steemit.com/health/@smysullivan/not-your-usual-diet
https://steemit.com/sirwinchester/@sirwinchester/til-what-is-sleepwalking-and-why-do-people-do-it
https://steemit.com/steemit/@billykeed/steem-on-soundcloud
https://steemit.com/bitcoin/@hilarski/bitcoin-smashes-through-usd800
https://steemit.com/life/@sauravrungta/how-hardships-make-you-a-better-person
https://steemit.com/writing/@gamerholic/how-learning-to-code-saved-my-life-after-being-stabbed-7-times
https://steemit.com/travel/@sweetsssj/travel-with-me-34-my-journey-around-hong-kong-on-the-antique-trolleybus-photo-video
https://steemit.com/bitcoin/@hilarski/bitcoin-smashes-through-usd800