Learn & earn! Introducing: Phasianus colchicus / Lerne & verdiene! Vorstellung von: Phasianus colchicus
Information about the species Phasianus colchicus (Common pheasant)
---
Informationen über die Art Phasianus colchicus (Fasan)
---
For all of you that were eagerly waiting for another of my learn & earn episodes, I finally managed to make one. Unfortunately, in the following months the next episodes will still be posted very irregularly and probably with long breaks in between.
Für alle von euch die schon eifrig auf eine weitere lerne & verdiene Episode gewartet haben, schaffte ich es jetzt endlich mal wieder eine zu machen. Leider, werden auch in den kommenden Monaten die nächsten Episoden sehr unregelmäßig und mit wahrscheinlich langen Pausen dazwischen geposted werden.
---
Intro
| Phasianus colchicus (Common pheasant) | Phasianus colchicus (Fasan) |
| --- | --- |
| This species is native to most parts of west, east and central Asia, but has also been introduced to many European countries, Australia, New Zealand, United States and some insular states. | Diese Art ist heimisch in den meisten Teilen von West-, Ost- und Zentralasien, wurde aber auch in vielen europäischen Ländern, Australien, Neuseeland, den Vereinigten Staaten und ein paar Inselstaaten eingeführt. |
| The main reasons for the introduction of this species to so many countries was, because it is favored as a game bird by many hunters and thus amongst the most hunted bird species of the world. | Die Hauptursache für die Einführung dieser Art in so viele Länder war, weil sie als Jagdvogel bei vielen Jägern beliebt ist und deshalb auch einer der meist gejagtesten Vogelarten der Welt ist. |
| Phasianus colchicus shows a typical sexual dimorphism, where the long tailed males can reach a body size of around 80 cm and have a brownish, metallic shimmering and black and white doted plumage. As well as a blackish and greenish iridescent colored head exhibiting a red wattle and often a white neck ring. Whereas, the females are shorter tailed, with a body size of around 60 cm and a rather uniform light brownish and black mottled plumage. | Phasianus colchicus weißt einen typischen Sexualdimorphismus auf, wo die langschwänzigen Männchen eine Körpergröße von ungefähr 80 cm erreichen und ein braun, metallisch glänzendes und schwarz, weiß geflecktes Gefieder haben. Sowie einen schwärzlich, grünlich schillernd gefärbten Kopf der einen roten Kehllappen und oft einen weißen Halsring aufweist. Wohingegen die Weibchen einen kürzeren Schwanz haben, eine Körpergröße von ungefähr 60 cm und relativ einheitlich ein hell bräunliches und schwarz marmoriertes Gefieder aufweisen. |
| In addition to the above described nominatform many different hybrid and breeding variants exist. | Zusätzlich zu der oben beschriebenen Nominatform existieren verschiedenste Misch- und Zuchtformen. |
| It prefers open grass- and farmlands, but can occupy a wide range of habitats and is also in there feeding strategy considered to be an opportunistic omnivore feeding on many different fruits, seeds, leaves as well as insects and small invertebrates. | Sie bevorzugt offenes Gras- und Ackerland, kann aber ein große Auswahl an Habitaten bewohnen und wird auch in seiner Futterstrategie als opportunistischer Omnivore betrachtet, der viele verschiedene Früchte, Samen, Blätter, sowie auch Insekten und kleine Wirbellose frisst. |
| Since male pheasants are polygynous they are often accompanied by a harem of females. After the mating period from around march to June (depending on the geographic area) the female can lay up to 18 eggs. After around 25 days the young birds hatch, grow relatively quick and reach sexual maturity within the first year. | Da männliche Fasane polygyn sind werden sie oft von einem Harem an Weibchen begleitet. Nach der Fortpflanzungszeit die von ungefähr März bis Juni reicht (abhängig von dem geografischen Gebiet), können die Weibchen bis zu 18 Eier legen. Nach ungefähr 25 Tagen schlüpfen dann die Jungvögel, wachsen relativ schnell und erreichen im Laufe des ersten Jahres die Geschlechtsreife. |
| Due to fact that this species is widespread and quite common in many areas it is listed as least concern. However, some populations are locally decreasing, because of habitat loss and over hunting. | Aufgrund der Tatsache, dass diese Art weit verbreitet und in vielen gebieten recht häufig ist, wird sie als least concern gelistet. Jedoch sind manche Populationen lokal am abnehmen, aufgrund von Habitat Verlust und übermäßiger Jagt. |
Sources/Quellen
https://de.wikipedia.org/wiki/Fasan, accessed on 08 & 09.08.2018
https://en.wikipedia.org/wiki/Common_pheasant, accessed on 08 & 09.08.2018
http://www.iucnredlist.org/details/45100023/0, accessed on 08 & 09.08.2018
http://animaldiversity.org/accounts/Phasianus_colchicus/, accessed on 08 & 09.08.2018
Schaefer M. (2010) Brohmer - Fauna von Deutschland: Ein Bestimmungsbuch unserer heimischen Tierwelt. Quelle & Meyer. 23 Auflage.
---
All pictures are and will be photographed by myself
Alle Fotos sind und werden von mir selbst fotografiert
---
Male individual / Männliches Individuum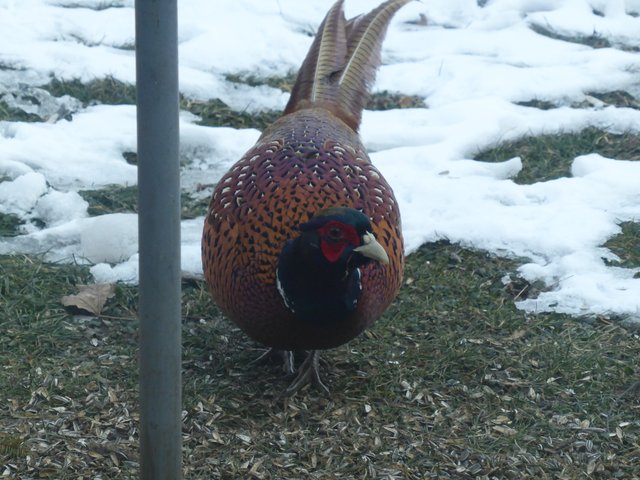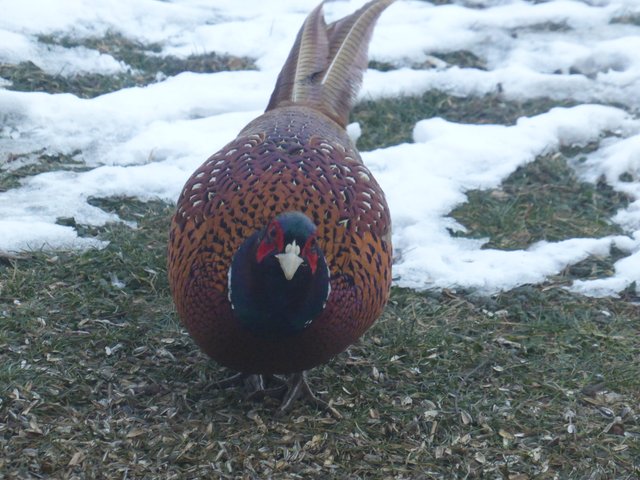 Which animal should I introduce in the next "learn & earn" episode?
Please vote your favorite from my 3 suggestions in the comments!
All 3 suggestions were drawn randomly from a growing pool of species
---
Welches Tier soll ich im nächsten "lerne & verdiene" Teil vorstellen?
Bitte votet euren Favoriten von meinen 3 Vorschlägen in den Kommentaren!
Alle 3 Vorschläge wurden zufällig aus einem wachsenden Pool an Arten gezogen
---
How to you earn from this post?
Half of the SBD and Steem earned with this post will be distributed equally to all those who voted on this post and on one of my suggestions for the next episode (please vote just on one suggestion).


Everyone who writes another interesting and well researched info about the introduced species in the comments (with source of the info) will earn 0.5 SBD.


If you think that I identified the species (or genus) wrong and you can prove it somehow, you will get 5 SBD as a thank you.
I remain the right not to giveaway SBD/Steem to those votes or comments I deem as spam or are not compliant to the rules!
---
Wie verdient ihr mit diesem Post?
Die Hälfte der von diesem Post verdienten SBD und Steem werden gleichmäßig zwischen all jenen verteilt die diesen Post und einen meiner Vorschläge für die nächste Episode upvoten (bitte nur einen Vorschlag voten).


Jeder der eine weitere interessante und gut recherchierte Info über die vorgestellte Art in den Kommentaren schreibt (mit Quelle der Info) erhält 0.5 SBD.


Wenn ihr denkt das ich die Art (oder Gattung) falsch bestimmt habe und ihr mir das irgendwie beweisen könnt, bekommt ihr 5 SBD als Dankeschön.
Ich behalte mir das Recht keine SBD/Steem an Votes oder Kommentare zu geben die ich für Spam halte oder die nicht regelkonform sind!
---
Previous learn & episodes / Bisherige lerne & verdiene Folgen
---
Learn to know and appreciate the other species you are sharing this beautiful world with! ;)
---
Lernt die Arten mit denen ihr diese schöne Welt teilt kennen und schätzen! ;)
---