VintageBlues4K E05: "Hard Times Killing Floor Blues" by Skip James (1931)
VintageBlues4K
Guitar blues of the 1930s brought to life in UHD 4K video, for the second century of recorded blues fans.
Episode 05: "Hard Times Killing Floor Blues" by Skip James (1931)
Intro
Ramblin' Bob back again with more VintageBlues4K after another long absence. After going through some hard times, and bouncing back up off the floor, I'm finally back with a pair of early blues guitar masterpieces whose original versions were nearly lost and forgotten.
In the next episode we'll feature Robert Johnson's most significant contribution to the blues repertoire and one of the most covered blues songs of all time ... that became a blues standard in the hands of someone else.
But first, in this episode we feature a song that (like the rest of Skip James' early 1931 recordings) was never really popular or considered a blues standard ... until perhaps 70 years later, when a new version was featured in a Hollywood film.
Oh Brother
The Coen Brothers' 2000 film Oh Brother, Where Art Thou? put a lot of ol'-timey music back on the map for 21st-century listeners. The soundtrack won two Grammys and its popularity spawned a concert tour.
Singer, guitar player, and actor Chris Thomas King did a truly wonderful job of adapting his new version of Skip's classic song to fit the scene: a dark, spooky night around the campfire in Depression-era Mississippi. He slowed down the tempo, sang a dark and emotional lyrical delivery, and adapted Skip's musical theme to his own picking style.
He did such a fine job however that we now have a situation where the Chris Thomas King version is invariably the way that people learn to play the song these days. The movie has brought this Skip James composition a level of exposure and popularity well beyond anything he enjoyed during his lifetime - certainly beyond the popularity he achieved in his original foray as a recording artist in 1931. Or as a pillar of the 1960s blues revival. Or even when rock supergroup Cream covered one of his songs.
But today the Skip James-style way of playing this piece is still as lost and forgotten as it ever was. And so that's where VintageBlues4K comes in...
Nearly Lost
Only a few thousand copies of Skip's records from the 1931 session were ever produced and they famously hit the market just as the depth of the Depression was gripping the U.S. economy. Paramount Records would no longer exist just a few years later. It is thought that the number of surviving copies of this recording number in the low single-digits, making it one of the rarest of all early blues records among collectors. It was not reissued on an LP until after his rediscovery in 1964, over 30 years later. It is entirely possible that if Skip James had not been rediscovered, or if he had succumbed to his cancer just a few years earlier, this song may have disappeared from the blues repertoire entirely.
Even after Skip's timely reappearance, this song never became popular with later generations of blues musicians, perhaps because it is played in Skip's idiosyncratic Open Dm/D-Crossnote/DADFAD tuning or perhaps because of his intricate picking technique, until it was resurrected by Chris Thomas King for the movie.
Ooops
The name of this song is just one of three record company mistakes (that have endured through the ages) from Skip's first recording session that indicate just how nonchalant things were in the early days of recording at Paramount Records' "New York Recording Laboratories" of Port Washington, Wisconsin.
First of all, they got his name wrong. He was known as "Skippy James" until his 1931 recording session. Then, Skip's version of Leroy Carr & Scrapper Blackwell's "How Long Blues" was released as "How Long Buck". Finally, for this song they got the title wrong by just one letter, but it was a significant one: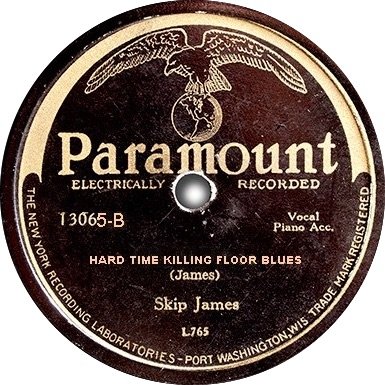 Hard Times
It was released as "Hard Time (without the s) Killing Floor Blues", which of course would suggest a song about a prison sentence rather than The Great Depression. "Hard TimeS" is what the worldwide economic bust was known as while it was happening, to the people living through it. The term "Great Depression" was only popularized years later, when things were booming again.
Titles of all the subsequent recordings Skip made in the 1960s, and the lyrics of the song itself, use the correct term "Hard Times".
Skip's song was certainly not the only blues song about the Depression to come out around that time, and wasn't the only one called "Hard Times something Blues", but it does seem to be the only one that anyone still plays anymore.
As Skip James described in the program for The American Folk Blues Festival in 1967:
it is a song about a time when people down in Dallas, Texas were queuing for soup provided by the government on the streets. People had nothing more to live on than what they got from the government for free.
The Video
Like most Delta blues pioneers, there is no video footage of Skip performing from the 1930s and only one known photograph of him from that era. And although he performed and toured extensively for nearly five years during the 1960s blues revival, only a smattering of photos and videos exist of Skip James from this period, and no videos at all exist of him playing piano.
I was a Skip James fan for many years and I only ever knew of the same three videos of him performing, and in none of them did he play this song he is now best known for, until ... one day ... there it was: from a small German television station, recorded while he was touring Europe with The American Folk Blues Festival in Cologne in 1967, Skip James performing Hard Times Killing Floor Blues:
Although I had already learned to play this years earlier, it was somewhat magical to finally see Skip playing it. I was so excited that I went and created a YouTube account to share my discovery with the world.
Like his blues guitar pioneering contemporaries Scrapper Blackwell, Lonnie Johnson, and Son House, who also returned from long absences to record again in the 1960s, Skip's playing style changed significantly in his time away from the microphone. While he probably never played a song the same way twice, in general his 1931 recordings are faster, more minor, and lower-pitched, and his 1960s recordings are slower, more major, and sometimes higher-pitched.
Aging musicians often tune down a bit to match their deepening voices. During his blues revival era, Skip would often tune UP two half-steps HIGHER to play and sing his Dminor repertoire in Eminor. The studio recording of this song on his 1966 album Today! is in Eminor and is played slower.
This version is still in Dminor but he has inexplicably changed his moaning and guitar theme to sound happier and more major. It almost seems like he thought his dark, eerie 1930s blues wouldn't go over well with the folkie/hippie audiences of the 1960s, and attempted to adjust accordingly.
Recordings
In addition to the original 1931 recording and this 1967 video, I've heard 5 other recordings of this song made in the 1960s, 2 studio and 3 live. Sometimes he plays it quite slow, sometimes considerably faster. The original may have been played quite fast due to the 3 minute 78rpm shellac-record time limit, as he just manages to squeeze it all in to 2:52.
Sound Quality
Unbelievably, Robert Johnson's records from the 1930s are considered the "good" quality recordings from the vintage blues era because he didn't record at Paramount like most early blues guitar icons like Blind Lemon Jefferson, Blind Blake, Charley Patton, and Skip James. Paramount was notorious for their poor sound quality and was bankrupt before Robert Johnson got his first recording gig.
Fortunately Skip's 1931 recordings have received the 21st-century remastering treatment from Pristine Audio and so this is the only version I recommend.
Tab
Most of the time, finding correct tablature for ol'-timey guitar recordings is next to impossible, especially when a newer version of the song has eclipsed the original in popularity. I am pleased to report that this song is an uncommon exception.
Back in the 1990s, a note-perfect Skip James tablature book was published by Hal Leonard, with the correct transcription for the original recording of this song ...
... BUT like nearly everything Skip James touches, this book has become rare and has been out-of-print since the 1990s ...
... BUT back in 2012 someone had the good sense to key it into the Internet so now BOOM here you go, the correct original Skip James-style tablature right here on Songsterr.
My Hard Times Recording This Song
This was the first Skip James song that I learned to play and the first (of any blues songs) that I attempted to sing. It was also the first song that I attempted to film and record myself performing, which became the idea for VintageBlues4K. So you could say that it was Robert Johnson that inspired me to start playing blues guitar. But it was Skip James that inspired me to start singing it and putting videos on YouTube.
Despite my long history playing this song, it turns out I had some Hard Times nailing the recording for this episode. For my first attempt, I had just recently gotten a new guitar and (as is always the case with New Guitar Acquisition Syndrome) I was excited to try it out and decided to use the new one to record this song rather than my old reliable guitar that I learned it on years earlier. But after recording the entire episode I realized this was probably a mistake and decided to give it another try with the old guitar. For the second attempt, the old guitar sounded better but this time the cameras failed me. I got a lovely audio recording, but no video. Fortunately, the third time was the charm, and I'm glad I put in the extra efforts on this one because it has always been one of my favorite blues songs and I wanted to make sure it came out just right.
Your Hard Times Are Almost Over
After going through so many hard times, I've learned to crave getting all the way down on the killing floor, and now I try to get there as quickly and directly as possible. Why? Because when you are all the way down, as low as you can go, right down on the floor, there's only one direction left to go: back up. And then your Hard Times will soon be over. Just like this episode.
Next Episode
We'll continue with another blues classic that was also almost nearly lost in its original format, and explore the little "mystery" that Robert Johnson pulled on his fellow guitar players for over 60 years.
Thanks for watching, listening, and reading. We all go through some hard times, but after listening to some good blues, things may not seem all that bad...
Gear List
Guitar: 2002 Carvin Cobalt C850LH
Strings: Elixir NANOWEB Phosphor Bronze, HD Light (.013-.053)
Audio interface: Resident Audio T4
Camera: iPhone 7
Editing: MacBook Pro Retina
Video Editor: Final Cut Pro X
Audio Editor: Logic Pro X
Previous Episodes
introduceyourself / verification post
E01: "Kind Hearted Woman Blues" by Robert Johnson (1936)
E02: "Worried Blues" by Skip James (1966)
E03: "Mississippi Blues" by William Brown (1942)