VintageBlues4K
Guitar blues of the 1930s brought to life in UHD 4K video, for the second century of recorded blues fans.
Episode 04: "I'm A Steady Rollin' Man" by Robert Johnson (1937)
Intro
Welcome to the long-overdue episode four of VintageBlues4K. "Ramblin' Bob" here, back again after a tumultuous few months.  As I waded through torrents of blues, that poured down on me like buckets of rain, sometimes it felt like I already had one foot in the grave.
But fortunately, this time the devil only got away with the tip of my finger, and he'll have to wait a bit longer for the rest of me, because after much delay this new video is finally done, just in time to celebrate a musically historic couple of days.
To The Moon
As I write these words on Sunday June 18th, 2017, it was exactly 50 years ago this evening that Jimi Hendrix stepped on stage at the Monterey Pop Festival to give American audiences their first real glimpse of our best guitar player.
People often remark in awe at learning that American aeronautics went from Kitty Hawk to the moon in just 66 years.  Is it no less awe inspiring that American popular music went from Robert Johnson to Jimi Hendrix in just 30?
80 Years Ago
And what exactly was "The King of Delta Blues Singers" up to 30 years before Jimi played Monterey? Well, exactly 80 years ago from tomorrow, on Saturday June 19th, 1937, Robert Johnson was in Dallas, Texas recording this song.
This was his second and final recording session, about 7 months after his first one in San Antonio.  By now several of the singles from that first session were released and he had a minor hit with his "Terraplane Blues" record (with "Kindhearted Woman Blues" on the flip side, the first song he recorded and my Episode 01) so the first order of business in this second session was to try to recreate the success of his bestseller.  So "Stones In My Passway" was recorded first, with essentially the exact same guitar part as "Terraplane Blues" and just different lyrics.
Steady Rollin'
For his second recording of the day, Robert Johnson continued his custom of reworking songs of more established contemporary blues recording stars.  Like in our first episode, where we heard Ramblin' Bob doing Robert Johnson doing Leroy Carr, for this episode it is Ramblin' Bob doing Robert Johnson doing Peetie Wheatstraw.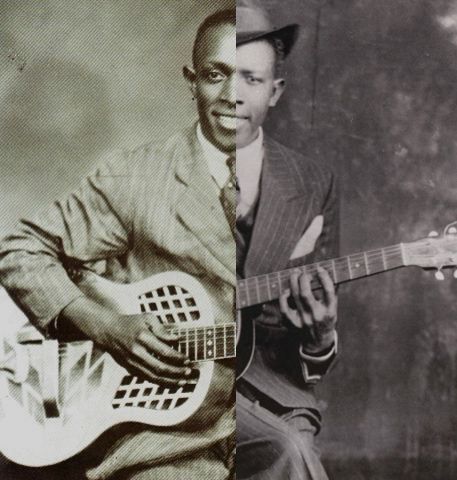 Left side: the only known photograph of Peetie Wheatstraw.  Right side: one of only two (publicly) known photographs of Robert Johnson.  Two guys that did not look, or dress, completely unalike.
The Devil's Son-in-Law
Like Leroy Carr, the name Peetie Wheatstraw is probably unknown to most musical listeners today, whereas Robert Johnson's legend transcends music.  Also like Leroy Carr, Peetie Wheatstraw was a far bigger star than Robert Johnson in the 1930s, with 161 sides recorded.  However, like Robert Johnson, and Leroy Carr before him, Peetie Wheatstraw did not make it through the vintage blues era alive.  On December 21, 1941, his 39th birthday, "William Bunch" (his real name) was killed in an automobile accident.
Rollin' This-a Way
As I mentioned in the closing of the last episode, I think "I'm A Steady Rollin' Man" may possibly be Robert Johnson's most original composition.  Or at least his least unoriginal.  All of his 29 surviving songs are derivatives of other blues singers' compositions, but in most cases he'd either change the lyrics, or the accompaniment.  In this one he has done both.
Robert Johnson borrowed heavily from Peetie Wheatstraw, adopting parts of his persona, musical style, lyrical style, and even vocal delivery.  Many of his famed 29 surviving songs are direct knock-offs or followups to Peetie Wheatstraw hits.  But I feel this one has drifted the furthest from the song it was based on, "Johnnie Blues", recorded on July 20, 1935 with Wheatstraw on vocals and piano and either Charlie Jordan or Charlie McCoy on guitar.
It is an upbeat ditty and a "brag song" coming from a long tradition in blues, that might be sung on a street corner to "the boys".  Johnson continues in this tradition with his new lyric, but transforms the guitar part into something that is purely Robert Johnson.  Playing the driving rhythm on the bass strings combined with the lilting melody on the treble strings, all while singing at the same time, is something few can master.
This was the second Robert Johnson song that I learned to play after Kindhearted Woman, and the one I now recommend to those new to learning his polyrhythmic fingerpicking style.  It is a bit easier to play than Kindhearted Woman, doesn't have the solo, and is also one of the 4 of his 29 recordings that are in normal concert tuning right off the record.  It is played in standard tuning with no capo, in the Key of A, and the tabs are in the book.
Next Episode
Next time we'll take a break from these happier blues and turn back to the darker, eerier blues with last century's darkest, eeriest bluesman, and his biggest hit from this century.
Thanks for watching, listening, and reading. So until next time, I'll be steadily rolling away...
Gear List
Guitar: 2002 Carvin Cobalt C850LH
Strings: Elixir NANOWEB 80/20 Bronze, Light (.012-.053)
Audio interface: Resident Audio T4
Camera: iPhone 6S
Editing: MacBook Pro Retina
Video Editor: Final Cut Pro X
Audio Editor: Logic Pro X
Previous Episodes
introduceyourself / verification post
E01: "Kind Hearted Woman Blues" by Robert Johnson (1936)
E02: "Worried Blues" by Skip James (1966)