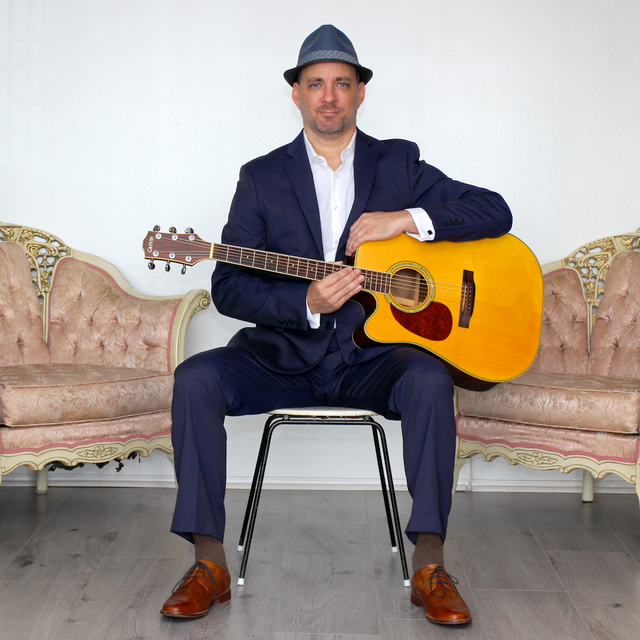 Anybody got the blues?
Greetings fellow Steemers!  You can call me "Ramblin' Bob".  I'm here to introduce myself and announce that I'll be launching my new blues YouTube channel tomorrow, right here on steemit.com.
Coming Out
This channel has been a long time in the making, mostly because for 30 years I have been an "in the closet" guitar player.  Yes, some close friends and family (and certainly neighbors) have known that I occasionally noodle around with the 6-string.  But for the most part I have never played for an audience, joined a band, or even really recorded something in all these decades of kicking around with the thing.
I learned early on that I really didn't enjoy playing in public.  I discovered that you don't really get to play what you want to play, you play what the audience wants.  I found that a combination of stage fright, camera shyness, and introversion means that a public performance for me is never as smooth as when I'm playing alone in a corner.
But that is finally about to change.  I've recently been inspired (by a trio of creative influencers) to flip the camera on and show the world what I've learned to do.  It's time to come out of my guitar playing closet.  (Hopefully performing on YouTube will work for me.)
Learning To Play
My first guitar love was of course Jimi.  But it was actually Carlos Santana that gave me the push to take that first step to the music store in 1986.  I was already a Hendrix fan for several years, but for some reason it never dawned on me that maybe I could or should try to play guitar like him.  After I listened to everything he recorded and I got kind of tired I shifted into a Santana phase, and it was watching and listening to him (on VH-1!) that for the first time I got the sensation, "hey, maybe I could do that".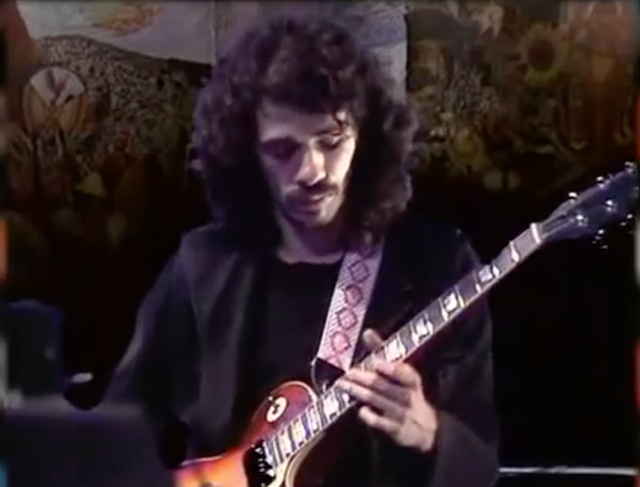 Over the years I've gone through phases of playing rock, metal, classical, jazz, electronic, and lately blues.  (The blues phase roughly coincided with me getting married, haha.)
I've never taken learning to play guitar too seriously, and perhaps that was the secret to my longevity.  I've given up plenty of things over the years, but never guitar.  I never considered myself a natural talent or dreamed of becoming a professional musician.  Everything I learned was a struggle, but I stuck with it.  I only played because I enjoyed it and never wanted to take lessons or be forced to practice or play something I didn't want to play.
So if you are considering learning to play guitar or have recently started, my advice to you would be this: stick with it, make sure you're enjoying yourself, and don't give up.  As long as you manage to stay alive, you will learn to play very well eventually.  Like fine wine, you only get better with age.
Robert Johnson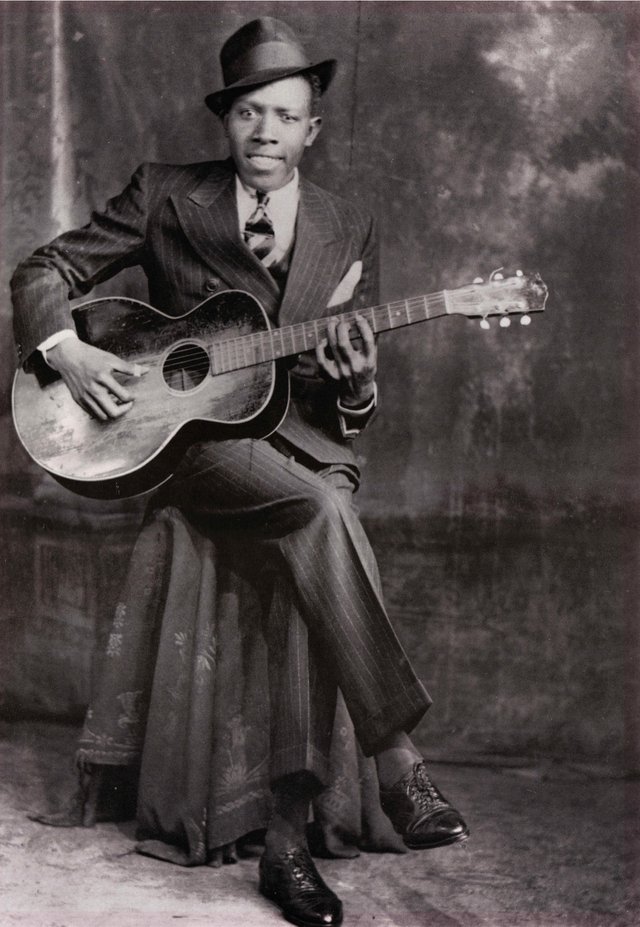 At some point early in my playing I decided that I should probably learn how to play some early blues guitar songs by Robert Johnson.  Several of the greatest rock guitarists cite him as a major influence.  But when I looked into it I found that I probably wasn't good enough.  It was too hard and I felt it would be better to wait until I'm an old man to tackle that project.  Which brings me to roughly right now.
Waiting turned out to be a good strategy in this case.  In the intervening years, books have come out (by transcribers far more talented than I) that have tabbed out all his surviving recorded works.  Researchers have deciphered his "mystery tuning".  An alternate take of "Traveling Riverside Blues" was discovered.  Documentaries and tutorial videos have been produced.  And most importantly, they've gotten progressively better at remastering his scratchy old phonograph recordings.  In 2007 a newly remastered album of the Robert Johnson canon was released and it was this that inspired me, now that I could actually kind of hear what he was doing, to try to play along with the master.
Singing
Once I set my mind to it, it only took a couple of years to get to the point where I could play most of his stuff reasonably well.  In fact, this blues channel could have come out in 2009 if it weren't for one thing: singing.
I discovered early on in my study of blues that the lyrics and singing are integral parts of the song.  The guitar part in many early blues songs is often quite basic and repetitive.  Without the words I don't think anybody would really want to listen to it.  If I was ever going to perform my newly polished Robert Johnson repertoire I would need to find a duet partner to sing with me.  Why?  Because I never even considered trying to sing myself.  In all my years of playing guitar I was never once even remotely interested in being a vocalist.  I also discovered something much harder than playing guitar well or singing well: singing and playing the guitar well at the same time!
My original idea was to partner with a female vocalist.  I thought it would sound pretty cool to have a female voice cover some of these early male blues singers, as they often sang in a higher register.  But as the years went by, looking and waiting, looking and waiting, I finally came to the conclusion that I would never find the right person who was interested in singing 80-year-old guitar blues songs with me.  If I was ever going to perform my new blues chops, I was going to have to sing it myself.
It was actually Skip James, not Robert Johnson, that inspired me to try singing.  After so many years of practicing the same 29 songs, I eventually branched out and started listening to some of Robert Johnson's contemporaries and influences.  And it was Skip that most grabbed me.
In addition to being a uniquely talented guitar (and piano) player, he had a special, haunting, piercing high voice.  His style of singing was clearly influenced by his dual life as a bluesman and church choir director.  Perhaps that resonated with me because my first and only experience and training as a vocalist was: 7th grade school chorus, when I was a soprano!  (Every high note I manage to hit on this channel is dedicated to you Ms. Allen!)
So this channel will also be an interesting experiment in practice.  In addition to being the culmination of 30 years of practicing and studying playing guitar, it's also the culmination of 30 years of not practicing singing.  So we'll see how things go.  I freely admit to using every trick in the book to try to avoid ruining the song with my amateur vocals.
Last Of The Great Mississippi Delta Bluesmen
In 2007, an album was released called "Last of the Great Mississippi Delta Bluesmen: Live in Dallas".  The premise was that four of the last Mississippi bluesmen to record before WWII were then in their nineties.  They got on stage once again to play one last show and now they are all gone.  David "Honeyboy" Edwards made it the longest, until summer 2011 (aged 96) and now there are no more.
Having gotten to the point where I can play some of these classic blues songs, I felt a certain duty or obligation to perform them and keep them alive for the next century of blues listeners.  And so here we go.
The Great Confluence
My channel is launching now as a celebration of a rare confluence of three important milestones:
the 30th anniversary of the year I started learning to play guitar
the 100th anniversary of the recording of the first blues records
the passing of the last of the bluesmen who recorded in the "golden era" of recorded blues
After 30 years of studying and playing, I'm coming out and happy to say "it's almost showtime!"