"Meadows & Makers" podcast - Saturdays 5-7PM UTC - August 4th 2018 guests include @pennsif @wolfnworbeikood
Join @makinstuff and @jackdub every Saturday 5-7PM UTC for the "Meadows & Makers" podcast. Maker and Homestead guests, Project discussions, Post curation, and Technology news. Join the PAL discord for the full podcast experience, or catch the stream on mspwaves.com.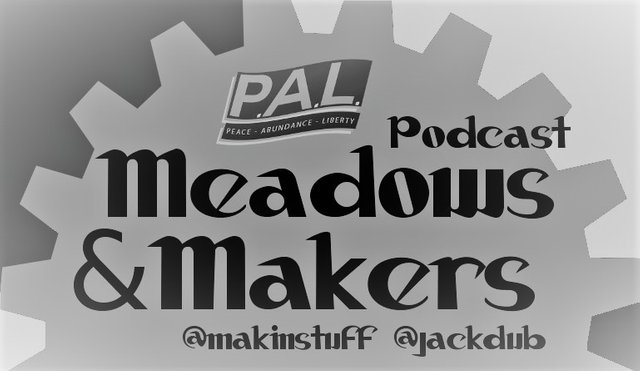 Maker and Homestead guests
Makers and homesteaders specialize in making difficult tasks easier through the use of modern and well tested technology. We'll chat about their latest projects, interests, and involvement with Steemit.
this Week's Guests include
@pennsif - "future gazer, past watcher, community builder, prepper, homesteader, seeker of self-reliance, MSP Waves Radio show host, founder of A Dollar A Day @adollaraday" - We'll chat with @pennsif about his past, on going, and upcoming projects.
Project discussions
@makinstuff and @jackdub are lifelong makers and always have a few projects on the go to share with listeners. Listeners are encouraged to participate in the all conversations, questions for the hosts and guests are welcomed.
New - Maker Challenges
The first challenge will be a Music Maker challenge. The "Meadows & Makers" podcast is in need of instrumental tracks that will be used as intro, outro, and fill music on the show. The details of this 1st Challenge of the 1st Round of five(5) Maker challenges will be announced on the podcast.
Steemit Post curation
There are plenty of top quality maker, homesteader, DIYer, and technology posts on Steemit, we'll discuss the ones that peaked our interest.
Technology news
@makinstuff will share with us the most recent technology innovations and news that he's found this week.
Listen live on mspwaves.com or from the PAL discord.
Contact @jackdub or @makinstuff if you have a project, technology, system, or innovation to share with our listeners.