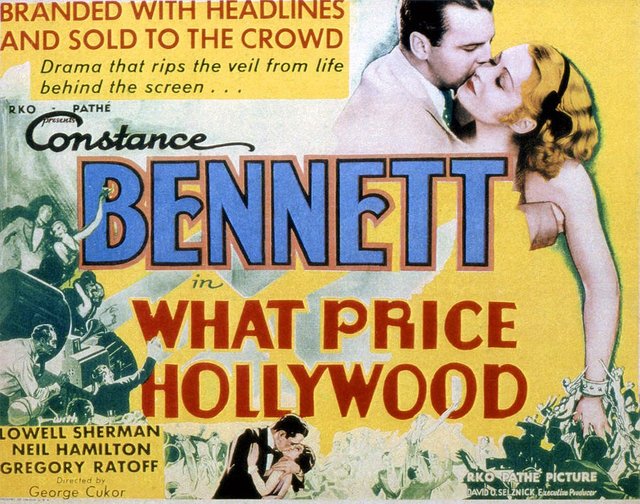 "A star is born" is just a copy of this original story
Before 2018 Bradley Cooper and Lady Gaga's A star is born there was the 1974 version with Barbra Streisand. And before that there was the 1954 musical version with an extraordinary Judy Garland. And even earlier, the first appearance of this story known as A star is born was released on 1937 starring Janet Gaynor. But before all that there was another movie which was the original version of this Hollywood classic, like a seed to a tree.
What Price Hollywood? is a 1932 drama film about the world behind the big screen. It was directed by famous George Cukor (who also directed My fair Lady with Audrey Hepburn) and starring a marvelous Constance Bennett and Lowell Sherman. This is a pre-Code movie. That is, it was released before the Hays Code, that set of industry moral guidelines that was applied to most United States motion pictures from the thirties to the late sixties. This story, the original, is so much more dramatic and rude, and better and I'm about to show you all the things that A star is born literally took from this film.
Mary Evans (Constance Bennett) is a waitress/aspiring actress who has an opportunity to meet film director Maximillan Carey (Lowell Sherman) when she serves him one night at the restaurant she works in. He's a famous drunk movie director who's charmed by the young girl and after taking her to an event, he decides to help her to get in the industry. She says to him "I believe in me. I just need a chance". In comparation to the later versions, this girl, Mary, is so much more strong, confident, daring, unwrapped and instead of an artistic vocation, she has a fantasy to enter into the Hollywood world, to wear, use, and to be everything she's seen in the magazines. She doesn't just want to be an actress. She desires the lifestyle of the rich and famous.
Mary's first audition reveals an akward truth: she has far more ambition than talent. But, with determination and after extensive rehearsals, she pleases the producer and the director and signs a contract. Another aspect in wich this movie is different (and in my opinion, superior) to the later versions is that the film is a critique of the world of Hollywood and the system of recruitment of actors called "Star-system". In this system, movie stars are the product of a mix between actors and actresses and the characters they represent, as a unit. Industry literally makes stars through the press, publicity, and selling the image of actors and actresses to the public. It's a star factory.
Just as quickly as Mary achieves stardom, Max finds his career on the decline because of his drinking problem. Mary meets millionaire playboy Lonny Borden who truly loves her (although she behaves very mean at the beginning) and they get married in an incredible big wedding (another thing that was "changed" in A star is born). As they go on, Lonny becomes increasingly annoyed by the dedication of Mary to her work, because they even have to pospose the honey moon to reshoot some scenes, and finally walks out on her. After their divorce is finalized, Mary discovers she's pregnant and she decides to raise the kid on her own. This divorce and this child don't appear in the next movies.
Then, Max reappears: he's in jail and Mary's called to pick him up. She takes him to her home as a sign of gratitude because he gave her the opportunity she needed. A thing I liked is that even when in the beginning this selfish young girl used the director to get into Hollywood, later she becomes his friend and returns her help when he needed her the most; and none of these things lead to any romantic involvement, they were just friends. Sadly, Carey's self-pity consumes him. He stares at his dissolute image in the mirror and compares it to himself in the earlier glory days and shots a bullet to his chest. The scene of Mary discovering the body, evokes the scene of her first audition in which she also saw a corpse. This suicide is not focused in Mary or how he might affect her career, as the other stories go (in Bradley Cooper's version they kind of retake this) and is a so much more dramatic death.
After this, Mary becomes the center of gossip focusing on Max's suicide because he was at her house at the moment. Mary's just lost a friend and the public's indolence of starting rumors and gossip destroys her even more. They were friends but the public doesn't seem to understand or believe that these things can exist in that world. "I was his only friend", she says. The Producer Saxe tells Mary in this sequence "You belong to them" (to the public) and then "They make you and they break you". She flees to Paris with her son to get away from that cruel world she wanted so bad to get in. This part is so rude, dramatic and powerful. It's the weight of fame, the curse of the public figures.
Although Mary reunites with Lonny in Paris to give their marriage another chance in a kind of happy ending the whole movie is filled with drama and strong emotions. Although she later shows genuine gratitude for Max, Mary is a frivolous, sarcastic, somewhat cruel and superficial young woman. And the portrait of what it represented to be a star, with the savagery of the paparazzi, the pressure of public opinion that is a subject of such validity today, but that was already present in this 1932 film. All of these elements and the fact that this was the original version makes me love this film above A star is born, which despite having plagiarized motifs, scenes and even lines of dialogue, it appears as a different film!. There's a scene where Max calls Mary who's leaving the room and he says "I just wanted to hear you speak again". Does it sound familiar?
Four years after What price Hollywood Cukor was asked to direct the 1937 version of A Star Is Born with Janet Gaynor but the plot was so similar to the previous movie (oh, really?) that Cukor declined. They never took any legal action to suit the new story "makers" (I don't know why!). Funny thing that Cukor did went on to direct the A Star is Born musical version of 1954 starring Judy Garland and James Mason, which I believe is a great movie. But I consider this, a film of 7,5/10 stars, the true, genuin, original classic of this story.
---
Other posts that may interest you: