Betting Results October 2017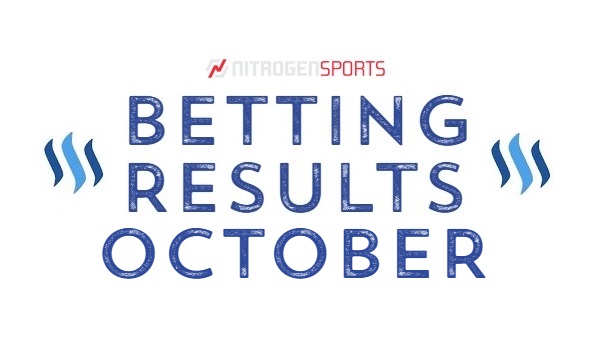 ---
This is my Monthly Results Roundup of the pre-game bets I post on Steemit.
---
October was another month grinding away some profit. The goal from the start has always been to take some of my bitcoin holdings with the belief it's +EV to use them responsibly as a betting bankroll. I made an article on the Bankroll Management I'm using. The plan is to use 1 BTC with a maximum stake of 1% and low amount of bets in a single month (max ~50).

There were 21 bets posted in the month october, mainy NFL since the odds Nitrogensports offers on it are solid. A tiny bit of profit was made after winning 50% of the bets thanks to always aiming to take higher odds.

November starts today and I'll be looking to also include some NBA bets this month. I have been looking for another BTC only bookmaker to be able to sometimes shop for even better odds, but none seem to be able to rival Nitrogensports in both odds and reputation.
---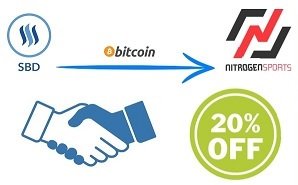 I had a win-win offer up last month for anyone on Steemit who wanted to try out Nitrogensports with low stakes. This is still available, but it will soon be changed to a deal that is more sustainable in the long term. Last month has been very profitable for anyone who bets in bitcoin seeing a +60% bankroll growth just by the increased bitcoin value!
---
October Results
21 Bet |10W-10L-1P| 0.210 BTC Staked | +0.00308 BTC Profit | +1.46% ROI
| Date | BTC | Sport | Bet | Odds | Result | Proof |
| --- | --- | --- | --- | --- | --- | --- |
| 29/10/2017 | 0.010 | NFL | SF 49ers +12 | 1.888 | LOST | [Link] |
| 29/10/2017 | 0.010 | NFL | Dallas Over 47 | 2.066 | WON | [Link] |
| 29/10/2017 | 0.010 | NFL | TB Bucs -2 | 1.986 | LOST | [Link] |
| 22/10/2017 | 0.010 | NFL | Steelers -4 | 2.016 | WON | [Link] |
| 22/10/2017 | 0.010 | NFL | Dolphins -4 | 2.176 | LOST | [Link] |
| 22/10/2017 | 0.010 | NFL | Saints -4 | 2.006 | WON | [Link] |
| 22/10/2017 | 0.010 | NFL | Rams -3 | 2.016 | WON | [Link] |
| 15/10/2017 | 0.010 | NFL | Lions +3 | 2.235 | LOST | [Link] |
| 15/10/2017 | 0.010 | NFL | Dolphins +13.5 | 1.976 | WON | [Link] |
| 15/10/2017 | 0.010 | NFL | Rams -1 | 2.086 | WON | [Link] |
| 15/10/2017 | 0.010 | NFL | Rams Over 43 | 2.086 | WON | [Link] |
| 15/10/2017 | 0.010 | NFL | Chiefs -4.5 | 2.046 | LOST | [Link] |
| 15/10/2017 | 0.010 | BEL1 | KV Kortrijk +1 | 2.023 | LOST | [Link] |
| 14/10/2017 | 0.010 | BEL1 | Waasland +1 | 1.818 | LOST | [Link] |
| 14/10/2017 | 0.010 | BEL1 | Lokeren U 2.5 | 1.964 | WON | [Link] |
| 09/10/2017 | 0.010 | NFL | Bears +3 | 2.156 | PUSH | [Link] |
| 08/10/2017 | 0.010 | NFL | KC Chiefs -2.5 | 2.046 | WON | [Link] |
| 08/10/2017 | 0.010 | NFL | Jets Over 41.5 | 2.156 | LOST | [Link] |
| 01/10/2017 | 0.010 | NFL | Dolphins +3 | 2.176 | LOST | [Link] |
| 01/10/2017 | 0.010 | NFL | Falcons -8 | 1.976 | LOST | [Link] |
| 01/10/2017 | 0.010 | NFL | Bengals -4 | 2.046 | WON | [Link] |
---
Total Nitrogensports Record
30 Bet |14W-14L-2P| 0.300 BTC Staked | +0.00452 BTC Profit | +1.51% ROI
Total BTC Bankroll

1.00452000 BTC (+0.452%)

Nitrogensports Balance

0.20452000 BTC (+2.26%)
---