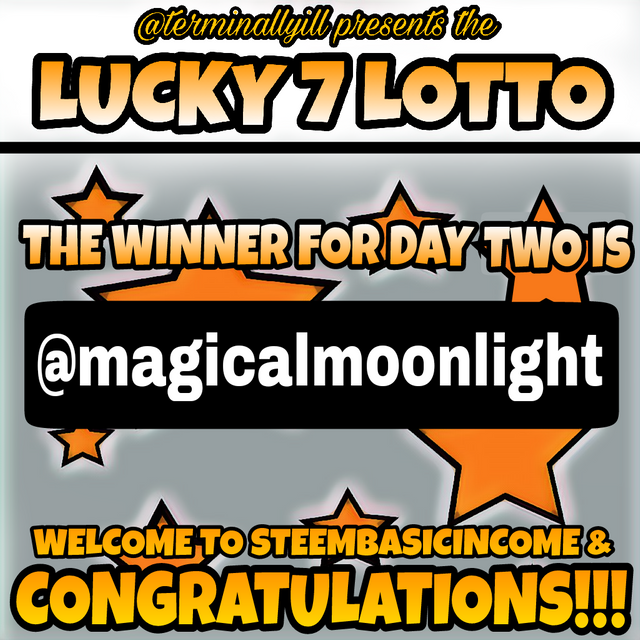 CONGRATULATIONS TO THE SECOND WINNER OF MY FIRST LUCKY 7 LOTTO COMPETITION @MAGICALMOONLIGHT!
Day Two of my seven day content oriented contest event has come to a close and was another great success. I was blessed with a good amount of articles to read from and just as the first day, was completely taken aback. From today's authors I hand picked the winner @magicalmoonlight from a great selection of quality content. This article was able to grab my attention from the beginning and then tap into some of the emotions I feel regarding a supernatural experience. In my opinion, this was a great story and the author is well deserving of their membership into Steem Basic Income. Not only is she active with the community, she has helped spread inspiration to other participants. An example every member of the community should review upon.Great job on your story, I hope to see more of your work and hope you receive many blessings on your Steemit journey.
View the winning article from @magicalmoonlight by clicking HERE.
The teddy bear in this article has got to be one of the creepiest things I have ever seen in my life. There's something about that bear.....
In the very first portion of this well assembled story, I could follow along with the author's story easily while taking in important details, which ultimately built a great feeling and image in my head. By taking notice to all of the in-explainable events that occur in our lives, we can easily relate to this tale of the creepy. After working through the first bit, leading into some juicier portions, I just had to scroll into a staring match with that damned teddy bear. I swear it gives me cold chills and definitely is a reminder of some of the stories I have followed regarding supernatural possession of inanimate objects. Just look at it......
Thankfully, we are moving past the teddy bear LOL. Moving further in the story, we begin to read about the vocalization of in-explainable noises. Another subject that has probably led a great deal of us to either question our sanity or attempt to pretend it didn't happen. Some parts of this story are able to reach deep into these feelings and thoughts, while bringing you to accept and acknowledge them. I know I can definitely relate to some of this on a personal level. Not to mention, the story is well written and narrated, making it a pleasure to follow through with. Even better, this story grabs the fear and thought of the supernatural materializing for whatever cause they so choose. From leaving mysterious, far from normal hand prints, to moving random objects causing you to think you are insane, this author brings the realism to the fact they exist. This was a great read. I urge everyone to not only upvote this content, but give it a read and resteem it if you enjoy it. Well done!
Don't forget to view the amazing entries of all of the talented creators who blessed us with their work! This is a great way to be a positive influence and impact within our local communities! A few really awesome articles are below, start with them and if you'd like to see more, the contest link is at the end of this post. Have a blessed day and remember, the more you know, the more you grow!
Check out this great entry from @keephy about invasive species in the Appalachians by clicking HERE!
Check out this great entry by @mapens about a glimmer of hope by clicking HERE!
Check out this great entry by @ribbitingscience about a mysterious stuffed lion by clicking HERE!
---

---
That wraps up the second day and brings us into the third. Make sure you give this opportunity a try if you have not. I am giving seven total memberships to Steem Basic Income as well as a 50SP delegation after the seventh day. This is great for anyone to enter who is up and coming. Remember, if you don't need the win, don't step away just yet. We all need everyone to participate in the event to keep it in motion and continue to build morale. We also need to promote compassion, awareness of these entries and more importantly a sense of community among our members. Together we can build a better world, online and off, by practicing simple acts of love, respect, humility and humanity. Support our growing community and please do your part. Every bit of support is a piece of the larger blessing we are spreading around and without each and every one of you, none of this would have been possible. Thank you all for your support and your dedication! Let's get ready to make Day Three the biggest yet, are you with me?
---

---

Visit the official contest post by clicking HERE! Day Three is officially on the clock so enter now!
---
Do you want to get paid in crypto just to be healthy? Read all about it by clicking HERE!
---
Please follow me @terminallyill to see thought provoking pieces on crypto, art, music and more!
---
Please read and resteem the articles below from Lucky's Crypto Guide For Beginners!
PART ONE - WHAT IS BLOCKCHAIN TECHNOLOGY?
PART TWO - WHAT DOES DECENTRALIZED MEAN?
PART THREE - WHAT IS A PEER TO PEER (P2P) NETWORK?
PART FOUR - WHAT IS BITCOIN?
PART FIVE - WHAT IS CRYPTOCURRENCY?
PART SIX - WHAT IS CRYPTO TRADING?
---
Enjoy the guide? Subscribe to my email list for updates and new releases. Email your information to [email protected] to subscribe today.
---
Please check out my original hip-hop music and instrumentals on Dtube by clicking HERE!