LUCKY'S CRYPTO GUIDE FOR BEGINNERS
---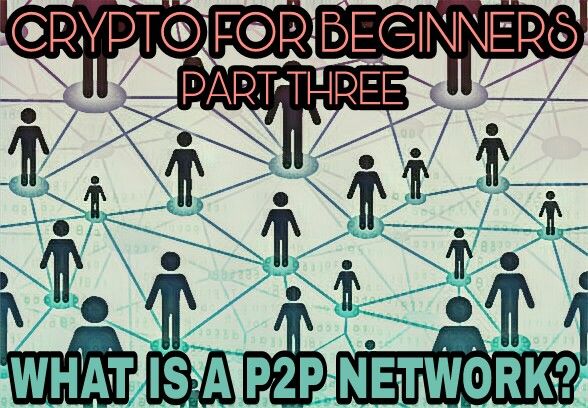 PART THREE
WHAT IS A PEER TO PEER NETWORK
---
Lucky here, and back with the Third Part of my Crypto Guide For Beginners. I have done immense amounts of research into crypto and the technologies that hold it together, which has helped me tremendously in making crypto trading profitable and enjoyable. I put this guide together with one goal in mind, to help anybody new to crypto like I was at one point, learn as quickly as possible and have the tools needed to begin trading crypto profitably. This article covers another key term from part one of my guide, P2P (Peer To Peer), where I defined blockchain technology. Please read along and take in this brief but informative article.
---
SO WHAT IS A PEER TO PEER NETWORK?
---
A ''P2P Network" or Peer to Peer Network, is a network (group) of computers that are combined together for a common purpose. The "peers" are essentially computers that are connected to each other on the internet. Files and specific actions can be shared between peers (computers) on the network, without the need of a central server. A central server is one large, powerful computer system that would typically be the central hub for performing an action such as downloading a song or obtaining (downloading) a file. Each computer (peer) can share and provide the files (movies, songs, etc) or actions (combining computer processing power) the central hub would, making it easy to increase the availability of files and certain actions while not having to rely on the central hub. In other words, each computer on a peer to peer network becomes a file server as well as a client.
One great example of a P2P system is BitTorrent, one of the most reputable and size-able torrent sites that manages to stay under much legal scrutiny due to the network thriving off of the pirating of media and software. With it, is KickAssTorrents, The Pirate Bay and many, many more. These P2P networks all contain files of media to some extent, and each member of the network opens up select files (or all of their files) and will make them available to other members of the network. Everyone in the P2P Network is virtually a server (one who provides these files) and a client (someone who seeks out these files to obtain them).
Bitcoin itself, is designed and operated as it's own Peer to Peer Network, as is the vast majority of platforms and currencies on the blockchain. In example, Steemit itself is a P2P Network, if that sheds a little light on it. I hope that this was able to help someone get up to speed a little bit. Stay tuned for Part Four!
---
Please follow me @terminallyill
---
Please check out the other articles to this guide by following HERE FOR PART ONE or HERE FOR PART TWO
---
Please check out my music on Dtube by following this link here