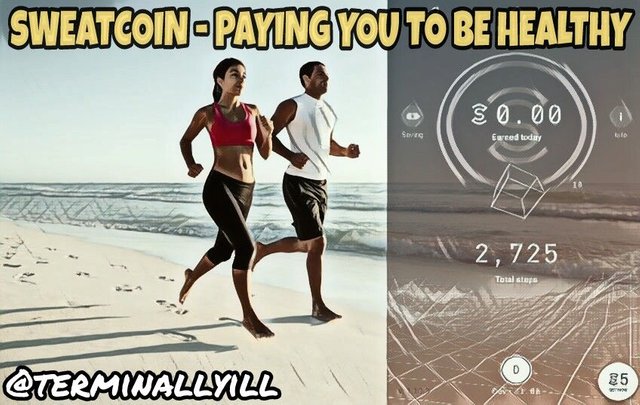 ---
An app that pays you to get in shape? Sounds crazy right? I thought it was when I first had heard about it.......
I'm not even going to attempt to lie about my initial response to SweatCoin in this blog. I was just like the vast majority of people who hear about it, I had a dumbfounded look on my face and just nodded in disbelief, waiting for the conversation to be over. Something clicked in my head however, I had a random thought run through my mind and then that little light bulb went off like a case of dynamite. I wondered to myself, "What if this really works?". Being the intellectual I am, that thought hung around in my head for a good two minutes before I just had to figure it out myself. I couldn't just sit there and think about it, I had to get my feet wet and find out first hand what SweatCoin is all about. It wasn't long after I made that choice that the app found a permanent place on my phone, go figure. From there on out, I dove head first into learning everything I could about the coin that pays you to be a healthier you, SweatCoin.
---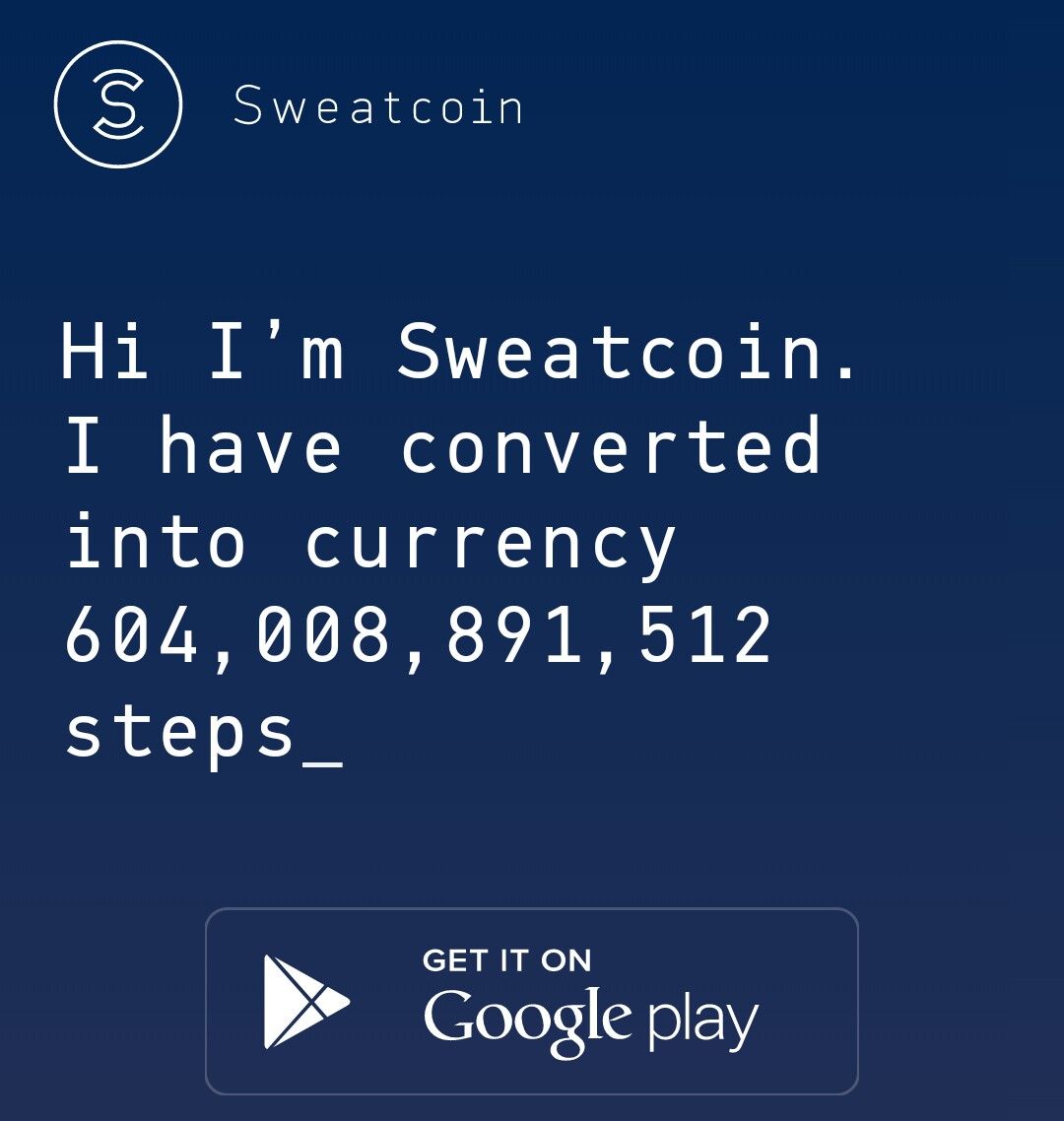 WHAT IS SWEATCOIN?
---
Imagine a cryptocurrency platform that rewarded you for something that most of us do every single day just to survive. Imagine being paid and given incentive to do this task and simply walk outside of your home. Imagine being able to earn rewards such as gift cards to Amazon and electronics, just for using the two legs that God gave you, that you were going to use anyway. There is no need to imagine this, because all of these are things that SweatCoin has made a reality to it's users and clients. This cryptocurrency literally exists to reward a user for taking steps in an outside environment. That's a pretty incredible find for the average person, let alone if you are into the jogging scene. All of you people out here who jog or run on a daily basis, well you my friends, you just found your Huckleberry!
Sweatcoin was created in 2017 by owners Oleg Fomenko and Anton Derlyatka in hopes of making this world a healthier place. The platform is structured around it's own private blockchain, which handles transactions and record keeping. This blockchain also powers and maintains the main application in which the entire program depends upon. The application, which is available to download on your mobile device, serves more as a blockchain bred "fit bit", keeping record of your physical steps and transferring them into rewards, namely the SweatCoin. The name of this application is none other than...... wait for it....... SweatCoin. To this day, the application has converted over 6 BILLION (yes, with a B) steps into cryptocurrency. That's definitely what I call taking steps in the right direction!
---

---
HOW DOES SWEATCOIN EVEN WORK?
Though the idea of SweatCoin sounds ridiculous at first, this is not application to brush away. The fact it rewards you to perform a task you are required to do on a daily basis anyway should be reason enough to spark your interest. There has to be some catch right? Well, not really to be honest. It's fairly simple if you understand the rules and understand how to work the program successfully. I can summarize how to use SweatCoin with literally one sentence, though I will break it down for everyone for better understanding. You download the app, you register with SweatCoin, you leave the app on while you walk and then you collect your rewards which can purchase gift cards and other awesome prizes. That's about it in a nutshell. But HOW does it work?
SweatCoin uses a GPS enabled feature in combination with excellent programming to track your steps and determine if you are indeed walking outside. This is aided strongly by the use of location programs such as Google Earth, to verify information it receives. The application's program has been hard-coded (created based on) to detect movement and activity that would not typically be considered a walking step by a human being. This prevents some numb nut from hopping in their car and collecting SweatCoins for driving around the block. This very same programming also enables the application to determine how many steps were taken in an outdoors environment. This eliminates the ability to cheat the system, which would ultimately destroy the economy of this cryptocurrency.

The exchange and reward process of this application is very interesting if I do say. For starts, be mindful that it is the duty of the user to run the application and work to build up the amount of steps they have taken. Once a user has earned enough steps to redeem them forSWC, the exchange process can begin. The application will initially give the user a total of steps walked during the day and then subtract "bad steps" or invalid steps taken indoors or not recognizable by the programming as human in nature. Once the true number of steps has been recorded, they are then traded in for SweatCoins, with 1,000 steps totaling 1 SWC. The SWC that you just earned, are able to spent in the application for various items from health training to electronics, not to mention you can sell them for FIAT money using online marketplaces. So, ready to install the app? Let's do it.
---

---
This is by far the easiest cryptocurrency to get involved in. Follow the 4 steps seen below to install and use SweatCoin from on Android device.
STEP 1 - Find the Play Store on your device and open it.
STEP 2 - Search for "SweatCoin" in the Play Store.
STEP 3 - Install the SweatCoin Application".
STEP 4 - Create a free account in the application.
BOOM - That's it. You now can now earn SweatCoins for walking outdoors.
---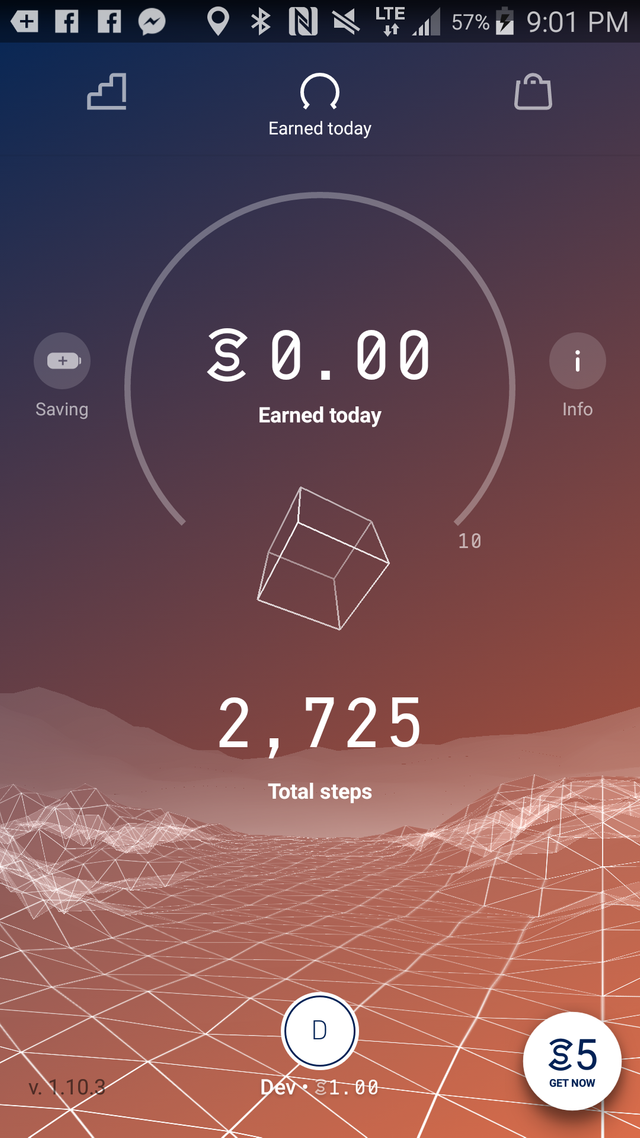 ---
SO NOW YOU HAVE THE SWEATCOIN APP. READY TO LEARN A LITTLE MORE?
---
Being that I personally use the SweatCoin app, I can attest to the fact that it really does work. I even went as far as to test the functionality of the rewards system to ensure that it is not some form of a scam. An associate of mine and myself both went online to seek out a private sale of SWC and we traded up for enough SWC to redeem a $50 PayPal card. Now, this very event had the potential to make this article one of praise or one of irreparable damage to the image of SweatCoin. Take a wild guess at what happened being I'm still writing this article singing the praises of SweatCoin. The whole thing worked out great and after the redemption, we redeemed our PayPal card with no issues whatsoever. So, this app really does reward you with cryptocurrency for getting fit. That's a game changer!
The reward system is efficient and it actually works, which verifies why we are even using this application in the first place. Everybody alive and with good sense wants to be paid to complete tasks they typically do for free on a daily basis. This is one of the outlets to make that happen, despite the fact it doesn't seem like much. Take into account, if cash is your objective, you can sell your SWC privately or you can redeem for PayPal credit, which turns into cash for most people if they so choose it to. If getting healthy is your goal, you can utilize one of many rewards in the SWC store that are fitness driven. Such items include diet lessons, a fit bit, books and more! Then, for the person on the fence, you can redeem your SWC for prizes such as a 55" 4K TV or an iphone 8. Or, you could just hold them and save them in the event SWC ends up on a major exchange one day. Either way, you are being paid, well, for every single step you take outside, every single day. That's a solid victory in my book!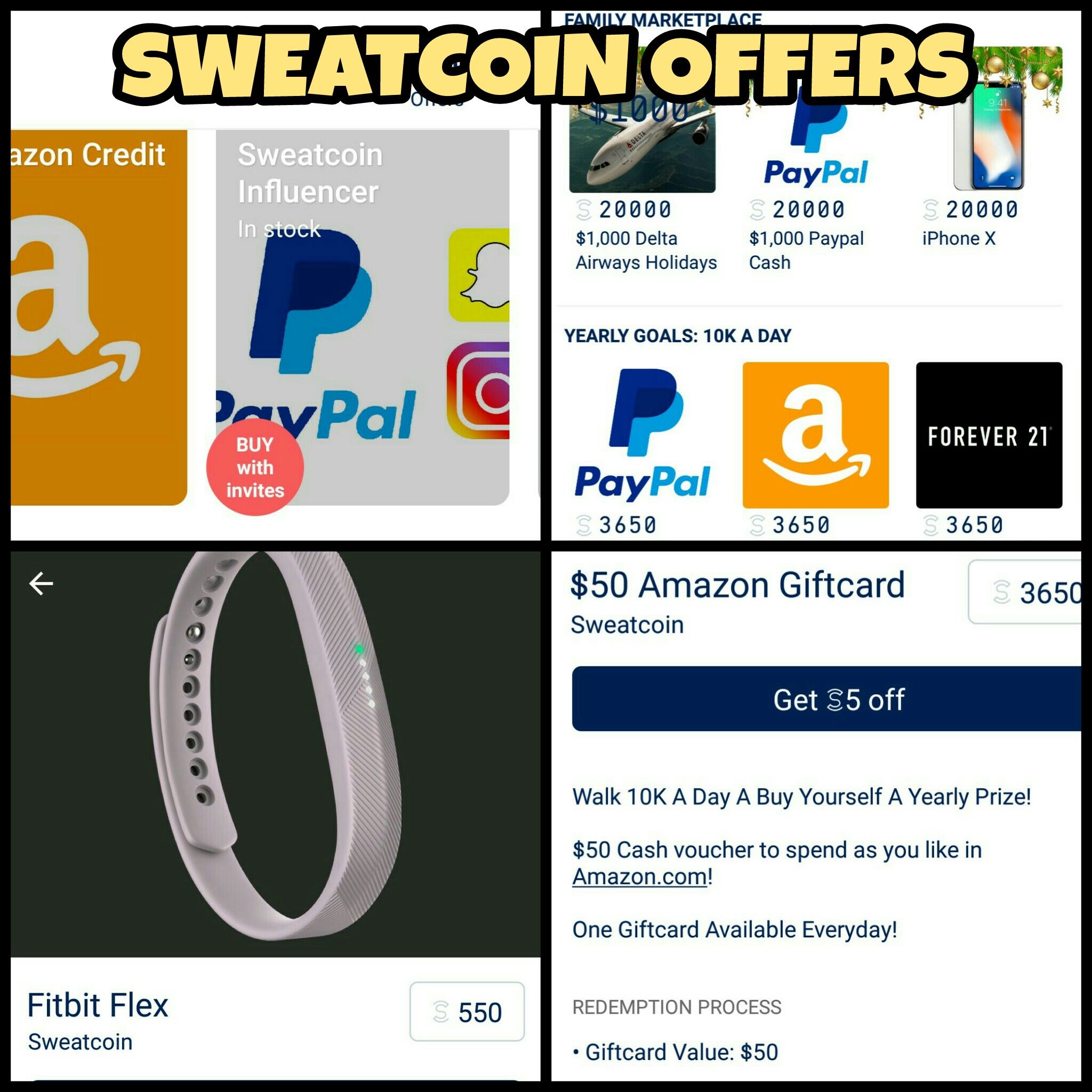 ---
SweatCoin also has additional membership options for the more driven users out there. In the picture below, the name and stats of each membership class are provided. To briefly sum it up, being SweatCoin is a cryptocurrency the operates completely free to the user, there need to be certain limitations put in place to control the economy of the coin. Basic membership is automatically given to anyone who downloads the application and installs it. The basic membership has a limitation on the amount of coins you can earn on a daily basis, as all membership classes do. Basic has the lowest cap you can reach, then the next membership above it increases that cap, and then then next and so forth. Anyone serious about earning a good amount of SWC should consider upgrading their membership. The cost of upgrading? SweatCoins from your account that you have already earned by walking and using the app. Not even a penny's worth of up front expenses from the user's pocket.

---
Aside from all of that, users can invite their friends to really expand the application. There is a leaderboard kept in the app, which makes it not only competitive but exciting to have your friends join you on the app. You'd be surprised how active some people are on a daily basis once you can see how many steps they've taken in a day! With adding friends, comes the possibility of trading currency. Say a friend owes you $10 but doesn't have it. Say they offer to pay you SWC. If you were willing to take the offer, you could do a fast and simple transaction directly from the app and receive your SWC within minutes. With friends also comes the possibility of delegating SweatCoins, or putting them into one account to pool together for a prize purchase. With SweatCoin, getting healthy becomes a social exercise that we are rewarded for participating in. Give SweatCoin a chance, but more importantly, give a healthier lifestyle a chance. Either way, you end up the winner!
---

---
Thank you for taking the time to read this educational piece on SweatCoin. I personally have been using the application and have tested it's functionality which provided me with most the information used in this article. I hope that everyone enjoyed this article and has learned something from it's content. If you are like me, then we can spot a good thing when we see it. SweatCoin gives us the opportunity to bring another stream of income into our lives as well as reap the rewards of living a healthier lifestyle. In my eyes, this is a beautiful combination, worthy of being shared with other members of the Steemit community. Please take a moment to upvote and resteem this article for the education and benefit of our other community members. I hope to see all of you engaging on here and sharing your thoughts! Have a blessed night!
---

---
Please read my latest article on the upcoming company Bluzelle and the BLZ token. Click HERE!
---
Please follow me @terminallyill to see thought provoking pieces on crypto, art, music and more!
---
Please read and resteem the articles below from Lucky's Crypto Guide For Beginners!
PART ONE - WHAT IS BLOCKCHAIN TECHNOLOGY?
PART TWO - WHAT DOES DECENTRALIZED MEAN?
PART THREE - WHAT IS A PEER TO PEER (P2P) NETWORK?
PART FOUR - WHAT IS BITCOIN?
---
Please read my post on the most helpful Steemian I have met by clicking HERE.
---
Please check out my original hip-hop music and instrumentals on Dtube by clicking HERE!