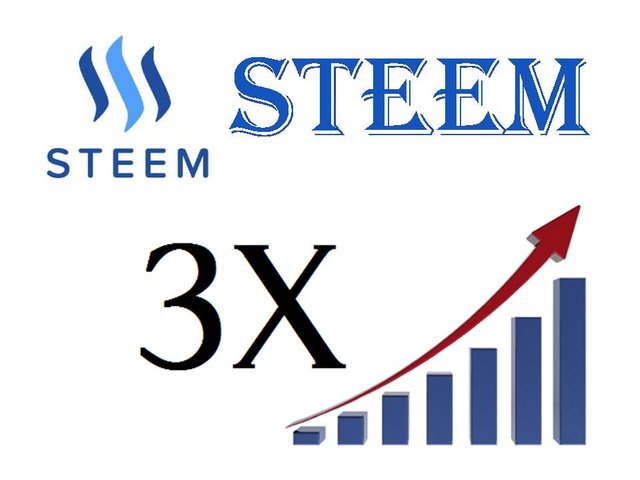 Hello Friends. This all date is studied from coinmarketcap.
You All are steemit members and i knows you all knows very well about STEEM coin. but i want to say something more about STEEM Coin. STEEM coin is old coin which has started his journey from July 2016.
STEEM coin market cap is 348,072,535 USD . And Circulating Supply of STEEM coin is 266,585,381 STEEM which is not too high or not too low. we can say this is medium supply. Total Supply of STEEM is 283,559,475 STEEM which is nearly same to the Circulating Supply.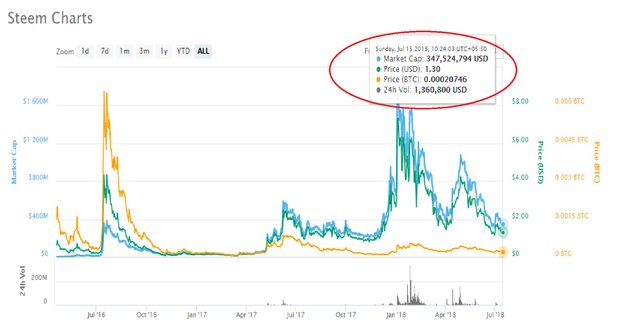 STEEM Coin Current price on toady Dated 15 July 2018 is 1.30 USD . This is very low price it means i can say STEEM Coin is in Good deep now. STEEM Coin Pumps Regularly. So any time we can see 0.50USD Jump in STEEM Coin.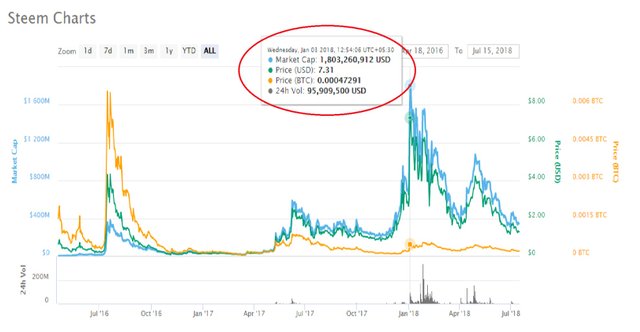 The All time high price of STEEM Coin is 7.31USD which is Nearly 6 times Higher then current price. This numbers say's STEEM Coin is very strong Runner in bull run. Now lets see Some Past Returns of the STEEM Coin.
After January bull run market start to crash till April month. In this market Crash STEEM coin price touches lower to 1.47USD on 1st April 2018 as per coinmarketcap data. Then again crypto market start recover and with in one month STEEM coin again Touches 4.24USD on Dated 28 April 2018 and this is 3 time Return from its lower price.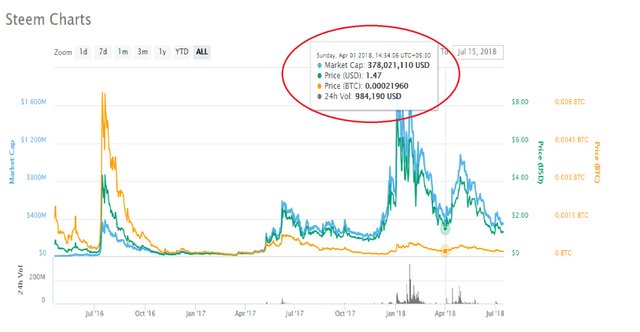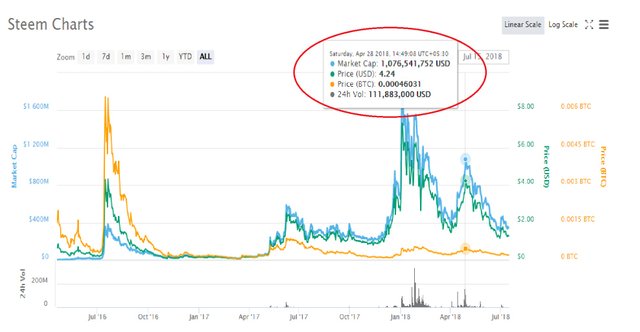 This Both chart shows the up and down about the STEEM coin. With in one month STEEM coin gives 3 times return which is proves STEEM is Super Runner in Bull Run. Now it is good time to purchase STEEM coin. Because Market is in down trad and any moment this can go up trad. So i think we have to catch this opportunity.
Friends this all is my personal Research about STEEM (STEEM). I advice you before investing in STEEM please do study about this coin carefully. we are not taking any responsibility about your Profit and loss.
Thank you for study about STEEM Coin.
Don't forget to share your comment about STEEM if you like then UPVOTE this Blog.