The Birthday Paradox and Our Awful Human Intuitions When It Comes to Probabilities and Exponents
Here's the riddle: you have a room full of people and you want to find two people who share a birthday. The question is how many people do you need to get in there so you would have at least a 50% chance of success. How about 75%? And how about 90%?
How about a chance higher than 99%? Don't try to figure it out with math and statistics, give me a ballpark figure off the top of your head! And if you are familiar with the problem, feel free to skip ahead to the more advanced version at the end.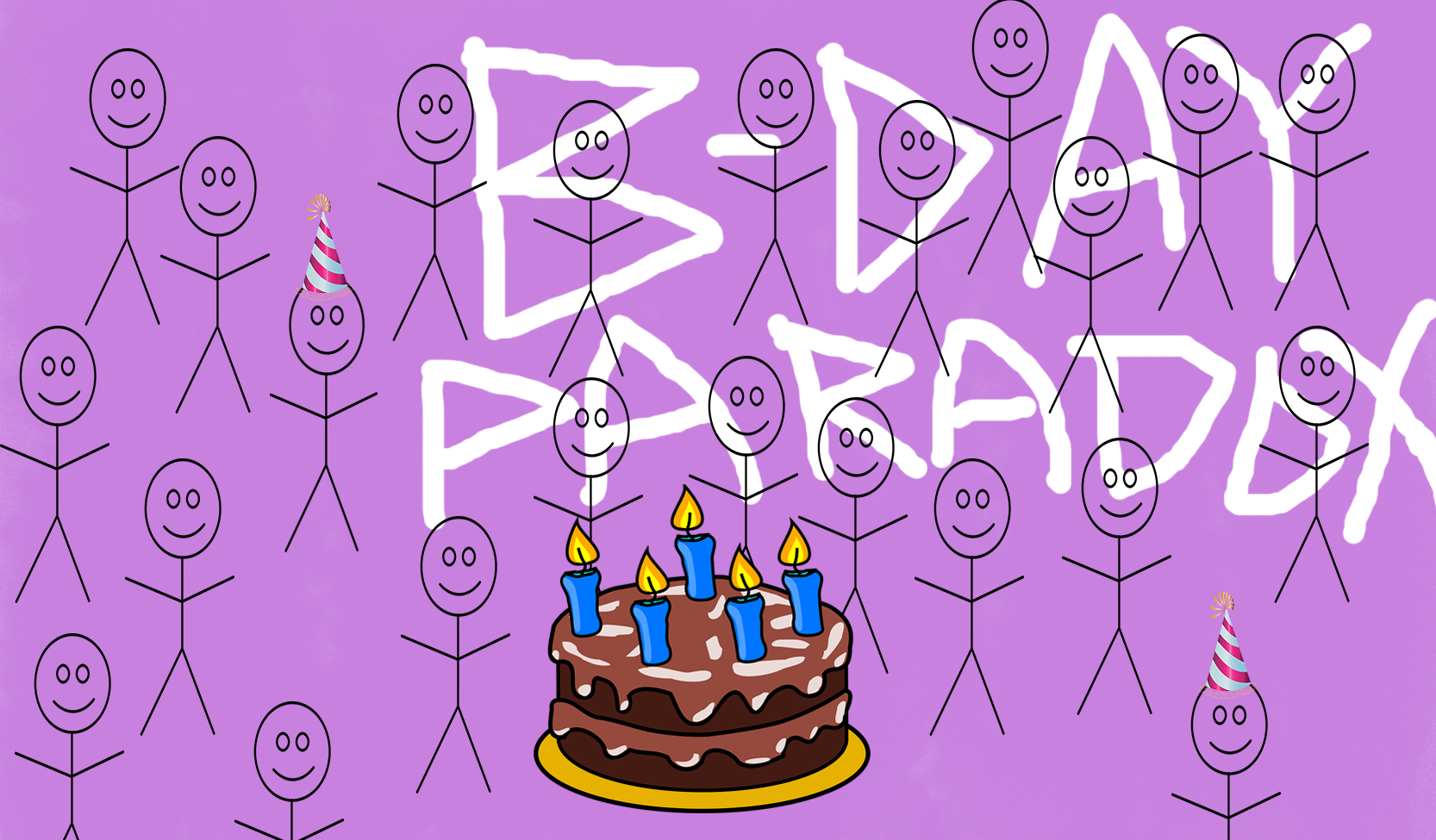 Please excuse my illustration aided by these sources: 1 | 2 | 3
You are going to need one hell of a room, right? Well, if you trust your human intuition (and you haven't heard of this type of problem before), you most likely gave an answer that was seriously off. This is because our brains were never made for solving problems like this intuitively.
Well, let's figure it out!
Disclaimer for the super-pedantic: For the sake of this problem we'll assume that a person has an equal probability to be born on any day of the year and we'll ignore leap years and birthdays falling on the February 29 and disregarding all actual data of people being more often this or that month. We don't want to get bogged in minutia, we want examine how different probabilities work, so we'll concentrate on that.
The Answers
Let me tell you, people wouldn't be calling this a paradox or a problem if the answer was something expected. If any of your guesses were over 100 (even of the 99% one!), you guess was way too high!
---

Source
---
To get a chance of over 50% you need just 23 people.
To get a chance of over 75% you need just 32 people.
To get a chance of over 90% you need just 41 people.
To get a chance of over 99% you need a mere 57 people.
---
Be honest, was your guess for 50% higher than 57 people?
Just 23 people are a sufficiently high sample that if you did this 10 times in a row, you would most probably get matching birthdays 5 times. The chance of a match is one in two. And the probability of a match increases significantly with every additional person added to the room. Dial it up to 57 people in the room and you are practically guaranteed to have at least two people with matching birthdays. At that odds you can try it 10 times in a row with a new batch of 57 random people and your chance of getting a pair 10 times in a row would be over 90%.
But let's try to understand why so few people are enough for such high odds.
Understanding How This Is Calculated
Let's take the situation when we have 23 people in the room just like I've shown in my professional illustration with the stick figures and the birthday cake. We have two people with the same birthday and those are the guys with the party hats on. The easiest way to calculate the odds of this happening are to start by figuring out the probability of this not happening. As the outcome is binary (there will either be at least one match or there will be no match at all), the two probabilities need to add up to 1 which is 100% or one in one chance.
The chance for the first person to not get a match is 100% or 365 out of 365. There is a total of 365 birthdays and birthday they pick would not have been taken. The chance for the second person picking a birthday that has not been taken yet is 364 out of 365 as there is one birthday that would yield a match. Then the probability of the third person is 363 out of 365 as we need to exclude both birthdays that are already taken.
In that way every next person has a slightly lower chance of picking a unique birthday as free options gets smaller by one every time. And since all of those events need to happen we need to multiply all the probabilities together. For 23 people it looks like something like that:

This gives us:

Doing the calculation gives us about 49.3% chance of not having any matches. This means that the probability of having at least 2 birthday matches is about 50.7%.
We can generalize this calculation and use one formula to determine the chances of having at least one match for any number of people we might have in the room. If we mark the number of people with n, the resulting formula would be:

When we apply this calculation to all possible numbers of people we can have we can see how the probability of a match increases exponentially much faster that we could intuitively expect which is evident in the graph below.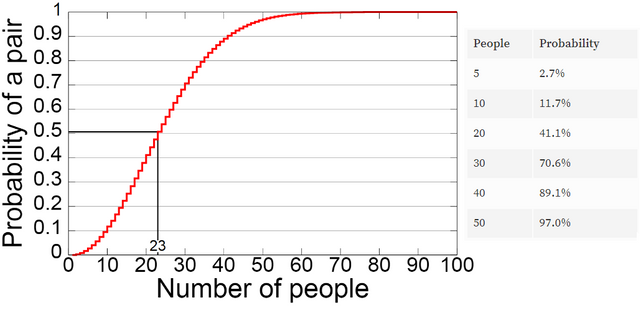 Source
We can clearly see that the chances for a match start increasing exponentially and they start approaching 100% so rapidly that at that scale we can only plot them on as 100% and the red line is at a probability of 1.
An Easier to Grasp Approximation
If you want to think about the case when we have 23 people and try to understand why the probability of a match is so high, you could look at a bit of simpler calculation that can still give is a ballpark figure. We can look at the chance of a single pair to have birthdays that don't match. It will happen most of the time and the chances would be quite high - 364 to 365 which translates to 99.73%.
But when we have 23 people in the room, all the possible permutations of pairs to compare is 253. When we have just a few pairs to test 99.7% means the chances to have a mismatch between the birthdays is quite high. But if you keep testing that over and over, the otherwise minuscule chance of a match starts growing exponentially.
To get the ballpark figure, you can multiply the probability for a single pair mismatch as many times as there are pairs. This means you need to calculate (354/356)253 or 99.73%253. And even a high probability tested a lot starts dropping fast and using this calculation we get the chance of no match at 23 people to be about 49.95% which leaves is with 50.05% as our ballpark chance of a match with 23 people in the room.
I keep using ballpark here because this calculation examines pairs if they are isolated evens when they aren't and this gives a bit lower probability of a match than the more accurate calculation presented above, but this might be easier to understand especially to the not so mathematically inclined.
Why Is This a Paradox?
As many other things that we sometimes call paradoxes, there is no real paradox here. This calculation describes the way the world around us works accurately and the real problem here is the way our primitive ape brains function. If it sounds counter-intuitive, the flaw lies with our intuition, not with the math. Everything here is logical and makes perfect mathematical sense. This is why many people call this The Birthday Problem as it is not really a true paradox.
So let's see what exactly in our psychology misleads us.
We Think Egotistically
When we are asked a question like that, we tend to imagine things from the perspective of a single participant. Just like we do with movies, it's hard for us to actively empathize with everybody in the group at the same time and we tend to imagine things better when we look at them from the point of view of a single person. But when we do that, we are subtly changing the question. The question is about the chance of any two people in the room having the same birthday but we subconsciously paraphrase it to the chance of another person in the room having the same birthday as ourselves.
In the case of 23 people in the room, when thinking that way our mind examines 22 chances of a match - us against the other 22 people. But this self-centered outlook on the situation ignores the fact that all the other possible pairs in the room give us a chance for a match. When we have 23 people in the room, there are 253 unique pairs of people with each one yielding us another chance at having a match. Thus when we allow our intuition to lead us into thinking about the problem from the point of view of a single person, we tend to significantly underestimate the odds as we are examining 22 chances instead of 253.
We Think Linearly
The type of calculation that is needed for calculating probabilities is simply not the type of of calculation our head is good at. We are relatively good with linear progressions like adding the same value over and over. But as soon as we exponents start factoring into the equation, our mathematical intuitions usually break down. Some goes for multiplying fractions many times over. And as probabilities are fractions with a tendencies for exponential growth or decline, it's really hard for us to wrap our brains around that.
To put it simply even minuscule chances make a difference if tested over and over. When we have an event that is quite unlikely like two people having the same birthday and take that chance over and over, we end up with a probability that is actually high. The chance of two people having the same birthday is really small, but when you test that chance 253 times it starts growing exponentially. And since the initial chance is so small that our brains can't really approximate it properly, we simply don't have the computational power or understanding to track the way it will grow in our heads.
A Modified and More Difficult Version of The Problem
So now that we know that our intuitions are flawed and when we've seen how the probabilities behave in this scenario, do you think you would be able to make a better guess if we tweak the parameters in a new way.
Let's look at the same problem, but this time we want at least 3 people sharing the same birthday instead of 2. That's obviously much less likely, but by how much? How many people would you need for a 50% probability and how many people would you need for a 90% probability? What would the probability of getting 3 people would the same birthday be when you have 23 people? How about 50, 80 or 100?
Can you make a good guess without doing the math? Let's see...
---

Source
---
The get a probability of 3 people sharing the same birthday higher than 50% you need to have 88 people which actually gives you a probability of 51.1%.
If there are 23 people in the room, the probability of 3 people sharing a birthday is just 1.2%.
If there are 132 people in the room, the probability of 3 people sharing a birthday is over 90%.
---
The Sets of Probabilities Side by Side
---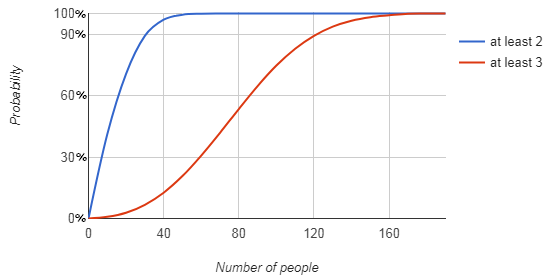 ---
| Number of people | Probability (at least 2 people) | Probability (at least 3 people) |
| --- | --- | --- |
| 20 | 41.1% | 0.8% |
| 30 | 70.6% | 2.8% |
| 40 | 89.1% | 6.7% |
| 50 | 97.0% | 12.6% |
| 60 | 99.4% | 20.7% |
| 70 | 99.9% | 30.7% |
| 80 | ≈ 100% | 41.8% |
| 90 | ≈ 100% | 53.4% |
| 100 | ≈ 100% | 64.6% |
| 110 | ≈ 100% | 74.6% |
| 120 | ≈ 100% | 82.8% |
| 130 | ≈ 100% | 89.1% |
| 140 | ≈ 100% | 93.6% |
---
Thank you for reading! :)
---
---
Sources:
---
Images without cited sources are original work or modified CC0
---