March Madness - The Crumpled Letter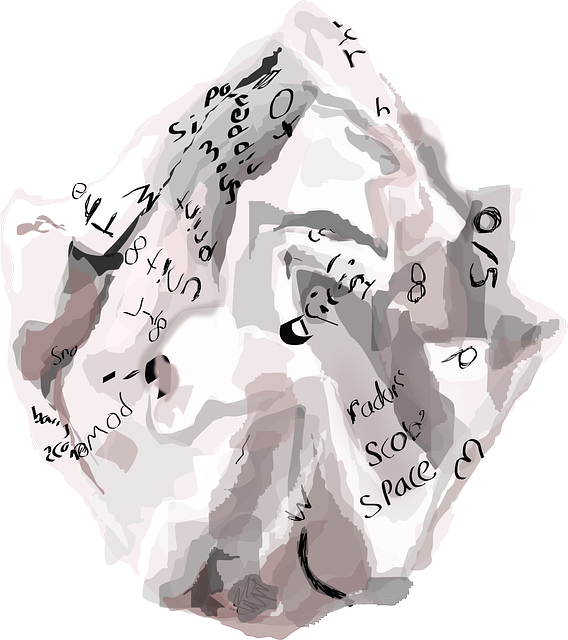 Source
Oh well, she thought, If I'm going to do this thing, I'd better drag my sorry arse out of bed. The slump she'd been in for the whole last month was still in effect but she knew if she wanted things to change she would just have to push through it. With a deep breath and a quick stretch she managed to pull her heavy body from the bed. It was time. Time to make things happen. She padded softly from her bedroom and made her way down the stairs.
In the kitchen she switched on the kettle, and then began tidying the debris from the previous days. One of the tell-tell signs of her slump was the mess she had allowed herself to live in. It was a letting go; an abandonment of care. With another deep breath stirring her into action she began to organise the clutter. She turned the hot tap on and allowed it to warm up while she sneaked into the living room to pick up the cups and plates she knew she had left there. Eventually, she had a large stack of cups, plates, glasses and cutlery all sitting by the now ready sink. The kettle had boiled. She took one of the cups and washed it. Before anything else she needed her cup of morning coffee.
With her coffee made, she sat at her island and looked at the mountain of washing up. How had she let everything go so far? It looked like every piece of crockery she owned was in that pile. She knew the answer and felt another wave of sadness roll right through her body. She held the hot cup up to her lips and blew it before taking a sip. I have two choices, she thought. I can either allow another day to pass, or I can get back to living. That mountain is the first of many I will need to climb.
It was still so tempting to choose the first option and make her way back to bed. But the bed didn't hold anything for her. It was empty. And how long could she go on in this way? No, she thought. It's time. It's time for me to move. Time for me to ease back into this new, strange world. She looked at the crumpled letter that lay in front of her on the island. Putting down her cup she leaned to pick it up. She slowly opened up the paper, placing it on the hard surface and smoothing it out so she could read it again.
The tears that she now lived in washed down her face. The stark reality lay written on the pages. Her old life crumpled within it. She breathed again. Slowly and deeply. "Right!" she said aloud. "Those dishes aren't going to clean themselves." And with that she made her way to the kitchen sink and began to tackle her first mountain of the day. For a while she even managed to lose herself in the task, concentrating hard on each item, ensuring they were all meticulously cleaned. By the time she had finished, with everything put away, it was time for another cup of coffee. It was only 8am. She had a good three hours before she needed to be ready for the longstanding appointment. Time enough to choose what to wear and get ready.
With a new found force, she flew into cleaning the rest of the kitchen. It was good to feel her body moving again as she swayed with the mop around the kitchen floor. By the time she had finished, she had blitzed the whole of the downstairs and even hoovered the stairs, leaving her Dyson in the small box room so she could finish the upstairs rooms at some later time.

A beginning. With 637 words written this morning, I am easing myself into both March Madness and the Day 1 - Prompt: In the club. There are ideas swirling around in my head but, alas, I have a job and the time has come for me to get ready and get to it.
What I haven't managed in words today, I will make up for tomorrow. Thank goodness for weekends. I may very well have to plot in more words for my Saturdays and Sundays over this month of madness. Still, I am happy to have made a start and already I feel a story shaping itself in my mind. There are a couple of strains tugging at my creativity. As yet, I am not sure which thread will win.
If you are new to Steem and are still trying to find your feet, then there's a great community over on Discord that are there to help. All you need do is click the banner below, the one for Steem Terminal. Just hover your mouse and you'll see it change.
Steem Terminal is just one of many great communities. It has been set up to help. You can read more about it here and here.