The second edition of the Apreciation Contest was a huge success. Time to announce the winners.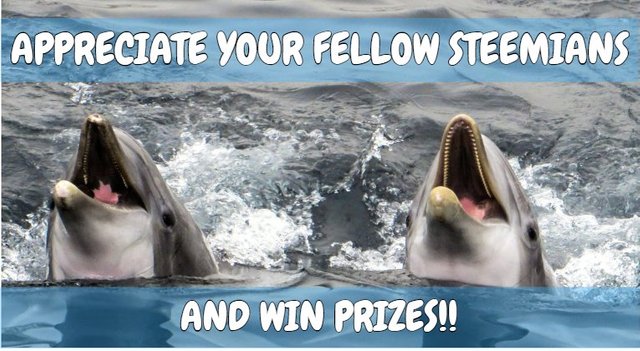 Source
The Contest
A little over a week ago I launched the second edition of my Appreciation Contest, in which I invited people to express their appreciation for two fellow Steemians.
I had to set the limit to two because I knew I would be reading book-length comments all week if I didn't. I knew choosing only two people out of all the amazing people on this platform was difficult for many people. I apologize for that.
If you want to re-read all the beautiful things people had to say about others, you can visit the original contest post by clicking the link below:
🏆 [CONTEST] Appreciate Your Fellow Steemians And Win Amazing Prizes! (Part 2)
I think I'm not exaggerating if I say the contest was a huge success. With 58 contestants and no less than 252 comments, a whole lot of happiness was spread around.

Source
The Prizes
Another reason why I hosted the contest, was to celebrate that I had turned myself into a SteemIt dolphin. At that time, I was so overwhelmed that I made the prize pool a little over the top.
This is the list of prizes I offered:
Prizes include:
4x @steemmonsters boosterpacks (unopened)
8x randomly chosen @steemmonsters cards
3x @steembasicincome shares
2x 25% upvote on a post a day for a week (approximately $0.04) (I orginally said 5x, but I need to keep an eye on my VP)
2x 50% upvote on a post a day for a week (approximately $0.09)
2x 100% full upvote on your next post
3x 3Steem
2x 75P delegation for 4 weeks
You can see I crossed one out. The reason for that is that I never manage to get my VP up to 100%.
But, yesterday, I discovered a brand new initiative that I can use as a replacement for the prize I crossed out.
---
@incinboost
is a service that works like
@steembasicincome
.
While looking at our competition, the main one was by far @steembasicincome. We had to make sure that our bot could run more profitable than it, less time consuming and have quality customer service. When you look at @steembasicincome, currently 1 share is worth $.0109 per week. In order to beat this, we have doubled the per share value to $.02 a week.
(..) In order to be a member of @incinboost you must have at least 5 shares.
Read their introduction post here
---
So, instead of the full 100% upvote, I will reward a participant with 5 @incinboost shares.
Altogether I will be giving away no less than 25 prizes!

Source
The Winners
To select the winners for my SteemMonsters Card Giveaway, I used a tool called Random Picker. For me, it appeared to be the fairest and easiest tool to use to select random winners.
So I've used it again. It did take me quite some time to list all participants, lol.
But I managed.
And The Winners Are...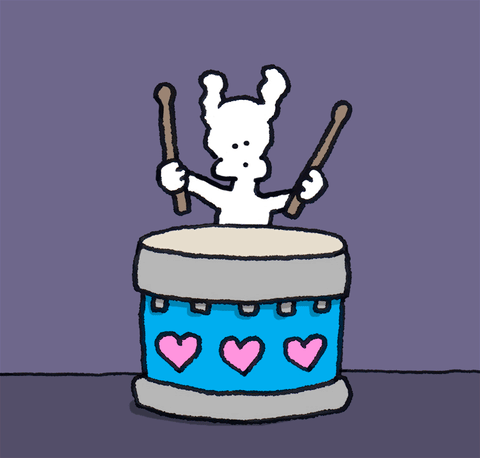 Source
@glowcommunity, since you were not interested in SteemMonsters, I replaced that prize with a @steembasicincome share


Here's the entire list once again:
| SteemMonster Pack | @lovenfreedom, @orl4ndo, @armshippie, @stever82 |
| --- | --- |
| SteemMonster Card | @aiyumi, @dwingsworld, @eveningart, @anutu |
| SteemMonster Card | @abh12345, @corinneiskorean, @norihany |
| Steembasicincome share | @glowcommunity, @steemflow, @mattifer, @nahela |
| 25% upvote | @terry93d, @olivia08 |
| 50% upvote | @penderis, @apolymask |
| 3 Steem | @kaerpediem, @headchange, @porters |
| 75SP Delegation | @methus, @pardinus |
| Incinboost shares | @modernzorker |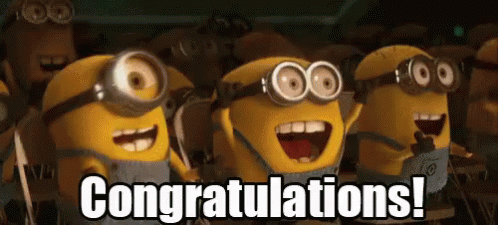 Source
I won't be able to send or set up the prizes today, but it will be the first thing on my list tomorrow.

Source
UPDATE
I completely forgot about the extra prizes.
Prizes For Promotion
I will also give away 2 memberships to @steembasicincome among everyone who upvotes this contest.
Another 2 @steembasicincome shares will be distributed among people who resteem this post.
These winners will be randomly chosen after post-payout
I will announce those winners in a post tomorrow.

Source
Appreciation
All that is left for me now is telling you I really appreciate all of you for making this such an amazing contest for everybody!
Thanks again for joining.
And remember: Don't forget to stop what you're doing every once in a while and tell the people around you that you appreciate them.
---

Graphic created with The Logo Creator Software
Subscribe Ro RSS Feed | Subscribe To Newsletter
More Posts You Might Like


Join us @steemitbloggers
Animation By @zord189