Bookmark your Favorite Sites in Raindrop.io for Mac!
Would you like to know how you can easily bookmark your favorite sites using a free Mac application called Raindrop because if you try it, you won't be able to do without it?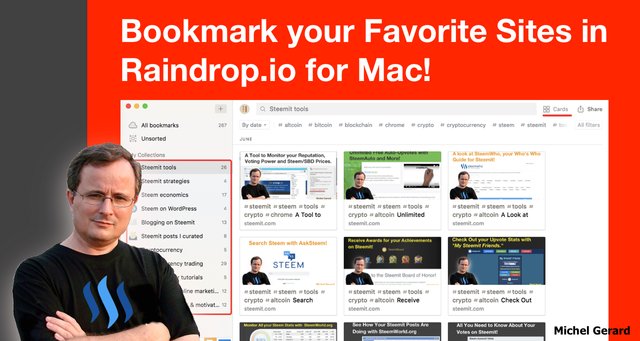 In a previous post I already showed the Wep app version of "Raindrop.io," and also how to use the Chrome extension to bookmark and classify all my Steemit posts in collections. I also explained how to share your bookmarks and use the RSS feeds on your website.
You may want to read these two posts here: How to Categorize and Share your Steemit Posts! and How to Make a Steemit Posts Directory in WordPress!
Bookmark your Favorite Sites in Raindrop.io for Mac!
"Raindrop.io" works on Mac computers, but they also have a Windows version and mobile apps for Android and iOS. It is a FREE application, which is an all-in-one bookmark manager that you can see here: https://raindrop.io/
They also have a Pro version at $3 per month if you want to take advantage of all the features, but for now I am using the free version.
Click "Install App."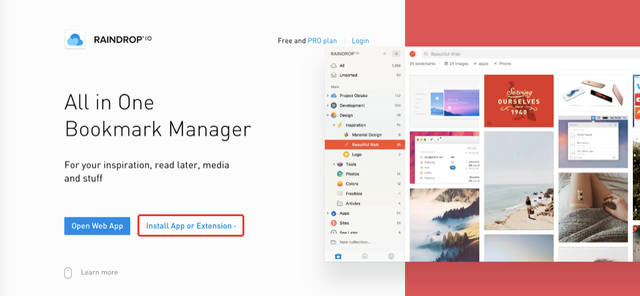 This will jump to a section below.
Click on "macOS" and this will download the application.

After you install it on your Mac, you will see this window.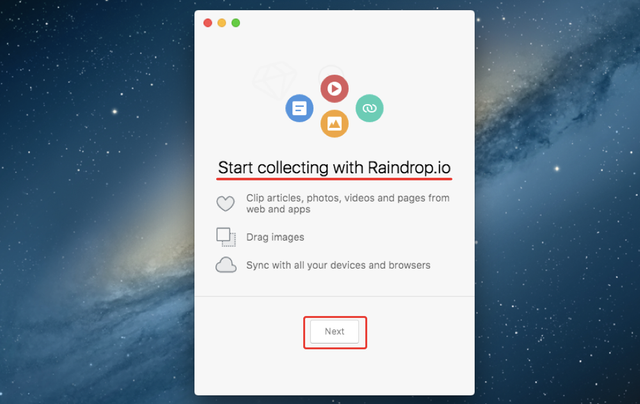 Click "Next."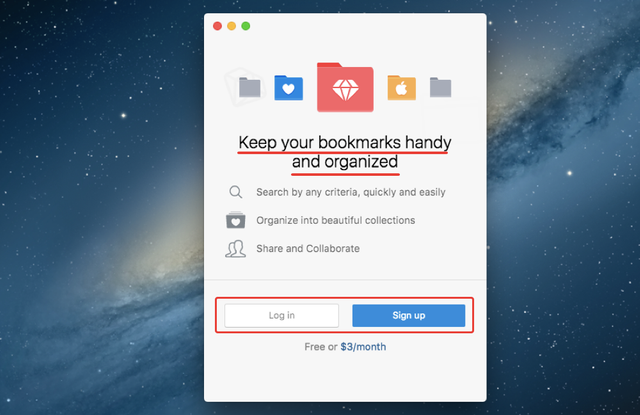 If you want to use your email address as login you will need to "Sign up."
I am using Facebook to login for simplicity.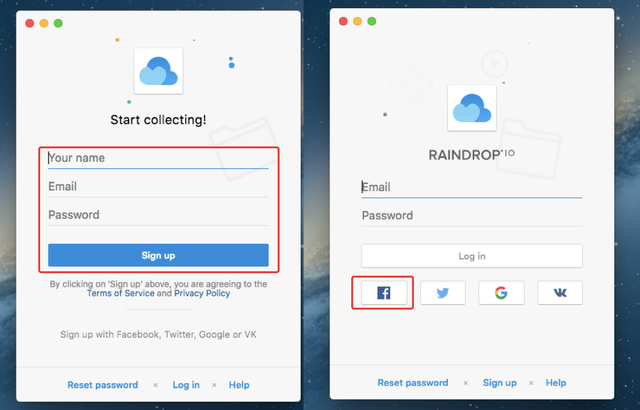 When you are logged in, you then see a window that should be empty for you as you are starting, but will look like this after you collect a few bookmarks.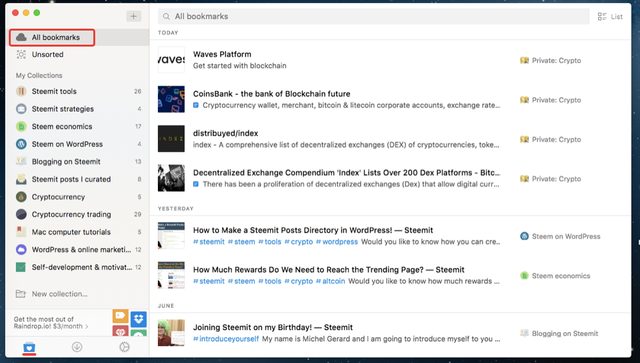 You can show your bookmarks as lists or cards and more. I explained all of it in this post: How to Categorize and Share your Steemit Posts!
You can make "Collections" of bookmarks and make them public, so you can share links for others to see.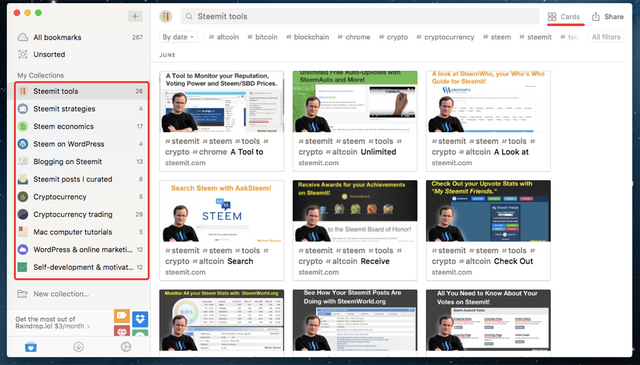 You can also make them private like I just did. Only you will see them.
These bookmarks are shown as a list.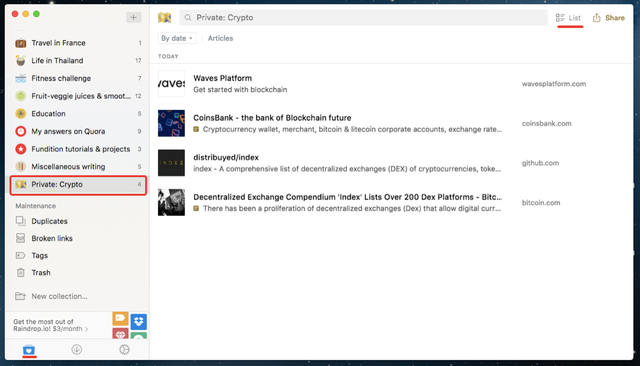 You can change that to "Moodboard" if you would prefer.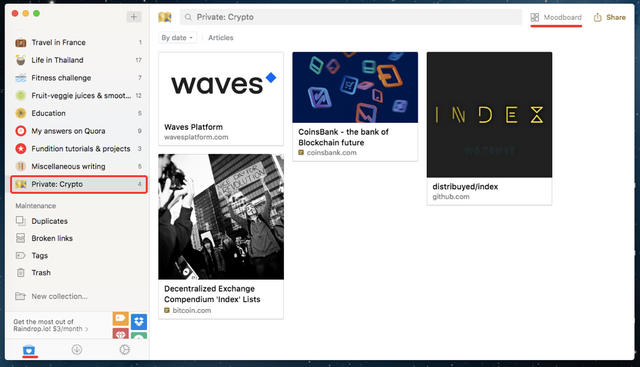 When you click on a bookmark, it will open in the preview panel like this.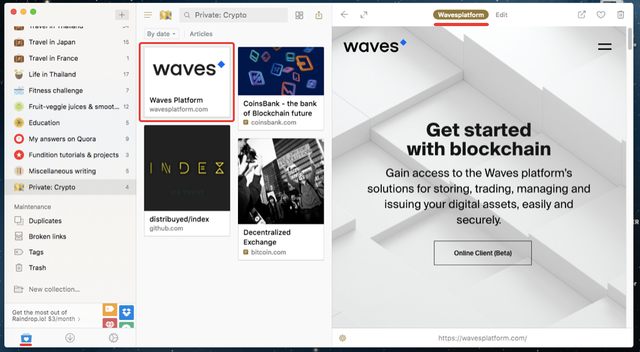 At the bottom you have a small icon to click on if you want to disable the preview and open the bookmark in your browser instead.

You can make the preview full screen and this might be even better than opening the bookmark in a browser.
At the top left, you can go back or reduce the preview panel. At the top right, you can open in your browser, mark as favorite or delete. In the center, you can edit the bookmark.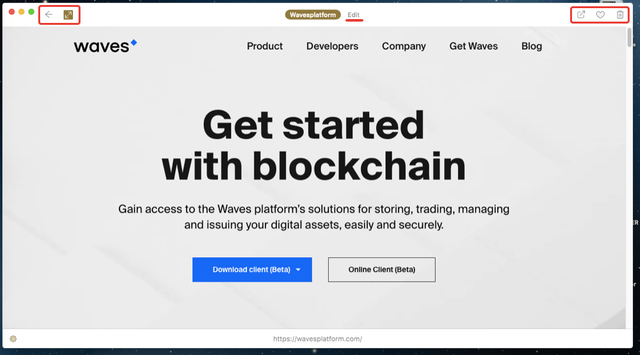 You can also install the browser extension from the desktop app.

If you go to the "Settings," you will see different options that are not enabled in the free version.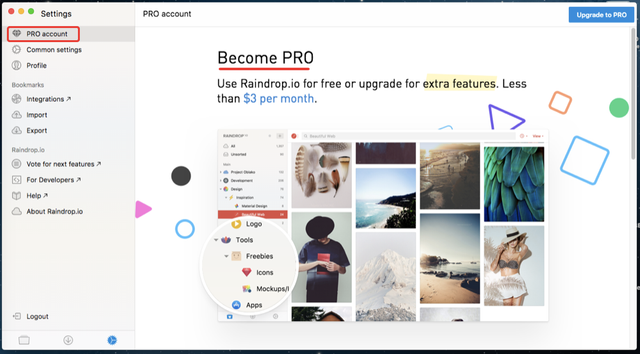 If you decide to upgrade to the Pro version, then you will get the following.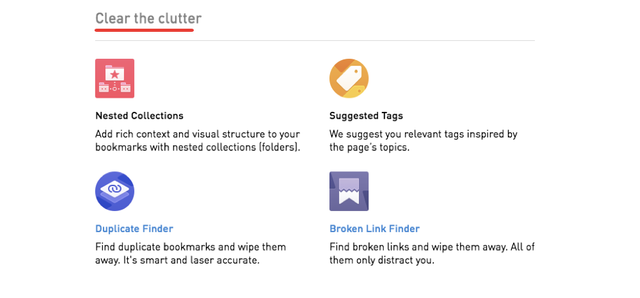 Plus, this below.

This might be worth it and I am considering it.
One last thing I want to show you is how "Raidrops" looks like on my Android phone.
It's great to have all your bookmarks perfectly synchronized on Desktop and Mobile.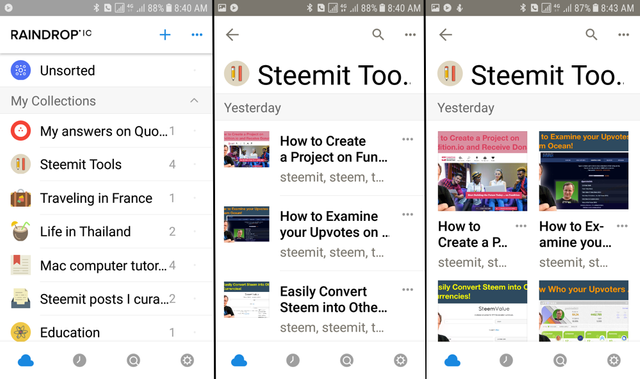 I hope that you enjoyed reading this tutorial and that you will give "Raindrop" a try.
I have categorized my posts on Steemit for easy access:
Steemit tools | Steemit strategies | Steem economics | Steem on WordPress | Blogging on Steemit | Steemit posts I curated | Cryptocurrency | Cryptocurrency trading | Mac computer tutorials | WordPress & online marketing | Self-development & motivation | Travel in Thailand | Travel in Japan | Travel in France | Life in Thailand | Fitness challenge | Fruit-veggie juices & smoothies | Education | My answers on Quora | Fundition tutorials & projects | Miscellaneous writing
You may prefer to go to my Steemit Posts Directory.
Would you please help @jerrybanfield become a top 10 Witness because he is in my opinion the witness who gives the most back to the community? Vote for jerrybanfield as a witness or set jerrybanfield as a proxy to handle all witness votes at https://steemit.com/~witnesses. Read the 5 reasons why I'm voting for Jerry Banfield as a witness and how to vote in my post. You may be interested to read: What is a Steem Witness, How to Vote and Why?
Michel Gerard