Wow! I am so amazed with the support from my fellow Red Fishes! It's only the first day and we have 14 excellent entries to the my first contest. You guys are amazing! I did not really expect to make an update post but it looks like I might do it daily until the deadline if the contest continues to get this much entries per day. I think I need to do it so it will be easier to judge and it will be transparent for everyone involved. Everyone can see the mantra others shared and can reflect on it and who knows others may want to check them and show some love if they like them.
I am so pleased I got @cadawg as a judge and he agreed. We actually just know each other in Steemit but he has been my Steemit friend since day one and had been loyal and very supportive. We mentor each other here in Steemit and Discord. We are kind of growing together here in the platform. He is a busy 16 year old student who recently got his Duke of Edinburgh Award which is awesome. When I talked to him in Discord, I can sense he is an old soul because he has this very responsible take on life. His maturity and consciousness of things is impressive, that's one reason why I got him to judge this contest. Surprisingly, last night during the conclusion of day 1 for the contest he shared Google Sheets with me with the tabulation of all 14 entries and very detailed columns of the things he needed to mark for judging each. I was just about to do it for him to make it easier for him to go through the entries but he made that one before I did. I'm impressed! @cadawg is an aspiring programmer and it really shows that he has the mind of one. Thank you @cadawg and keep up the good work.
When I made this contest, I only had 3 SBD in my wallet and my Prizes for this was supposedly $6 SBD in total plus a few more for the consolation prizes which would be dependent on the number of entries since I designed the contest that everybody wins something. I planned to save my personal earnings until payout for the prizes but surprisingly @surpassinggoogle noticed my contest and he has generously shared with me the exact prize money for the winners. I was so surprised to see it in my wallet after he upvoted and resteemed my post. I feel so happy when I saw it. It's my birthday tomorrow and I consider his donation and support as a Steemit birthday gift for me. SG (this is how I call @surpassinggoogle) and I do not know each other but he has been consistently helping a lot of Red Fishes including me. I am so much grateful for his support. His upvote also increased the prize pool for the non-winners and his resteem to his huge number of followers gave a big boost for this post to earn the exposure it needs to reach a lot of Red Fishes. His generosity is one big reason for the success of this contest, this makes me glad I decided to host it.
I also have a team behind me that has mentored me since day one in Steemit, it's the Steemit Achievers. Each of the active members are helping me in many ways they can help in promoting the contest and I really, really appreciate that. Ginabot bombarded me with 250 notifications of resteems, comments, upvotes from them which felt amazing! This is a new community for all kinds of Steemians that support and inspire each other. A cool bunch! You can join us here in Facebook and Discord, we need people onboard to widen the community and be able to help more people as possible. We know no boundaries, we take all people from all countries. We have recently activated our group account @steemitachievers which will be our main curator account, hopefully it gets more power soon and be able to help minnows who are struggling to get their contents noticed. That and many more projects to come to help promote and improve the platform for everybody. We hope to have all kinds of Steemians on board.
Thank you, thank you, thank you to all people I mentioned above.
Going back to the contest, here is a summary of the tabulation the judge, @cadawg made:

I will go over each of the entries and screenshot the words and picture of the author that touched me and present them below. I hope everyone that sees this post read each of the mantras shared by these wonderful Steemians and who knows what gem we can find in them. It might just help us realize the thing that we need to realize to have that positive outlook and help improve ourselves. Enjoy reading!
@vdux wrote: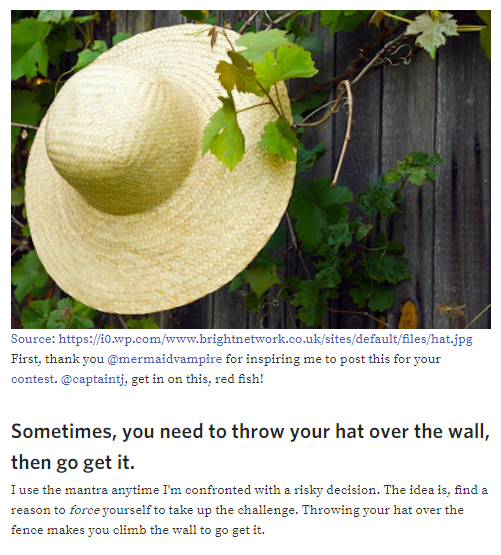 See post in this link: My Life Mantra: Sometimes, You Need to Throw Your Hat...
@gjoeohere wrote: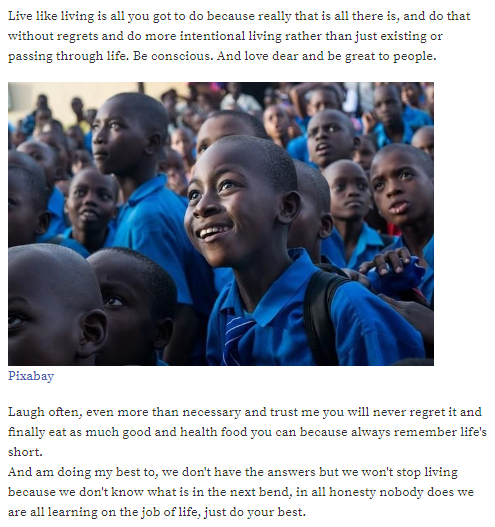 See post in this link: My single line Mantra: LIFE'S TOO SHORT
@theunlimited wrote: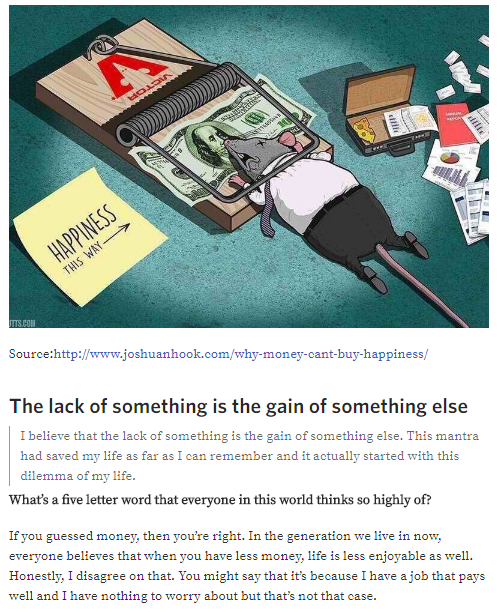 See post in this link: Mantra: THE LACK OF SOMETHING IS THE GAIN OF SOMETHING ELSE
@samal wrote: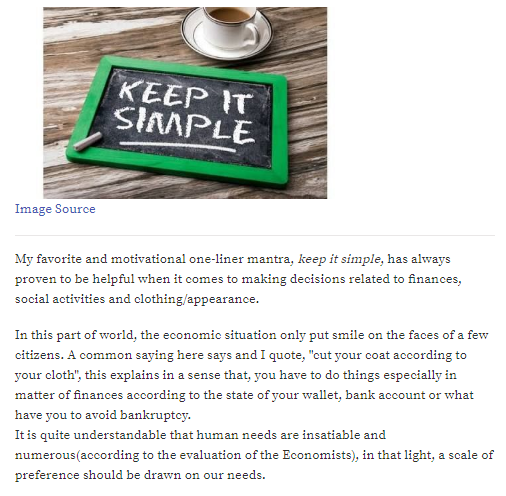 See post in this link: One-Liner Life Mantra: Always Keep it Simple!
@uxmanqaxim wrote: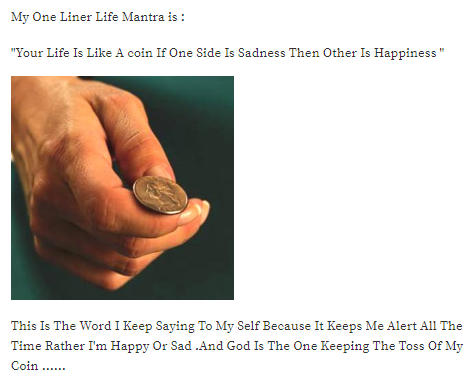 See post in this link: Lifemantra Contest Entry (MY FIRST CONTEST ENTRY)
@blackempror wrote: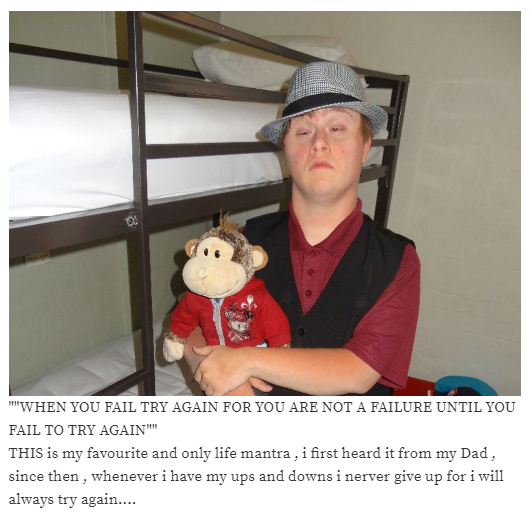 See post in this link: MY LIFE MANTRA......."WHEN YOU FAIL TRY AGAIN FOR YOU ARE NOT A FAILURE UNTIL YOU FAIL TO TRY AGAIN"
@glentoy wrote: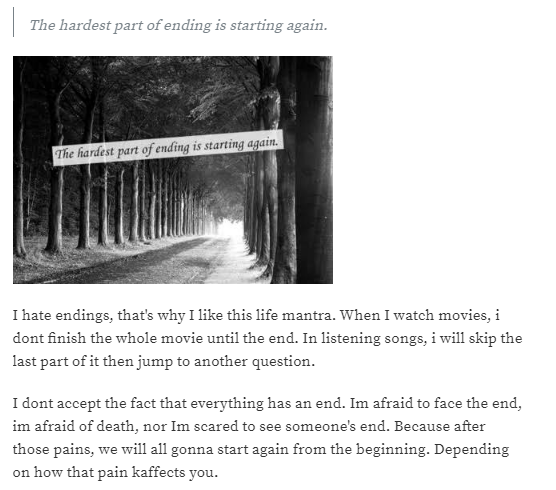 See post in this link: Sharing my Life Mantra
@andreyyte wrote: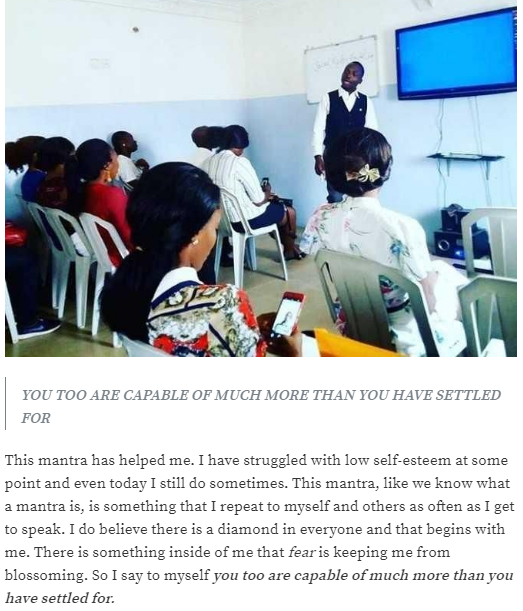 See post in this link: You too are capable of much more than you have settled for - One Liner Life Mantra Contest
@omoseni wrote: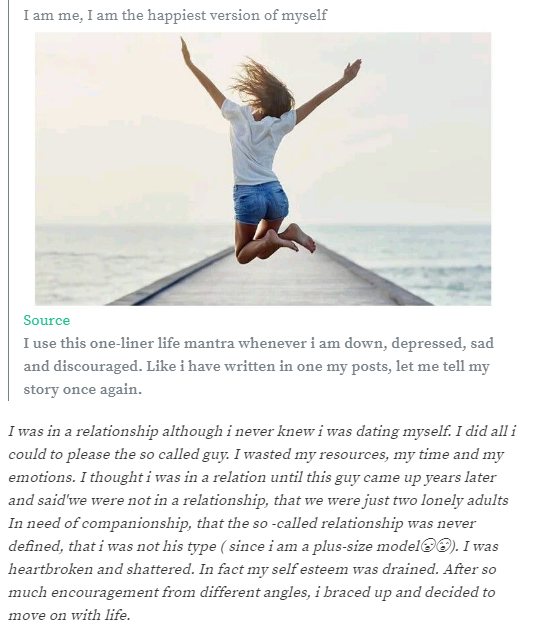 See post in this link: My One-Liner Life mantra
@xpressng wrote: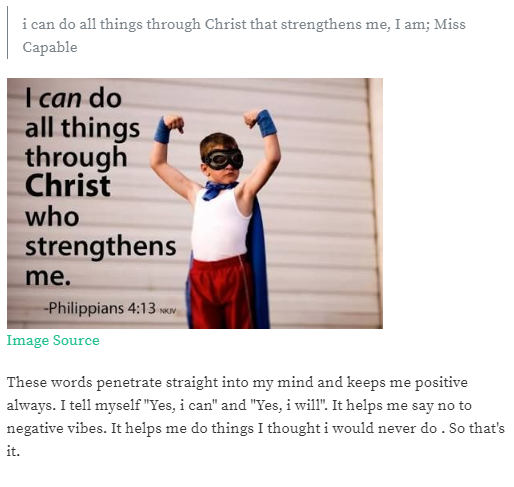 See post in this link: My One-Liner Mantra Entry; A Contest To Help You stay.
@salaujohnson wrote: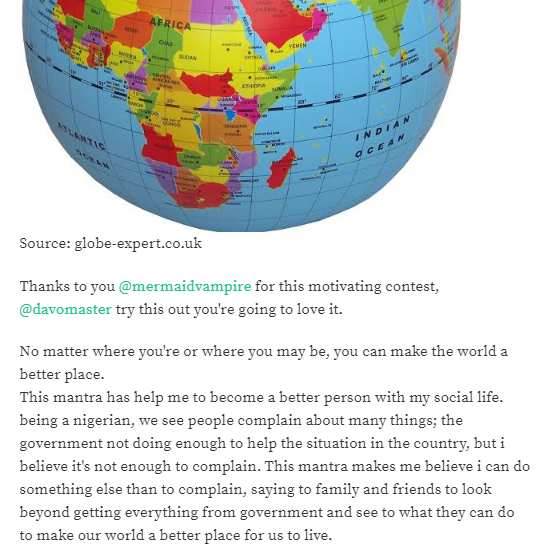 See post in this link: My life mantra
@namranna wrote: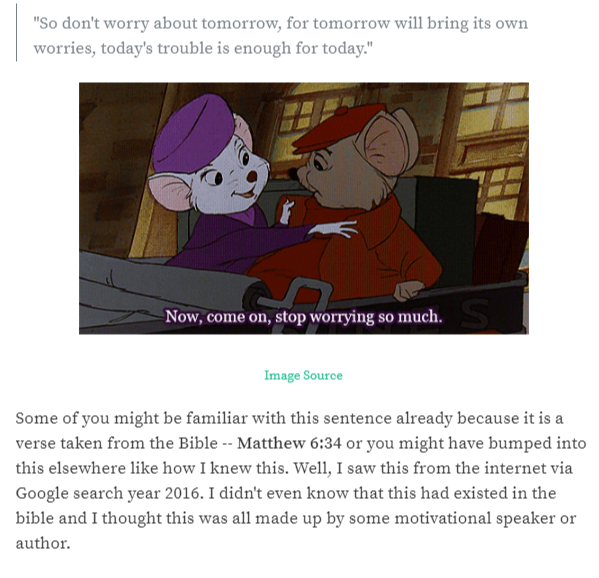 See post in this link: One Liner Life Mantra: My Life Verse
@climb-yoga-van wrote: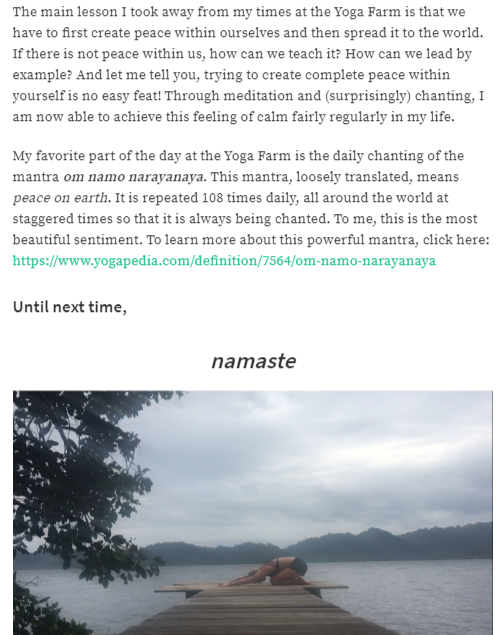 See post in this link: Om Namo Narayanaya
@farraz wrote: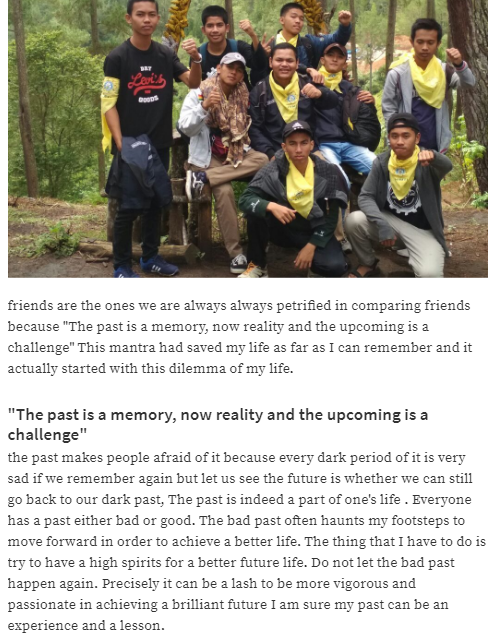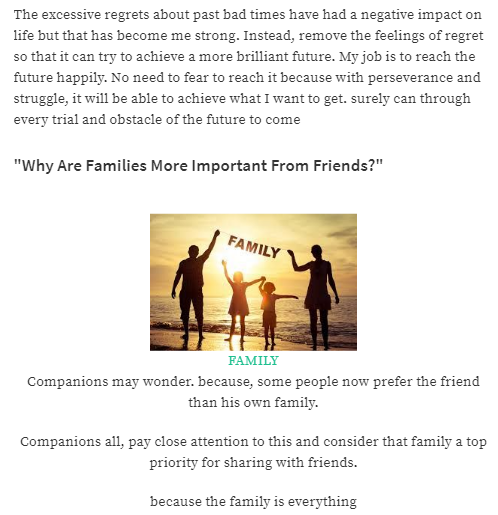 See post in this link: Mantra life | The past is a memory, now reality and the upcoming is a challenge
Thank you all so much for submitting your entries on day 1 and making this contest a success as early as now. I hope I have made you reflect upon yourselves and remind you of the things that matter. Stay positive, everyone. With the mantra you submitted, you show the world that you are all amazing in your own way and you can pretty much win at life because you have strong faith of moving forward with it.
If you wish to join the contest, you may see my original contest post for the complete mechanics, here.
Best of luck to all the contestants!

#steemitachievers #steemph #steemfamilyph