Prepare Now
We have seen horror in China. In Wuhan, we can hear it.
We cannot imagine it.
Miles of apartment blocks, filled with hundreds of thousands, millions of quarantined people, waiting to die. They want to tell us they are still alive, still have hopes and dreams; that their suffering still matters.
I need to hear them.
In South Korea a cult has spread COVID-19 and is uncooperative with authorities. Cases there skyrocketed over the weekend.
Now North Korea is claimed to be infected. Iran is suddenly in the grip of community transmission, from unknown provenance, apparently originating in remote villages. Japan has released nearly a thousand passengers from the Diamond Princess, one of whom is already confirmed infected with COVID-19 after being thrust back into the public. Italy, a couple weeks after the 'Hug a Chinese' campaign, has inexplicably become an epicenter for the disease. ~50,000 are quarantined now.
Still the WHO does not recommend closing borders, ending flights, or preparing to survive pandemic. All it's efforts seem focused on keeping bad news from being heard by the public. Keeping the truth from you and me.
"pandemic
pan·​dem·​ic | \ pan-ˈde-mik
Definition of pandemic
: an outbreak of a disease that occurs over a wide geographic area and affects an exceptionally high proportion of the population : a pandemic outbreak of a disease"
https://www.merriam-webster.com/dictionary/pandemic
In the US, I am aware of claims I cannot confirm of several states that have issued gag orders on health care personnel, first responders, and the media. A gag order has just been involuntarily lifted on Oregon, after KGW briefly mentioned it preventing discussion of cases in Oregon. After complete silence since the pandemic began, today the OHA announced they've cleared 178 and are monitoring 76. I've seen pics that show FEMA protocols are underway. The camps are being prepared for quarantined civilians. There is no hint of it on TV. The next month will tell the tale.
As if to highlight the lack of veracity President Trump claimed everything is under control, and then added the stock market looked very good. The market crashed today. Down 1000 points.
I'm preparing to bug out. Over the rest of this week I will be collecting food, other supplies, and trade goods. If I don't need them to trade with, I'll eventually drink the whiskey and coffee, and smoke the cigars, lit with all the lighters. I'm preparing a small cell of folks in a neighborhood with only one entrance to coordinate a neighborhood watch, mutual defense in case of hostilities, coordination of supply runs, growing food, and etc.
While I have good neighbors where I live now, it's not a defensible site. I think if I stay here, I'll die.
It's time, from what I see happening. The WHO and CDC are clearly only interested in suppressing the facts, and seem to be doing nothing to prevent disease vectors from infecting civilians. Given this, spread of this pandemic to the US is certain, and I believe it has already begun. Yesterday there were 35 cases in the US, after evacuating Americans from the Diamond Princess. Today there are 53. Where did those 18 cases come from?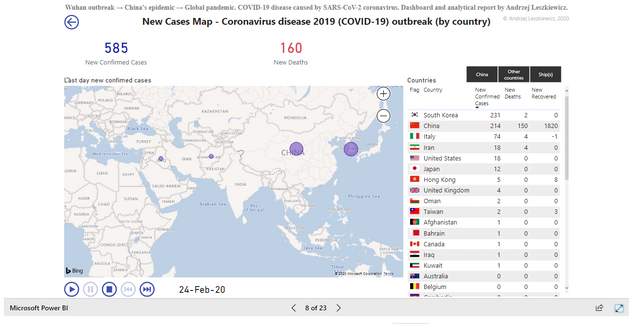 IMG source - Avator1.org - best map I've found yet
Maybe another mistake made in Oregon.
I may be able to post again, and from time to time going forward. Among the things I am seeking to enable is access to the internet, but considering what I expect circumstances to be shortly, that may not be possible.
I am the target demographic most likely to die from COVID-19, so I need to undertake the most drastic response to survive this pandemic. Some of my meds are already coming up in short supply, and that may scuttle all my plans. 98% of prescription meds in the US used to be manufactured in China, and they're not being manufactured and shipped anymore.
No one is panicking hereabouts, so the stores are full and the prices are low. Now is the time to stock up. Long before it's necessary to effect plans is the time to make them.
What plans have you made in case of crisis? When will you prepare? Evolution happens. Survive to breed.