Which Countries Drink The Most Alcohol?
Housekeeping
Thank you to everyone who wrote in last time telling me I was a fucking idiot for believing the 'frogs don't react when slowly boiled in water' myth. Sorry, did I say frogs? I meant rocks =)
Also, congratulations once again to the winners of the 1 liner competition @naquoya @alphacore @claudiop63 @realcodysimon @steemint @jeff-kubitz @fynesttrish @slyborg @lepton @worldfinances, thanks for taking half of my rewards guys!
---
How I Feel About Drinking
On the one hand it's difficult to condemn a strong drinking culture. After all, many of us wouldn't even be here without it giving our parents a nudge in the right direction, and not existing would literally make condemning it difficult. 'Don't worry, I can drive you back home, I only had the 8 Jagerbombs' were the words papa Trafalgar said to mama Trafalgar on that fateful night baby Trafalgar was conceived. Yeah, I was surprised to discover Jagerbombs were the drink of choice during the post Cultural Revolution years in mainland China too.
On the other hand it's not easy to encourage drinking either. We all know that excessive drinking can do some damage. Most doctors would not recommend Long Island iced tea as one of your 5 a day, unless they're out of euthanasia and the other 4 are burnt bacon, cigarettes, crystal meth and listening to a Nickelback song. An estimated 1 in 10 people in developed nations have an alcohol related problem.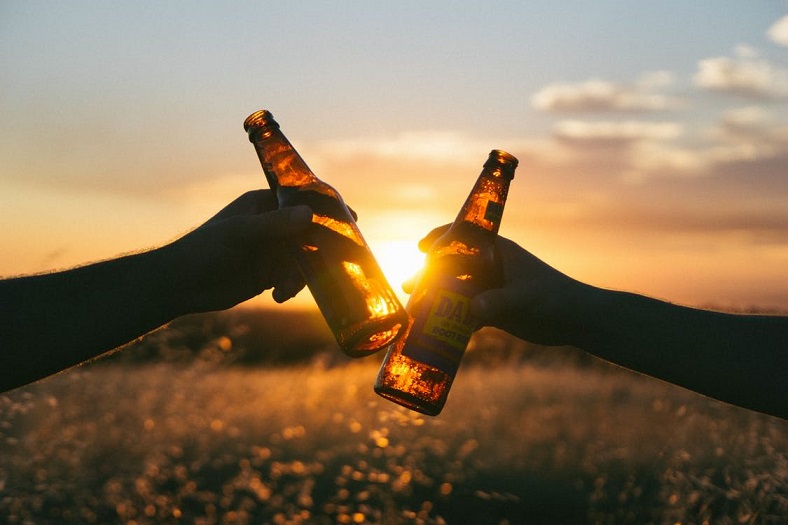 It wasn't easy taking this photo as I obviously couldn't use either of my hands
But what about the other 9 in 10 people who, like me, are responsible binge drinkers and only go out to get blind drunk 3 to 4 times a week? As you can see I'm torn as to how I feel about drinking as a social activity. I wanted to talk about the very serious topic of alcoholism and its effects on society in the usual facetious but still, hopefully, meaningful way. But three paragraphs in, I still haven't gotten around to it. Because well, truth be told, I quite like the odd drink. It's pretty much the only vice I enjoy so I can't bring myself to chastise it objectively, despite the obvious social harm it can bring about. This must be how Cosby's biggest fan felt after the 12th victim came forward.
I lead a pretty dull life. I don't go brothel crawling every other weekend, I don't have trouble finding a vein that hasn't yet hardened from years of heroin abuse, the mafia aren't after me for unpaid gambling debts, I don't pull the wings off flies just for fun and I'm even in good standing with the local library because I always return my books on time. The only thing I allow myself is to see the bottom of the glass every now and then. I haven't made a post in the last couple of days, from my choice of topic today, you can probably guess what happened. If you guessed it was because my cat looked a little unwell and I had to take her to the vet, then you're right. But I suppose it easily could have been because I woke up in a pool of my dried up vomit, too hung over to do anything for the day.
Which Countries Drink The Most Alcohol?
Binge drinking is a worldwide phenomenon and it seems like every second person I bump into is boasting about how superior their home nation's drinking culture is. Although to be fair, if I were sober more often I probably wouldn't be bumping into every second person I come across.
'Back in Korea, we find it easier to just label beverages by the amount of non-alcoholic content, as most of our drinks are 100% alcohol.'
'That's nothing, in Poland every glass is made of pure solid alcohol and you're expected to eat it every time you down a drink.'
'Ha! You lightweights! Back home in Ireland we all drink so much our women directly produce Baileys through their breast milk.'
Well I've had enough of listening to this kind bullshit so I went to look up the stats and the results are in! And I've got to say, hats off to the East Europeans, if only so they can vomit in them. They took out 9 out of the top 10 countries in terms of alcohol content consumed per capita.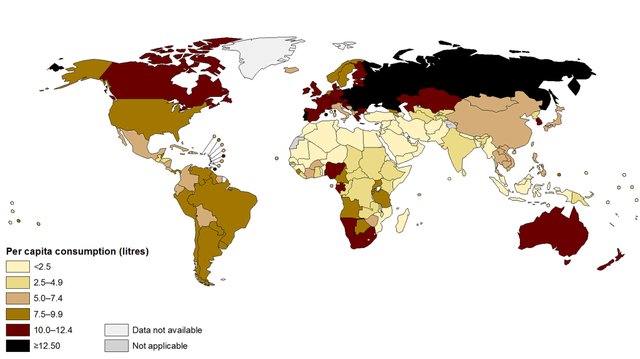 The likely color of one's liver in their respective nations
If you're curious, South Korea is ranked 17th, good effort from us Australians too coming in at 19th, Canada at 40th and the USA is trailing at 48th. But don't worry, the night is still young so there's plenty of time to catch up!
Perhaps I'll talk about the dangers of alcoholism another time, but I certainly don't think we should revisit the prohibition era by banning alcohol entirely. Besides, I suspect a roofie in an empty pint glass just isn't going to work as well for my love life. So until then, as my cell mate for when I was doing time for DUI use to say to me, bottoms up!
---
References
List of countries by alcohol consumption per capita
---
---
If you enjoyed this piece, please Upvote, Resteem and follow me @trafalgar, especially if you believe non steemit/crypto related articles are good for the platform