Why Emotional Intelligence Is A Key Factor To Success !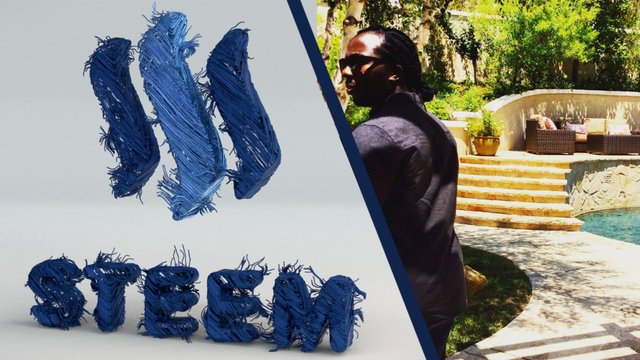 When thinking of successful people, we often assume that they are smart. They must have a high IQ.   
But in reality, an extremely high IQ can actually be counterproductive – the people with the highest IQ levels are often not the ones that are making the most money.  
What's more important than your IQ is your EQ – Your Emotional Intelligence Quotient. 

What is Emotional Intelligence?  
People often think that Emotional Intelligence means you are an extrovert, and love to communicate with people. But that's not actually the case.  
This is the definition of Emotional Intelligence: 
"The ability to recognize and understand your emotions , in yourself and in others. And the ability to use this awareness to manage your behavior and relationships."  - Quote from the book "Emotional Intelligence 2.0" 


These are the elements of Emotional Intelligence:
Self-awareness: Knowing yourself and your goals, feelings, needs, strengths & weaknesses. You have to know yourself to know how you behave in certain situations, and how you could change that.
Motivation: Having the ability of motivating yourself over and over again. With this skill, you always have enough strength to keep going and don't get frustrated that easily.
Communication skills: Being able to communicate your needs and feelings, and being able to listen to and understand other's feelings.
Self-controlling: The ability to control your own emotions, rather than being a victim to them. This is important when you're angry or sad, and you are able to calm yourself down or cheer yourself up.
Social Competence: The ability to build lasting relationships with people, manage conflicts, and also leadership qualities.
Empathy: Being able to put oneself in the position of someone else. Try to accept and understand the other's point of view, no matter how different it may be from your own.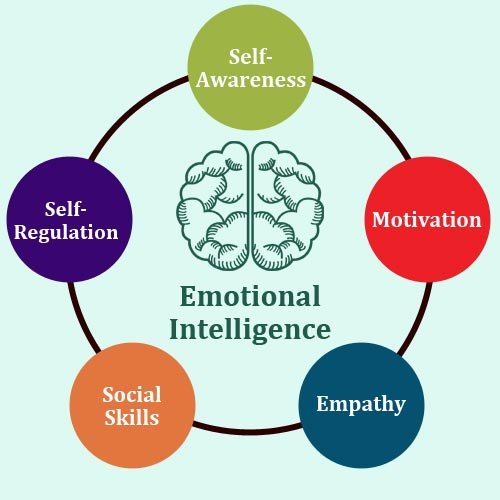 Emotional Intelligence can also be described in these four skills:
 The ability to understand your own emotions: Being aware of the different emotions you can feel, and which situations trigger which emotions. 
The ability to control your  emotions: You need to be able to discipline and control yourself, and not give in to every emotion. 
The ability to read other's emotions: Could also be compared with empathy. This is simply your ability to understand what others are feeling, and understanding their point of view. 
The ability to manage your relationships: How are you interacting with people? Are you provoking a lot of arguments, or are your relationships going smoothly?  
Your EQ consists of all these things, and you will probably be more skilled in one aspect than in others.   
So why is this important in our daily lives? 
People with high Emotional Intelligence are often successful in both their personal lives and careers. Their personal life benefits because they get on with their partners and family members well, and because they manage conflicts confidently and constructively. They are also good listeners and often liked, and they are content and balanced because they feel good for themselves.
They are successful at their job, because they can handle people very well and they have good leadership skills.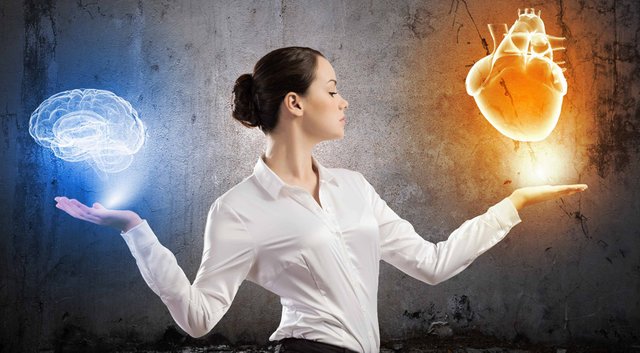 Let's look at all the daily things that our EQ is connected to: 
Communication - do you communicate well with others? Can you communicate your feelings? Do you communicate if you have a problem with something or somebody?
Accountability – how much are you able to take on yourself before blaming other people? 
Decision making - Do you change your opinions and decisions often? Do you procrastinate or sometimes take a long time to decide?
Honesty and trust – are you able to act truthfully in social situations or do you tell many white lies? Are you honest to yourself?
Confidence - If you're lacking in confidence, you are most likely also lacking in Emotional Intelligence.
Stress Tolerance - are you often anxious or stressed, thinking negatively? Do you judge yourself or feel guilty?
Speaking skills - are you comfortable at holding a presentation or speaking in front of a group of people? Are you able to motivate or inspire others?
Listening skills - are you able to emphasize with what someone is telling you, and can you reflect back to them that you understood what they told you?
Flexibility - are you able to change plans quickly or do you have your fixed principles, which you like to stick to at all times?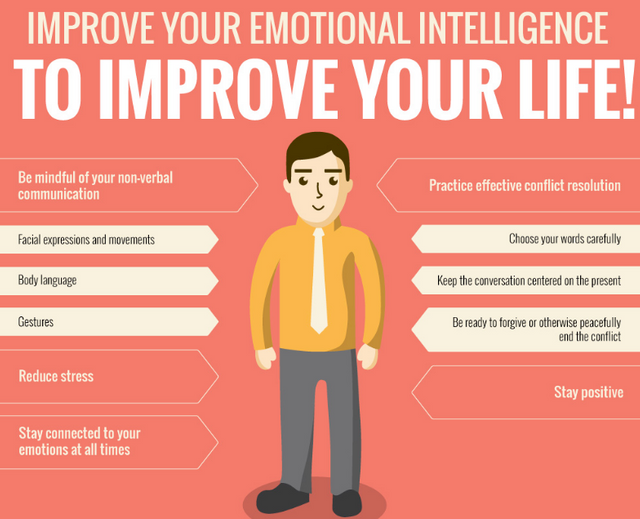 Okay,  Emotional Intelligence seems to be helpful in our daily lives.. So can you improve it?
Yes! As opposed to IQ, you can work on your EQ and develop it more.
Tip 1: Study yourself.
Emotional Intelligence has a lot to do with knowing yourself.
So ask yourself: What has influenced the way I am? What do I need, want expect in life? What are my goals? What determines my thoughts, actions and emotions?
Tip 2: Manage criticism better
Learn to accept criticism and understand your opponent's point of view. Don't feel hurt or insecure, but manage to learn from that criticism and change your behaviour. Also learn to criticize other constructively, not impulsively.
Tip 3: Learn to handle emotions.
Don't be afraid of your emotions, or the emotions of others. If you learn to handle emotions better, you will react confidently and calmly in emotionally difficult situations.
Ask yourself multiple times during the day: Why do I feel this emotion right now? What triggered it, and how am I dealing with it? Does it influence my behaviour?
Tip 4: Improve your communication skills.
Communication is the key factor in Emotional Intelligence. First, you need to identify your problem - are you scared of talking about difficult points, or are you nervous speaking in front of people, or are you simply lacking the vocabulary to correctly express yourself sometimes?
Either way, you can improve it! There are many youtube videos and articles that will help you deal with your specific issue.
Tip 5: Accept that everybody thinks and feels differently.
Empathy is a big part of Emotional Intelligence. But often we can't empathize with someone, because their views are so different than ours.
Accept the fact that everybody is different, and that someone might have a completely different opinion or view than you - and that's totally fine.  Learn to still emphasize with them!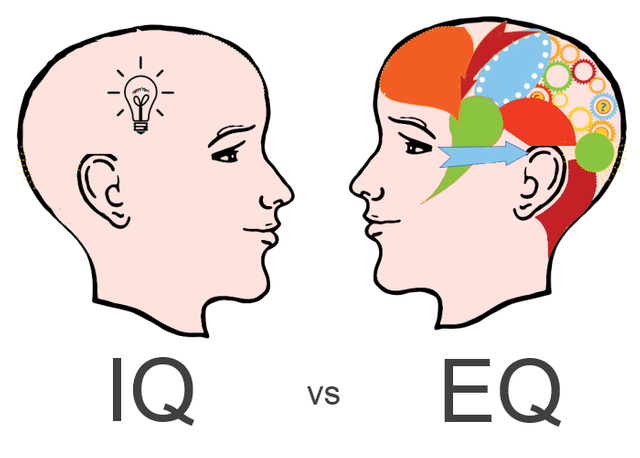 So in conclusion, work on your Emotional Intelligence and it will have an aspect on many different areas of your life! EQ has a higher value than IQ nowadays, and it can be improved!
- - - - - - - - - - - - - - - - - - - - - - - - - - - - - - - - - - - - - - - - - -
-
Instagram -
© Sirwinchester