A while back a user said that I should write more about how I see life. I believe this was linked to my post on my autism (Aspergers). I've got some info put together finally and this may be just the first in a series of posts.
First I think the best place to start would be some background on who I am (specific to my personality in addition to what I wrote in my post about my autism, which can be found here if you are curious: https://steemit.com/psychology/@prlndra/my-life-and-asperger-s)
---
Background on the information listed below:
I took an IQ test when I was homeschooled before I went back into public school, due to how long ago it was I can't say what test was used specifically and therefore I recognize it as a loose but a rather accurate number. I have not been retested since but from what I understand it shouldn't have changed much. Any change I do see I likely would contribute to the teaching methods currently exhibited in our schooling system which I believe sorely detract from peoples creativity. (A video on the topic of the issues with the modern education system that I find intriguing: https://www.ted.com/talks/ken_robinson_changing_education_paradigms) My specific thoughts on the usefulness of an IQ test will be in the post below.
I was first introduced to the Meyers Briggs Personality Type test somewhere around 11-12 years old at which time I got a test result that does not match my current result but I can't tell you what it was exactly. I later retook the test around 15 years and again today at 20 years. That result has held although the percentages may have changed slightly. I don't think this is a perfect analysis but it does give some interesting insight that I agree with wholeheartedly for me.
If you are curious about the MBPT test I took my test today at the below site, which also has all the info I am referencing on the MBPT.
http://www.humanmetrics.com/cgi-win/jtypes2.asp
I think all of the details I will list below effect my life view and how I experience things. There are not ranked in any particular order but I do recognize some have more effect than others. Recognizing that the format is rough please feel free to ask any questions you may have in the comments.
---
IQ: ~140-150
MBPT: INTJ
Upbringing: Christian, Conservative, parents divorced during early teen years, extensive family interactions, low social interactions in public settings due to being a sort of "outcast".
Current values: Bible-believing Christian, constitutional conservative>libertarian
Psychological note: diagnosed with Aspergers Autism at a young age (elementary school) recent psychological interaction (from parental divorce) notes all major signs of autism have been "subdued" (I have thoughts on why after piecing things together).
---
This IQ puts me (depending on the scale used) in the gifted range on most classifications. I've found that for the average person their IQ score doesn't matter, but people on the extremes of the scales there are traits that tend to occur in the majority of people with similar extreme scores. I have not nailed down anything specific but I definitely see a correlation. Especially in areas such as social interaction skills and capability to think "divergently" as Ken Robinson talks about in his "Changing the Education Paradigm" video linked above.
---
On my MBPT score, I joke that I'm something between Elrond and Palpatine as described in the below two pictures:
Lord of the Rings: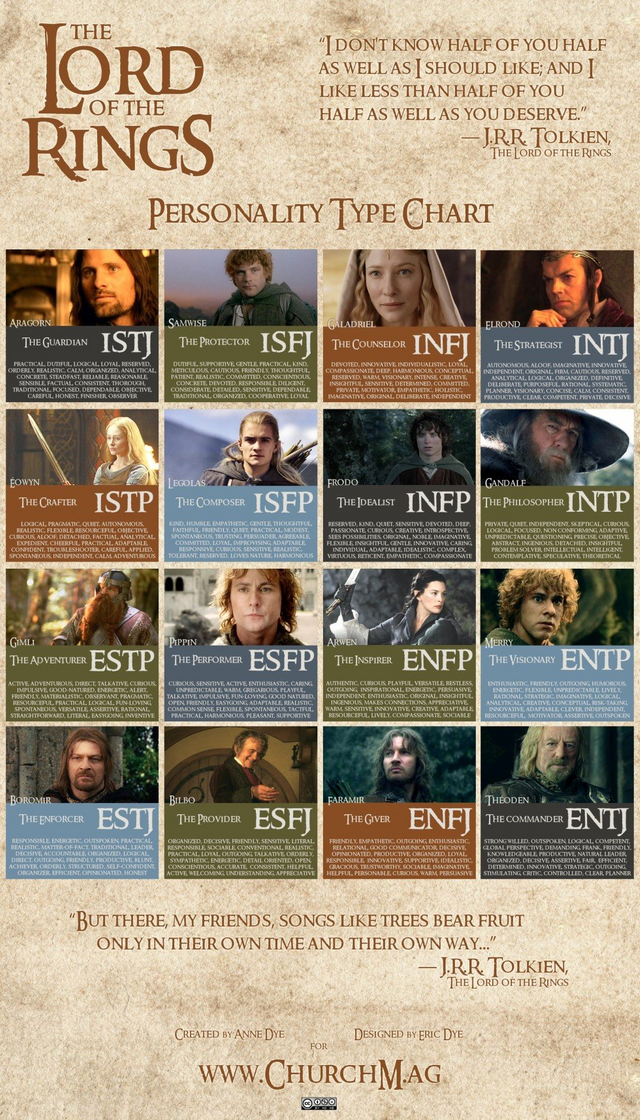 Source: https://churchm.ag/lord-of-the-rings-personality-types/
Star Wars: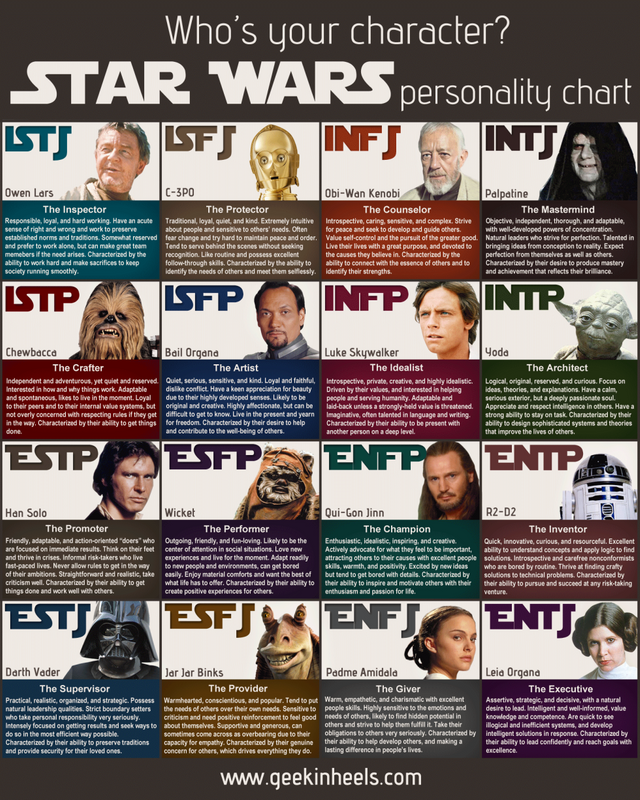 Source: https://churchm.ag/star-wars-character-fits-myers-briggs-type/
Sometimes these are more accurate than I wish, but I can't deny who I am.
The specific results on my recent MBPT are as follows:


A breakdown of personality types can be found here:
http://www.humanmetrics.com/personality/type
And a specific analysis of the INTJ personality type can be found here:
http://www.humanmetrics.com/personality/intj
My I/E and T/F are essentially locked. I don't stray from those behavioral norms much. I rarely stray from J to P but it does happen now an then, I don't mind improvising when needing, but I will always plan things out ahead of time. When it comes to S/N (my perception of information) I can flip-flop between external data streams and internal ones relatively easily, but my "default" mode is internal intuition.
---
My values from my upbringing and my current values haven't changed much. But they are an integral part of who I am and how I behave.
---
This is a much longer post than I originally expected so I am going to leave it here. I hope this is information that I can begin to use moving forward to better understand myself. As this is a bit of a soul search as I work through some difficulties irl.
If anyone has any questions or thoughts pleases feel free to comment. This is a conversation that I enjoy having with people. I may not be able to respond for a bit though as my RC is out for the day.
Have a great day!
God bless!