Forget your troubles and be free - An Inspiring Motorcycle Tale.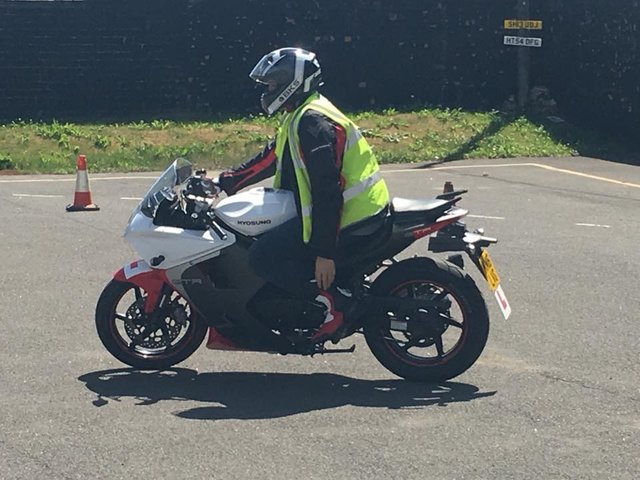 There are a few occasions in life when you are truly inspired by another person's actions, today was one of those days.
This morning my wife shared with me a Facebook post from the motorcycle riding school where we are training to get our licences. This post was so amazing that we decided to contact the school and request permission to share it here on steemit.
If you too could take a couple of minutes and read this post, it could help a young man follow his dreams, forget his troubles and be free.
---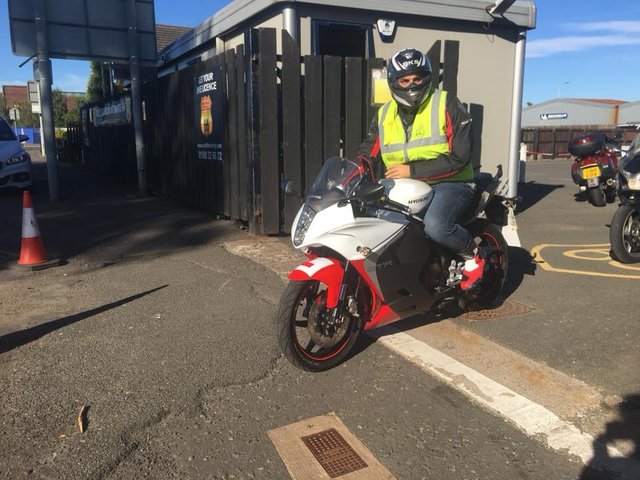 Just another day of CBTs at Route66 or was it!
A couple of weeks ago my daughter was working in the office taking booking. I didn't really check the diary when I returned and so didn't notice until a couple of days ago that the bookings for CBTs for today said "will be bringing his own bike. (Disabled)" so I wasn't too sure what the day would bring but I can honestly say that I've had the pleasure of meeting one of the most determined young men ever.
Daniel Sradzinski is a 26 year old happy young man starting out life with his partner and young baby.
At age 23 Daniel was diagnosed with cancer and after a long time fighting for his life, he lost his left arm. Devastating for a young man with so much to live for.
He saw Chris Garley on YouTube and was inspired. Chris is ex army who lost his arm in a motorcycle accident but that didn't stop. Daniel contacted Chris and got so much advice and support to give him the confidence to start his biking journey.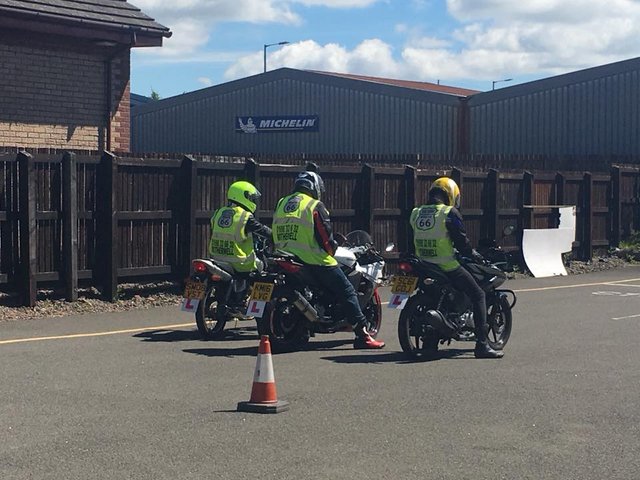 First came the bike. A bigger 125 as Daniel is a big Lad at 6'4". So with the guidance and advice from Chris, Daniel and his friend bought the conversion kit on eBay and they spent their spare time in the garage converting the bike to Daniels needs.
We rode to work this morning and found waiting outside our gates, a very determined and smiling young man, standing beside a bike that looked very different from anything I had ever seen. After many questions and phone calls to the insurance company and then to the DVSA, Daniel was asked to let us see him on the pad. We were all nervous at first but as the day went on, all 3 students started to gain confidence and skill. We All watched this young man all day with amazement. He worked so hard and did every element on the CBT with such determination and skill with his right hand. Everything is on the right hand handlebar. Clutch and break, horn and indicator.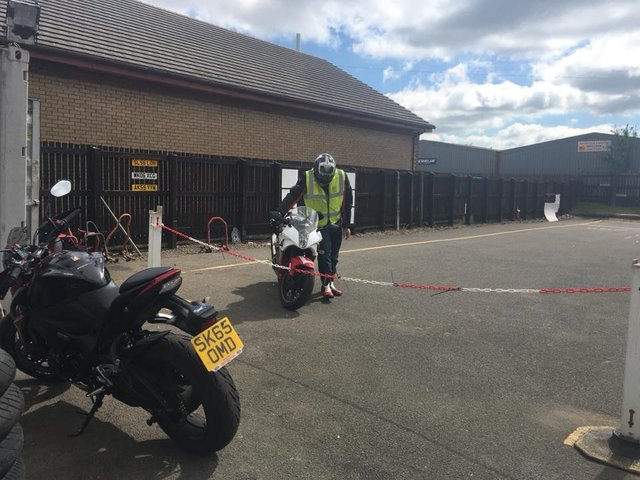 When we all stopped for lunch I had to ask him all about it. I asked him why he wanted to ride a motorcycle. He said he wanted to loose himself in his motorcycle. Forget his troubles and be free. He Tried to ride on the drive way to try and get used to his bike and to learn how to control with one arm. To work on his balance and make his finger have more skills.
I asked him why he picked Route66 to do his training and he said He had tried other motorcycle schools and they wouldn't take him. One said you can't learn from us because you are disabled.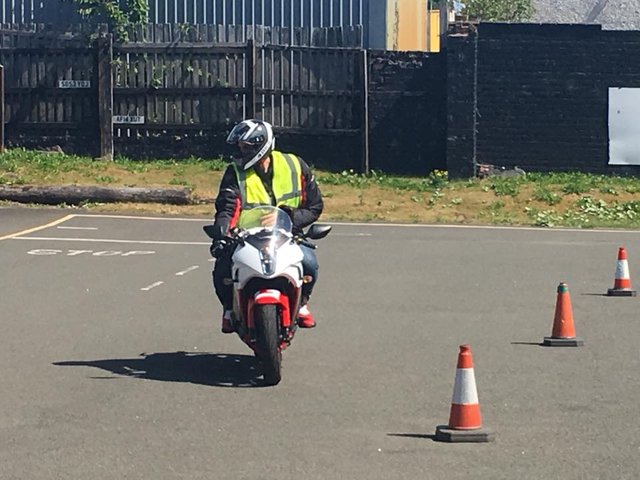 I have seen many people go through their CBT. Some with ease and some that struggled but got there in the end but I have never been happier than I am tonight after seeing this incredible young man start his journey to freedom. He wants to try and get some money together to buy a big bike and do the conversion again with his friend then he wants to train and get his full motorcycle license. The other bike schools that refused him have lost out on something very special by not teaching this amazing young man how to ride because this is a happy day that I will never forget and I can't wait until he finds the right bike and comes to train with us to do his full DAS.
Daniel, everyone at Route66 salutes you.
Ride safe.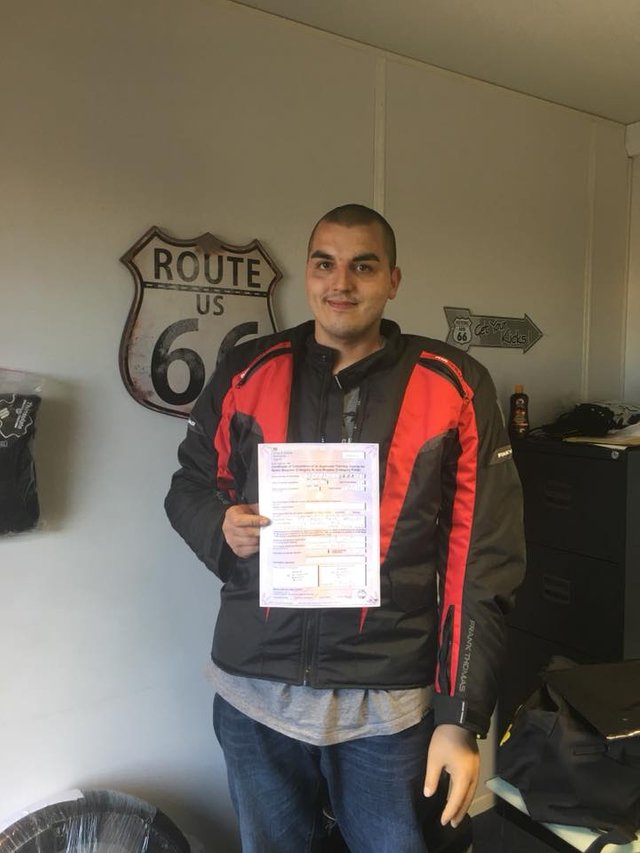 ---
We do not know Daniel but we feel he deserves a reward for his dedication and determination, so all proceeds will be going to help him get his full licence. And if you feel as touched as we did then please give it a little resteem to try and spread the word. And if you are super inspired by this story then head over to gofundme.com, any contributions would be greatly appreciated.
Many thanks to Route 66 Motorcycle training school in Motherwell and to Daniel himself, you guys made our day!!!
https://www.facebook.com/154232244626559/posts/1686834511366317/