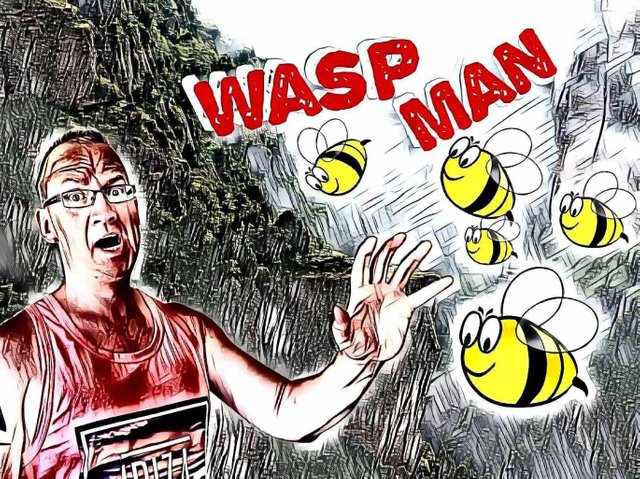 Daddy, Daddy, there are loads of wasps in my playhouse!!
The little lady came running into the kitchen in a bit of a tizz.
Wasps? Just ignore them, lass. If you ignore them they will ignore you.
I smiled to reassure her despite an icicle of sheer animalistic terror forming in my belly. No they won't, my brain whispered. They will eat you and dance on your remains with their nasty little pointy waspy faces.

I think there is a nest?
She said, pointing at what looked to be a wasp fortress in the distance where her playhouse used to be.
Looks like she might be right.
Said the good lady peering out the window.
I know you get a bit freaked out by wasps, will we call a man out?
What was that? Did the good lady just impugn my mannity? Didn't she know, I am the man that is called out when times are hard. I am the man who is called upon to slay dragons or wasps in their fetid lair.
Had she forgotten she was standing in front of a shimmering beacon of manhood?

I straightened up and looked at her with my best warrior face. Which can sometimes be confused with my farting face.
Phone a man? To deal with some silly little wasps. Pffrrrfffffrrrrrrt
I scoffed loudly and slapped my thigh.
They are as good as dead.
I marched out, head held high, into the afternoon sun.

I stood at a slight distance from the playhouse. A steady stream of wasps entered and left a big set of wooden wind chimes that were attached to the front.
Oh bollocks.
I murmured. I really didn't like wasps. No idea why but I tended to leap around and yelp like a young girl when one came near me. However, a man has to defend his family from monsters and I intended to do just that.
Time to die mother fuckers.
I whispered grimly.
I grabbed my long stick and raised it up to the hook that the wind chimes were hanging off.
Piece of piss.
I snickered.
Despite being quite hungover I had called upon the astonishing brainpower harnessed in my skull to come up with a cunning plan for destroying the wasps. It only took moments for that plan to crystalise.

I didn't have any chemical'y wasp killer nonsense. I was a man. I was going to go toe to toe with the stripey weevilly bastards.
The plan? I was going to get the windchimes and submerge them in a bucket full of hot water. That way the wasps would both boil and drown. Hopefully.
I mean, what could possibly go wrong?
Sometimes hangovers are great for thinking.
The windchimes successfully came free from the hook and dangled precariously from the end of my long stick. The stream of wasps going in and out continued unabated.
They didn't seem bothered.
The bucket was nearby, steam drifting lazily from it.
Delicately I moved the windchimes on a stick over the bucket then...

They were in! I used the stick to keep the big wooden middle bit they had been using as a nest under the water.
I was a hero!
I noticed something going on in the bucket. I had a closer look.

A torrent of wasps was pouring forth from the underwater nest and crawling up on top of the bits that were not totally submerged, others floated about looking up aggressively.
I screamed in fear and started thrashing at the bucket like a madman. The first of the surviving mad beasts attempted to fly. My scream became so high pitched it could boil metal.
---
Sometime later, I strutted back into the kitchen. The good lady looked up.
Oh hey, did you get it ok? You didn't get stung, did you?
I barked a weird laugh out.
Stung? Me? Ha, no. I showed them a thing or two and no mistake.
I leaned casually against the worktop and got myself some water.
The good lady smiled.
You are amazing Daddy, I heard them scream all the way from here. Wow, I didn't realise wasps screamed like that when they were dying?
I looked at her, smiling sweetly at me.
Aye well, they do. They scream like billy-o.
I gave her the leave it stink-eye and went to the fridge for a calming beer.