The Facebook Thief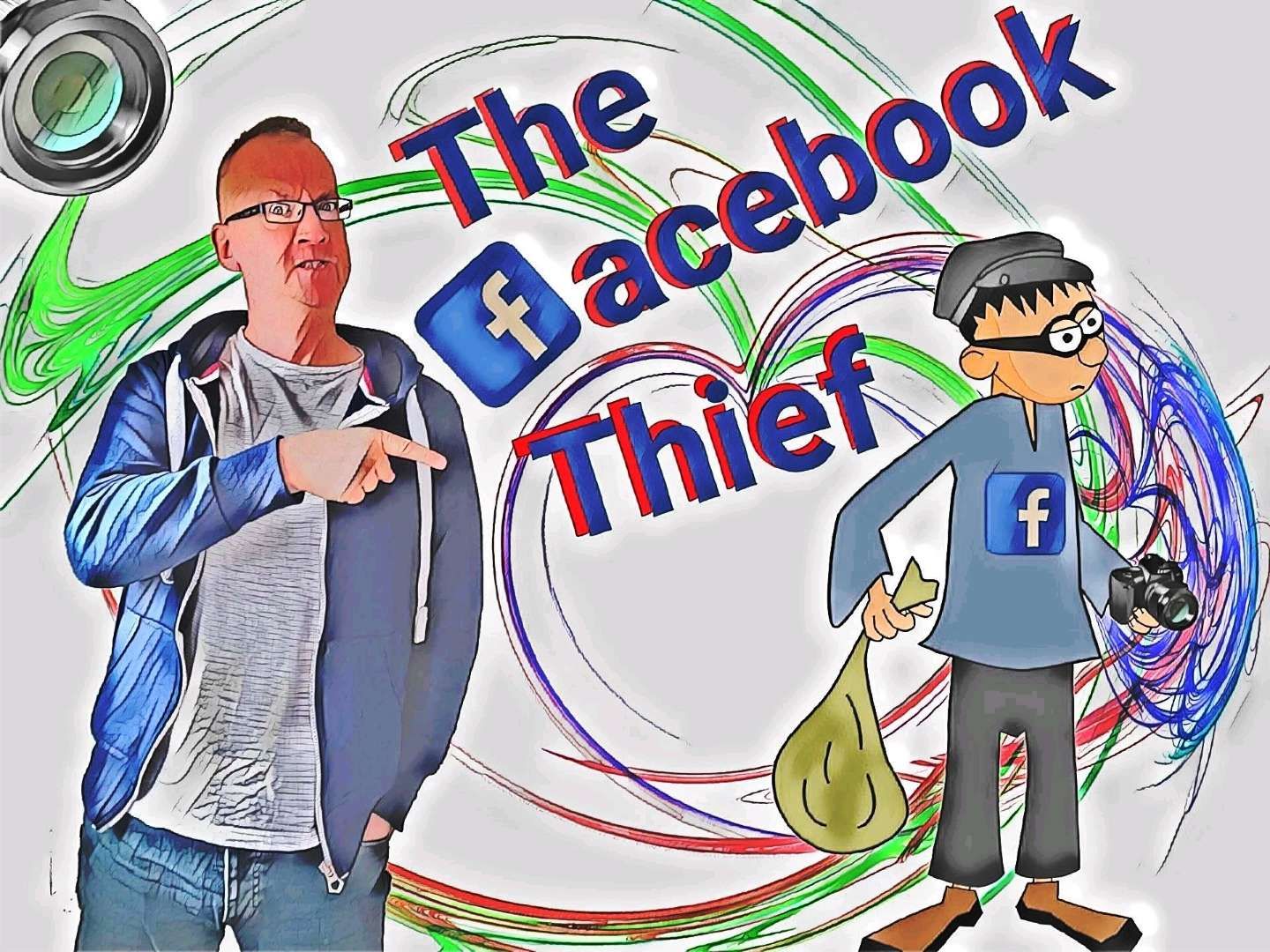 Have you met one? Even if you haven't I bet you have. The ones who will take photos of anything and wallop it up on Facebook. Usually to pretend that they are something they are not.
Today I had the fortune to be visited by my cousin. I hadn't seen her and her husband for over a year. The two of them descended upon my home, like a pair of locusts.
I had my best face on. I was feeling pretty spiffy. I was determined to have a good time and not get all grumpy. Sometimes my relatives bring out the worst in me you see. So for today I had polished up my diplomacy and was ready. Nothing could phase me, I would be the perfect host. Nothing could go wrong surely?
There she is! There is my amazing little cousin!!
Shrieked my lady boomcousin, Boomelia.
My little daughter who usually loved visitors was swiftly lifted up by Boomelia.
Quick, quick. Take a photo.
She urged her husband, passing her phone over. The snap was swiftly taken. Boomelia, hurriedly put down my daughter and whilst the rest of us made small talk was tapping away frantically at her phone.

She finished what she was doing and started talking, oh it was wonderful to see us. Were we terribly excited to be having another baby? Etc etc etc. All the while ignoring my daughter whenever she asked a question.
My phone vibrated. I pulled it out for a quick look. Hmmph, it was just Facebook. I hardly use it these days and always get annoyed when I get a notification. I was about to put my phone away when I saw what the notification was.
Boomelia tagged you in a post.
I quickly checked the post. It was the photo of Boomelia and my little lass. The caption was
Love spending time with this one!
I found that to be a little ironic considering she actually spends no time with her but loves to steal moments with her to post on Facebook. Sure enough I had a quick look at the comments.
Omg, she's beautiful, yous look great.
You're the best cousin ever.
And so on.

I looked for the flag icon but alas, Facebook isn't Steemit. Still, I was determined not to get grumpy even though I think my daughter has seen her a grand total of five times in four and a bit years. That hardly make her the best cousin ever.
We had dinner later. Boomelia insisted on another photo with my little lady. Grrr.
Don't Facebook that please?
The conversation stopped and everyone froze at my innocuous comment. Oops, I realised I had just broken one of the great taboos of the 21st century. I had asked someone not to put something on Facebook.
Why not?
Huffed Boomelia.
Because I don't want you to.
You've no right!
Eh, I think I have.
You haven't, I can't believe you even said that to me?
Boomelia's voice was rising and her face rather red. As if I had just winked and said show us yer knickers love? Her hubbie too was looking a little indignant. I asked my little lady if she would mind going upstairs to fetch her dinosaur jigsaw. She leapt at the chance and trotted off.
As soon as she was gone I dropped the smile.
Stop being a fucking arse.
I said diplomatically to Boomelia.
What, who are you calling an arse?
You, Facebooking photos of the little lady as if you are best buddies when in fact you never bother making the slightest effort to see her.
I do make the effort!
You don't so you are being an arse.
My little lady returned to the room with her dinosaur jigsaw and hostilities ceased. Later as we waved them off my daughter ran upstairs to see them drive onto the distance.
I looked at the good lady.
Sorry, was I out of order?
She shrugged.
Not at all. She's an arse.