Back in 2012, I was previously in the armed forces pulling ridiculously long shifts and felt I needed a change to my daily routine.
That ladies and gentlemen was the wonders of my first cup of coffee. Ever since that first whiplash of caffeine went through my body I couldn't stop drinking it! Everybody knows the feeling of your veins opening up and being able breath a little bit deeper after having a taste of that steamy and pleasant cup of joe in the morning.
But after a while, I've gotten so accustomed to drinking a cup of joe in the morning, that I still felt like something was missing. Sometimes I had a great start in the morning, and sometimes I still felt the exhaustion along with a high heart rate. And there were also events where I would experience immense crashes that eventually made me become irritable at times. Knowing this was constant, once again, I felt that a change needed to happen. As many times as I've tried to cycle off coffee because of my irritability and natural anxiety, I began to look else where but i've always resorted to going back to coffee somehow! HAHA!
But during this journey I was always told about how Black/Green tea was such a great alternative. My past ignorance held me back from drinking it because I felt that that the caffeine wouldn't be enough either! This love/hate relationship with coffee was getting ridiculous.
But a very random and broad statement was always given to me while I was growing up, I was always told to take things slow and let the kinks work itself out in life, whether it's my job, relationships, or just simply driving my car. Well for some crazy and odd reason, I applied this to my cup of coffee and tea!!!!
The reason I applied this to theses two beverages is because of the time that you receive the caffeine rush from these beverages. As i've noticed overtime of drinking coffee, the time that all of the caffeine is dispersed throughout your body is almost instant, While with Black/Green Tea it's slow and gradual.
So the best way of comparing the two is that coffee is the quick and instant rush, while the tea is the slow, gradual but satisfying contender when it comes to it's caffeine dispersement. As reported in this article "The high levels of antioxidants found in tea slow the absorption of caffeine - this results in a gentler increase of the chemical in the system and a longer period of alertness with no crash at the end."
After some good research about my love for caffeine, it began to resort back to what I was told the first time. And it was black/green tea. So eventually I decided to give into black tea to see what the hype was about and so far, I am very impressed.
It does not contribute to triggering my present anxiety that i already have.
It does not give me the bad crashes that coffee gives me
It simply just takes things slow! Just the way I like it! (Caffeine time)
So to conclude this post, this is not a post to bash coffee, but to express my recent awareness of what my body could handle. While coffee works better for some people than tea, I think I've found a new safe haven on a beverage that is capable of producing a gradual jolt, while not risking my anxiety, crashes and sluggish feeling throughout my day!
Tea works for me, what works for you???????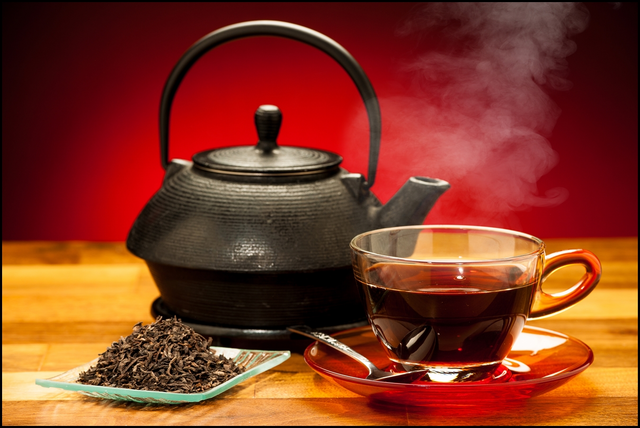 Article source: https://www.teaclass.com/lesson_0112.html
Photo Source: http://servingjoy.com/wp-content/uploads/2015/04/Fun-Facts-of-Black-Tea-2