A Hero With A Bit Of Blood Lust
Someone is following, I thought as the evening breeze rushed around my face. The clouds of sunset twenty minutes prior had looked something like a grand castle in the sky. They turned pastel shades of pinks and purples before fading into that dim blue. Nighttime had fallen somewhat suddenly on everything, like a curtain abruptly being drawn. Darkness surrounded me.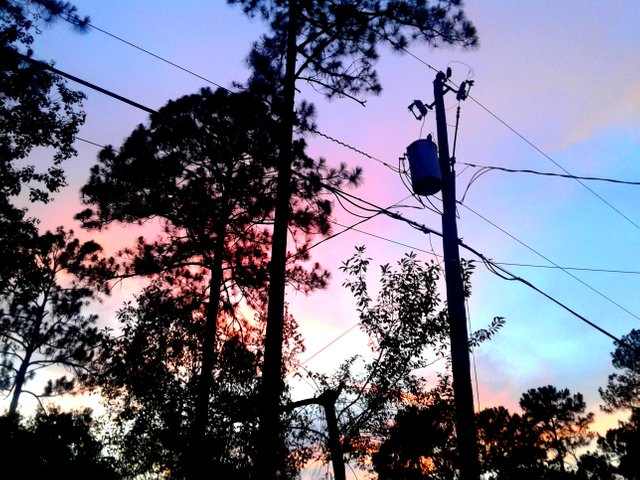 But it's not like I'm alone. I cast a quick glance down at Big Dog, who was meandering slowly forward. He padded along on those big feet something like how a lion meanders toward another spot it wants to doze. His big soft nose was low to the ground to catch the whiff of deer that had passed recently. I reassured myself. The mind invents stories, is all. It is the sort of night when the clouds are tumultuous. They are restless, so everything on earth must be too.
That evening breeze blew the scent of cigarette smoke against my cheek. Goosebumps climbed up my arms as though to meet halfway the sweat dripping down them. That smoke can travel a little ways, it is only coming from someone's yard through the brush. I cast a long look at the black silhouettes of trees and vines and brush all formed together into one mass of black shadow behind me.
The smell didn't bother me so much. It reminded me of being a teenager, when I knew older people with grease stained fingers and knowledge I had yet to gain. Those hands holding the cigarettes were capable—they knew how to fix things—it seemed like they could fix life back then. Cigarette smoke is a comfort, so Big Dog and I kept on.
Big Dog began to pace a patch of dirt, running his nose in circles there, and I paused to let the breeze run circles around me. It brought me cologne. Old man cologne—like a mixture of something too frilly and something too earthy and then all stashed together into alcohol and sprayed onto a starchy shirt that fit around a pot belly. Like on that old boss of mine from years ago, standing too close, hovering just behind, eyes burning holes into my body.
The smell hung there in my small office, or the scent would accost me from the doorway where the pot belly and another stiff shirt would be lingering, something inappropriate muttered under their breath. It was vulgar, disgusting cologne.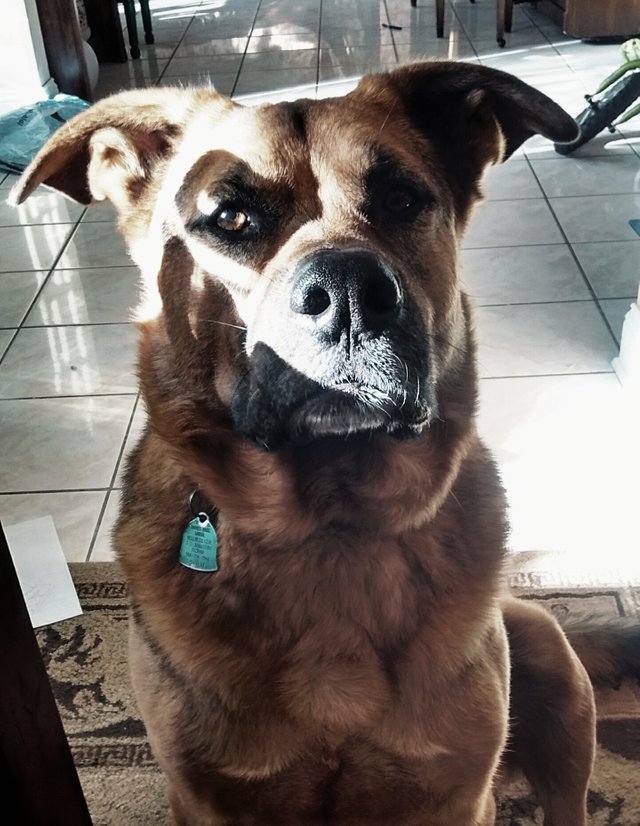 The mind is only playing tricks on me now. Regardless, I have my bodyguard. Big Dog carried on with his slow, easy steps, pulling me to the edge of the woods where he is at home. He stopped to cock his head behind us a moment, one ear flickering, but then falling back into place. Big Dog is my connection to the animal instincts lost to my modern humanity. He feels and smells and sees movements that are nothing to me. If Big Dog sees nothing, then there is nothing.
He is a hero, I thought as I ruffled my hand through the soft hair around the back of his neck. A hero with a bit of blood-lust. I had a clear image of his long white canines then, gripped tightly together with that lip curled up until his gums showed. I could almost taste blood in my own mouth.
The kingdom of clouds were still restless up above. A few patchy stars were trying to show through the smears of clouds that were rapidly overtaking them. I felt a tickle at my shoulders—like a subtle nudge—like some sort of instinct to turn. I did, but still nothing was in sight in the blue-black distance. We stopped again so that Big Dog could take his time doing the doo.
Don't stop, I thought. Not because something would get me, but because the humidity would catch up and lay across me like a heavy winter coat. And it did, wrapping itself around me in an embrace, like we were old friends. I shook my shoulders to brush it off, like the feeling wasn't mutual. We rounded the corner, circling back.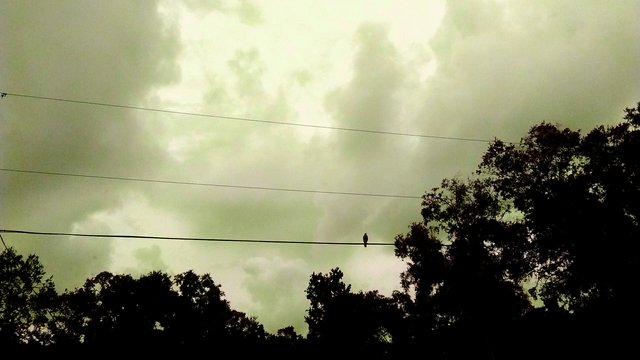 Before me was the densest stretch of woods where the creek was lazily snaking through the tunnel under the road. The black shapes of wildness hung over the road like angry two-story high creatures with claws stretched out for the attack. I looked defiantly at them. I'm not afraid of cigarette smoke; I'm not afraid of cologne—I'm certainly not afraid of woods.
Big Dog suddenly raised his nose to the air. In another moment the leash grew taut and the leader sucked around his nose. Up ahead a car rounded the corner, its headlights clashing violently with the darkness so that we were blinded. Only the flash of a large black shape jetting across the street could be made out. It was gone in a moment; Big Dog relaxed.
Up ahead the golden light of windows without the curtains pulled beckoned to me. The musky smell of vegetation and a light perfume of flowers welcomed me back to my own proper place and time. I cast one quick glance at those wild clouds.
I closed the door on whatever was or was not out there.