Broken Ankle-versary
This picture was taken at the tippy top of a beautiful pine tree on top of a cliff the day before my accident. In this picture you can see a stone arch poking out into the ocean, which happens to be the same place where I fell from the very next day.. Here's a video from the tippy top while trying to catch the powerful winds in action (and faking it, hehe)!
A year ago today, on February 18, 2016, I fell rock climbing in New Zealand and broke my ankle pretty badly... I couldn't ever fathom it was broken and refused to believe that was even a possibility, until after about 3 months had gone by as I was still having trouble walking...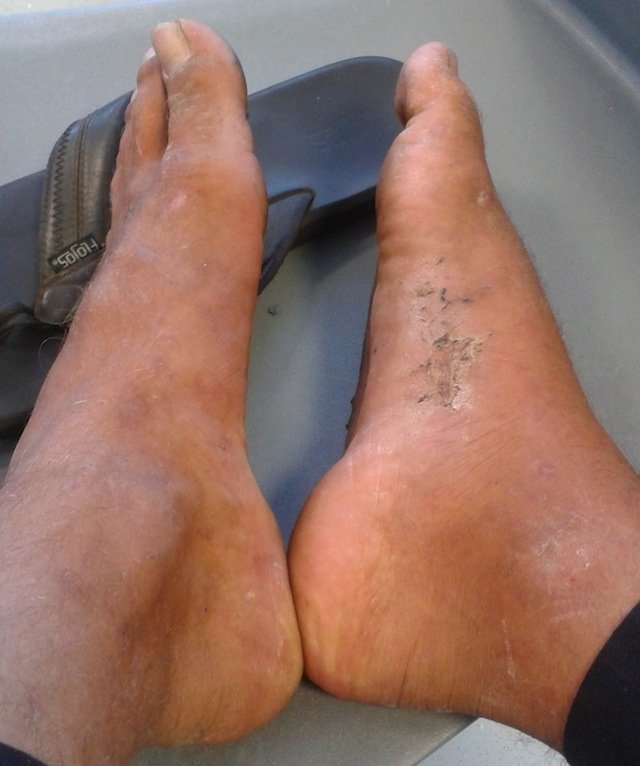 I didn't take almost any pictures of my injury, fortunately I took this one about 2 weeks after the fall, the same day we were leaving New Zealand. The swelling had gone down significantly since the day of, though you can see it was still noticeably swollen.
After 3 months, with my parents' worries and pressure, I finally got it x-rayed, MRI-scanned, and CT-scanned (CAT scan), and the doctor told me it was indeed broken. Based on the doctors' perspective, I could either get surgery to remove the broken bones and allow it to heal from there, or I could just allow it to heal over time/on my own terms.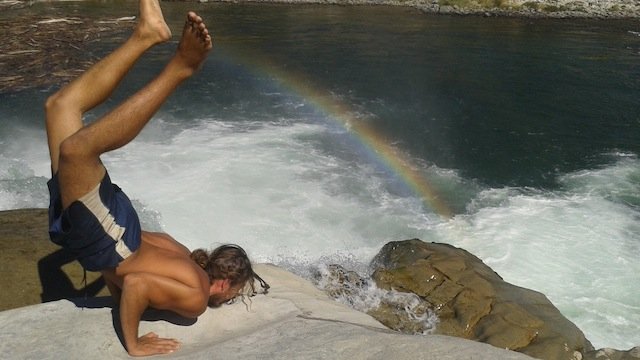 This was at Maruia Fall's in NZ, I had to do a little bit of rock hopping to get around here, as well as climbing because I can't help myself! Hehe. My brother did an epic front flip off the side of this interesting waterfall twice! 
*This waterfall was formed after an earthquake, transforming it from a flat river into a waterfall about 6 meters high!
Starting merely seconds after my fall, I had to swim to safety, then climb up and down a cliff just to relax a bit... Once I was done laying on the beach, reacting to the most intense physical pain I've ever experienced, my brother carried me on his shoulders to hang out by our material possessions. He took me to a tree that could help me get down, though instead of going down I found it much more comfortable to just get up in the tree and move around, hehe. 
*The tree provided many more as well as simpler possibilities than the ground since I could easily massage myself while stretching, while keeping my foot pointed upwards, helping me relax, and all while hanging out with my brother and our friend!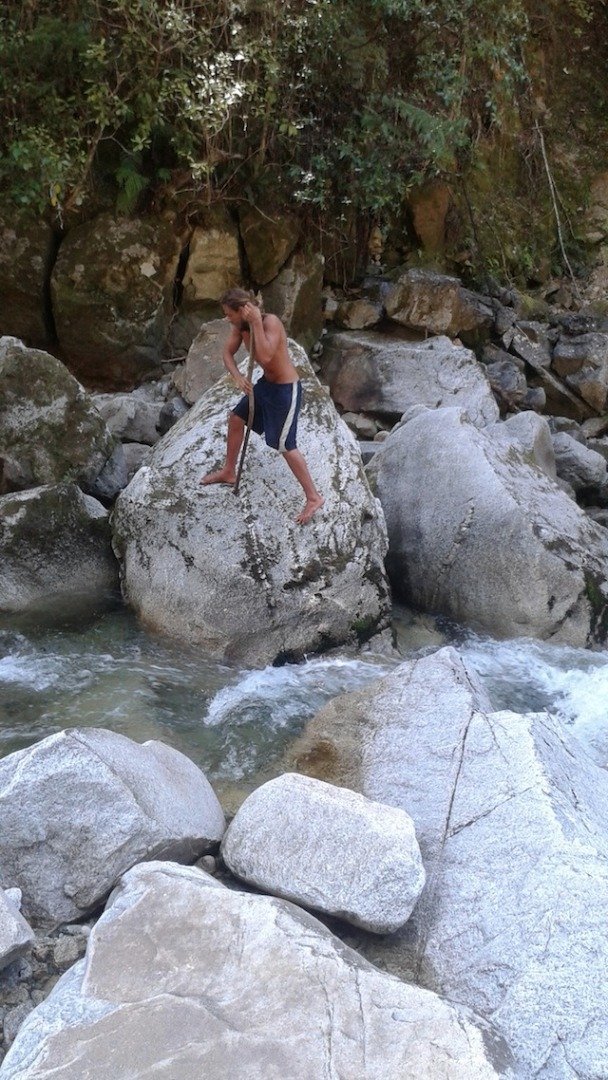 Here I go, barely a week after the most drastic physical injury I've ever received/given myself/experienced, leaning on a godly epic staff (that I was gifted almost instantly after my fall), and my (unknowingly) broken ankle, moving as efficiently as I could to go play at Wainui Fall!
We LOVE waterfalls with so much passion, ESPECIALLY when they haven't been fucked up by humans with their most famous/popular yet extremely delusional and beyond primitively unsustainable invention known as pollution.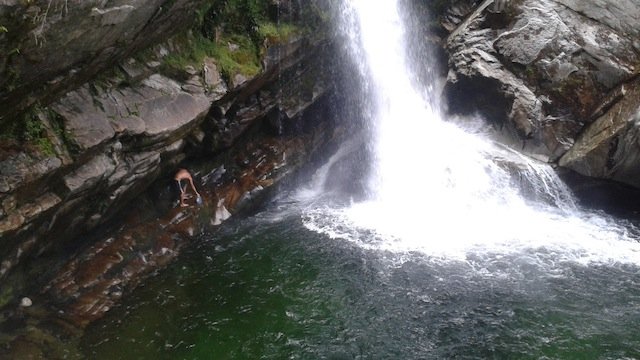 We love and strongly prefer to drink as much incredibly super mineralized living waterfall water as we want! So here I am after finally dragging my foot all the way to another waterfall! In love with Wainui Fall, I went to climb the super slippery, algae covered rocks all the way behind the waterfall just to fill up our biggest water bottle with this supernatural source of REAL LIVE WATER (unlike nutritionally depleted/raped/murdered lifeless unstructured filtered water)! Here is a video of my brother Lucca doing a super epic front flip at this huge waterfall!
Here are some videos of the other cliffs I climbed, a year ago today, barely hours before I fell for this injury;
~~~~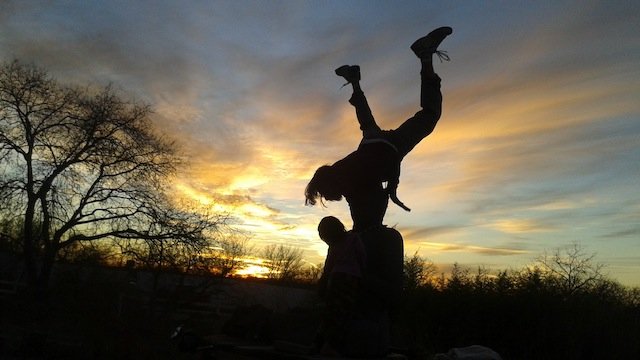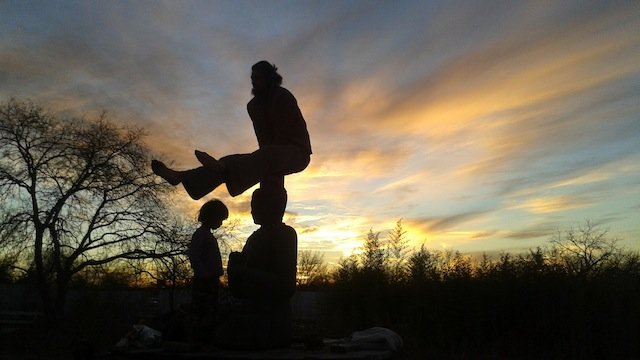 Sunset yoga on top the Buddha statue in the garden; with @quinneaker and Qiqi at the @gardenofeden 💓
I'm so blessed to be living in such a high-vibe environment where I have abundantly abundant abundance of everything, loving freedom, and space. Every time I am here at the @gardenofeden, it resonates so powerfully and feels like all the simplest--yet most valuable--needs/wants from life are aligned with the highest purpose/calling I've witnessed on this earth thus far. 
I'm not saying that specifically towards healing my ankle; it especially applies to finely tune in and listen to my body which is in necessary order to commence my healing journey~ I am so grateful to be a part of this newly unlocked super powerful healing vortex!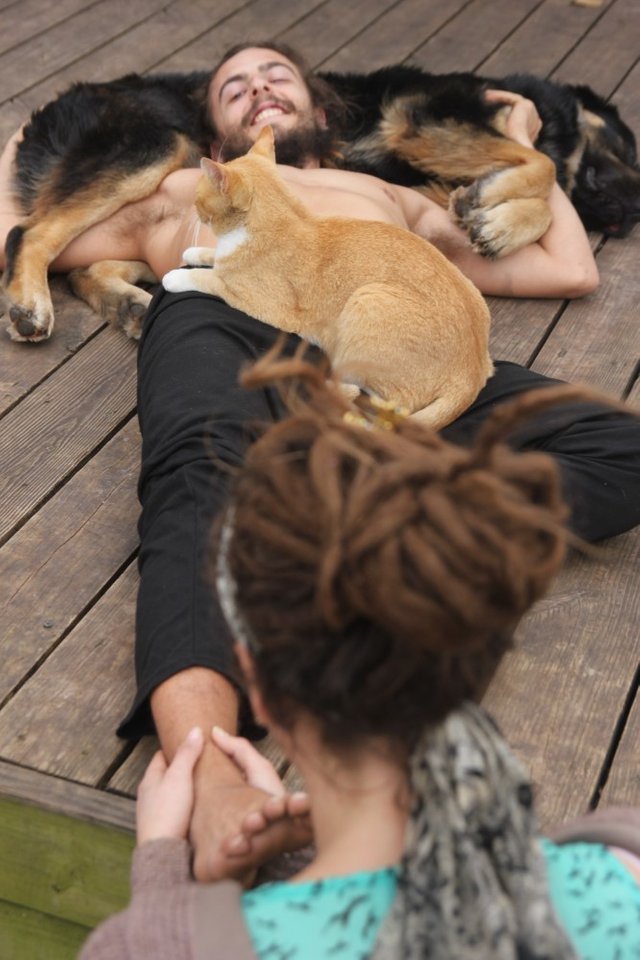 Here @saramiller is giving me reiki almost immediately upon my arrival--such a magically divine and priceless experience! The animals were clearly feeling the vibes, so they gathered around to join for some healing too!
~~~~
In a previous post, I detail how it all started, and how I ended up where I am today:
https://steemit.com/health/@fmatinata/unlocking-the-tarzan-within
Stay tuned for updates on my healing journey and more stories from my many adventures!
@everlove, @saramiller, and @loveon are sharing their experiences in facilitating a healing vortex at the @gardenofeden for me as well - check out their posts too!