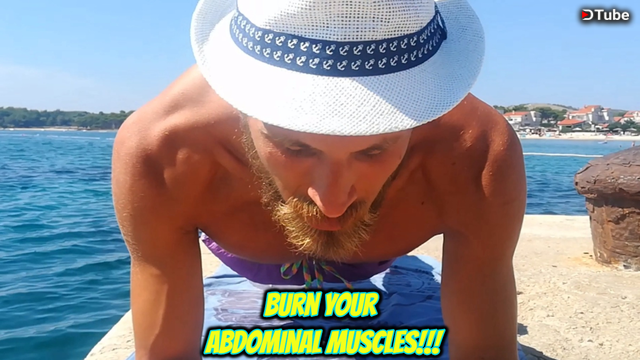 ---
Exercise or Exorcism? I don't think there is a difference at all.
If you do it right obviously...
I was a personal trainer in the past... trained lot of people
You know how funny it is, they want you to train them but when you push them to do more - they want to kill you!
At least in certain moments, that's why it's hard to be a coach sometimes...
Now I'm aiming to become much much more - multidimensional life coach.
But I'm still working on myself to get there. That's why I'm fasting all days, swimming, eating veggies - doing workouts & sharing them with you!
This might look like a joke, but I can assure you - try to do this 10 minute workout & you'll notice how it is VERY serious
Many huge people, bodybuilders even - couldn't last long when confronted with this type of training
Obviously, they work out for aesthetics. This is something else, this is working to become a badass you...
Stronger you with killer core that has a healthy backbone, with better than ever posture
Don't underestimate the power of core... even though biceps look nice, core is the most important muscle there is
It controls pretty much everything, you name it - I'll connect it. Breathing for example, the better your core is you'll be more efficient in it, meaning there will be more life-force energy in your whole body & therefore you will dominate life easier
So as I said, don't take this easy. Start with it right now & go get that killer core! you'll love it.
Your whole life will become easier, you'll be better & everything & females love it (if that's your goal) I don't want to be loved! haha
I'm just trying to love myself in the best way possible.. that's why I do it.
Oh and yea, so I can make some DTUBE vids.
By the way, a bit of exorcism is never bad... believe me, if you push yourself to go through the limits when HODL-ing this exercises, you'll notice how lot of demons are exiting you! lmao
But for real, I'm not even joking. Whoever is doubting me, I challenge you to do it... and let me know how you felt
You can challenge me back if you wish, I'm up for whatever (nothing good like a great challenge)
Let's do this family! Become new versions of ourselves, stronger (so we can take our power back :P)
(All my music is licensed on Epidemic Sound where I have a subscription for my channel)
---
▶️ DTube
▶️ IPFS