PARTICIPATE IN THE CLEANPLANET MOVEMENT
We believe in the potential of STEEM and SMTs for non-profit organizations. Once SMTs become available, we will create the CLEAN token in order to incentivize humans to clean the planet!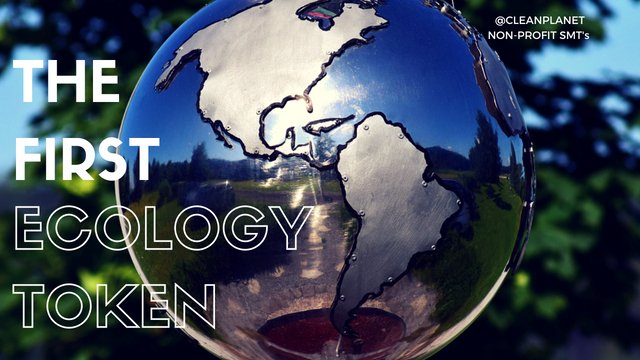 THE FIRST SMT FOR ECOLOGY
CLEAN PLANET is the first movement on the steem blockchain that promotes ecology and wishes to create it's own economy dedicated to our planet earth. Our movement started June 15, 2018 and more and more people are starting to understand and join our cause. This article will explain clearly our plan for the future, and how things will take course in the distribution of the upcoming Clean Token.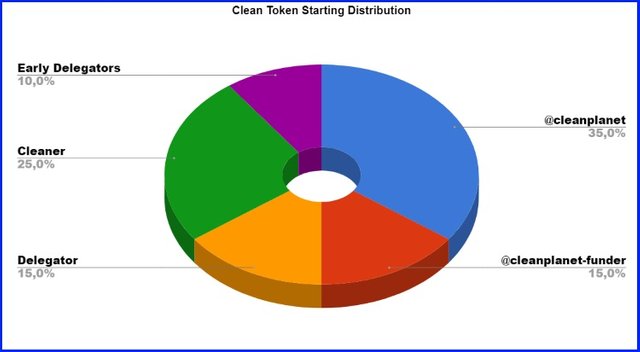 We want the fairest possible distribution without favoritism for the Clean Token.
To make everything clear and easy to understand, there are 3 categories:
Clean Planet
The Cleaners
The Delegates
---
How the Clean Tokens Distribution Works ?
Again we thought things simply. Our distribution system is based on the allocation of Points (P). You can earn Points in several ways depending on whether you are a Cleaner or an Early Delagator or Delegator.
Baseline for Delegators : 1 SteemPower / Jour = 1 Point
At the end of each period and for each category, all the people involved will be able to know the total of their Points but also the total number of Points distributed to all the profiles @.
What are the Challenges to Achieve for Win Points when you are a :
Cleaner.
From July 1st 2018 each Clean Planet content published on Steemit, Busy, DTube, Dlive will be able to multiply their chance to win Points according to the successful Challenges.
---
Early Delegator.
From June 15,2018 to September 1, 2018 Only, being among the first Steem Power delegators for @cleanplanet allows you to earn as many Points as SP deleger per day.
| Challenges | SP/day | Point |
| --- | --- | --- |
| Early Delegation | 1 | 1P |
---
Delegator.
From 1 July 2018 all Delegates will receive their share of Clean Token on the day the SMTs are available.
Each Delegator will receive as many Points per Day as there are Steem Power Delegates per Day.
| Challenges | SP/day | Point |
| --- | --- | --- |
| Early Delegation | 1 | 1P |

SIMPLY START CLEANING
35% of the starting distribution will go to the cleaners themselves. To grab your part; simply start cleaning around your area as explaning in our previous article "CleanPlanet: how it works?"
@cleanplanet will upvote your action and give you future shares of the CLEAN token, as well as SBD/STEEM as it currently exists on STEEM. At the moment, our vote is only worth half a dollar, but it is growing fast as more and more people are becoming aware of our initiative.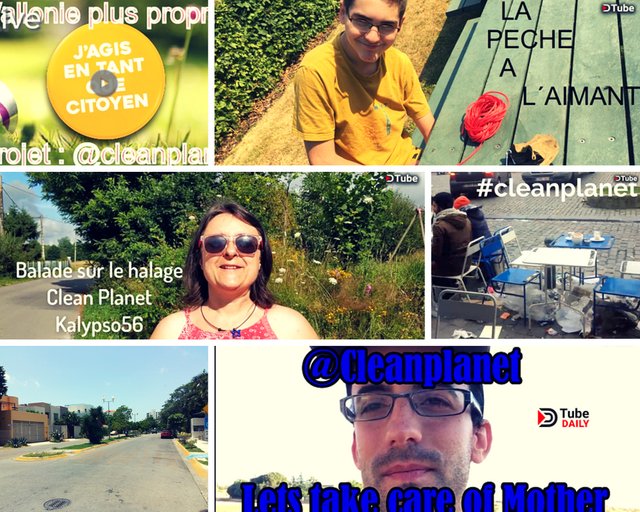 There are already many examples of steemians who have participated :
Proof by video
DTube - @kalvas Clean Planet @KALVAS | 07.07.18 - Canakkale / TURKEY
DTube - @chrismartinez Promoting @Cleanplanet project. Lets take care of Mother Nature...
DTube - @yann0975 The first steps of @cleanplanet
DTube - @letenebreux La pèche à l´aimant, dépollution de rivières
DTube - @kalypso56 [Clean Planet] Balade sur le halage du 04/07/18
DTube - @roxane Welcome @cleanplanet's project !
DLive - @itharagaian Notre participation au programme cleanplanet 6 juillet 2018
Proof by pictures

DELEGATE TO THE MOVEMENT
Not everyone has time to actively start cleaning… but you can still help !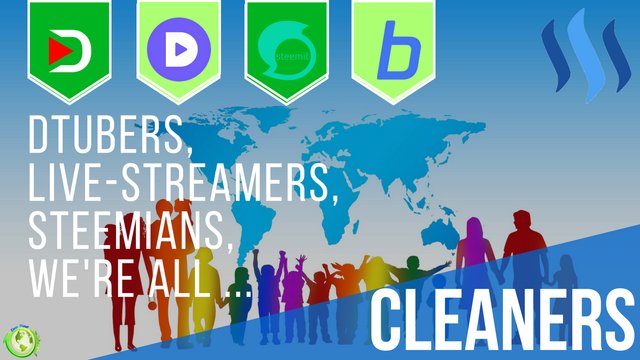 Having more and more power on the network is important for the movement. If every active steemian delegated 1SP to @cleanplanet, we would already be able to distribute hundreds of dollars every day and actively motivate people to do something more useful than vlogs or memes. At the moment we already have about +5000 Steem Power !
25% of the total starting CLEAN tokens will go to delegators of @cleanplanet.
VOTE ON #CLEANPLANET TAG
If you don't like delegations, you can also help by voting directly yourself !
Just bookmark https://steemit.com/trending/cleanplanet and visit daily and upvote people that you feel did the most good for the ecology by voting yourself directly.

THE BENEFITS OF DELEGATORS
All members of the Steem community who delegate SP to the @cleanplanet profile will benefit from the Clean Token distribution. You want to see a planet without waste, then help the Cleans by making a delegation to @cleanplanet and enjoy the Clean Token Bonus.
Early Delegators
We have implemented a system where the first SP delegators receive an additional reward. Support the Clean Planet movement as much as possible and take your share of the Bonus.
Early Delegator is Only valid during the period:


Since 1st July to 1st September 2018

For all the delegations that we have already received and for all those that will be in this period, early delegators will receive
10% of your Clean Token in a fair way
.
Delegators
It will take time for the Clean Planet movement to grow and become known to as many people as possible, but we want everyone to get his share:
From 2 September 2018 until the appearance of Smart Media Tokens, All delegators will receive 15% of our Tokens on an equitable basis.

The CLEAN planet movement controls two accounts:
@cleanplanet
will receive 35% of the starting CLEAN tokens. This account will ALWAYS POWER UP everything it receives; and NEVER POWER DOWN. This tokens will be used to reward people more and more everyday.

@cleanplanet-fund
Many users have also wanted to make a donation to our movement, and if you wish to make a donation, we recommend that you send it to @cleanplanet-fund so that we can use it. If you make a donation to @cleanplanet, we will have to feed it.
Will receive 15% of the starting CLEAN chips. These funds will be used to improve and develop our movement. Each expense in this account shall be the subject of a proposal and shall be reviewed by the principal delegates.
We've been thinking about this project for a few months. We (@yann0975 and @french.fyde) are steemians and dtubers well known and convinced of the goods made that Steem Blockchain can bring.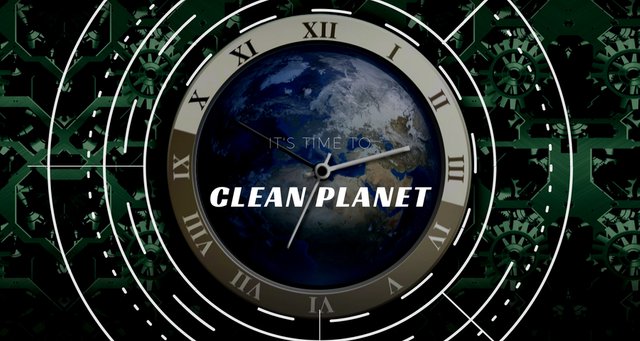 The goal for @cleanplanet-fund is to participate in concrete action funding in the real world!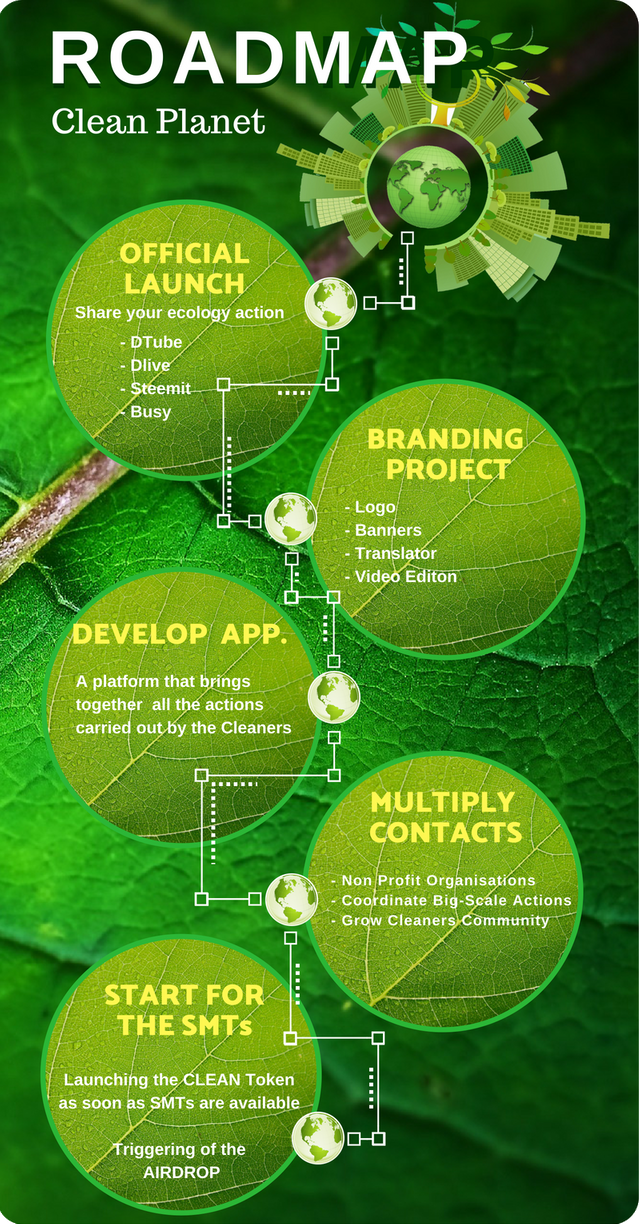 For technical proposals, we suggest you to use Utopian and contact us.

As you can see, CLEAN PLANET is a movement with a full plan. Our purpose is to create the first non-profit organization utilizing SMTs. For good only, and not for personal gain.
We think that it's possible to do very great things under the era of the Blockchain.
To launch this eco-movement we need all the support of the Steem community.
We want to open the way to concrete and common sense actions on the Steem blockchain. It is also rewarding to obtain a reward in return for an Eco-Citizen Act.
@cleanplanet is part of Blockchain projects with immense potential and real impact all around us.
Clean Planet because we all want more Tokens and less Waste
@cleanplanet wants to look forward with his FONDATION
@cleanplanet wants to be clear with all things
@cleanplanet wants to reward cleaners
@cleanplanet wants to be good at all

Get Clean Planet's Power up by Delegating SP













All our Publications :

Come on our channel Discord Clean Planet to promote / comment / share your action to the Clean Planet Steem Community !